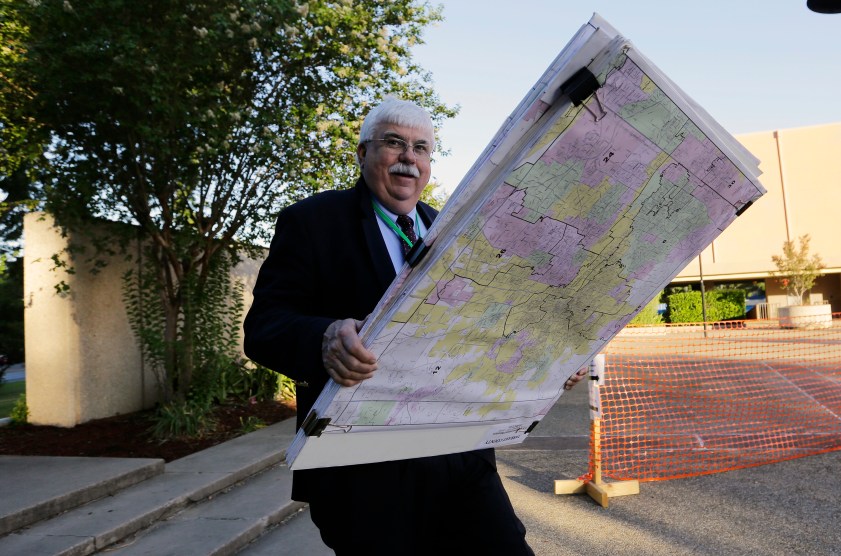 Fight disinformation:
Sign up
for the free
Mother Jones Daily
newsletter and follow the news that matters.
On Tuesday, hours after President Donald Trump refused to blame white nationalists for the violence in Charlottesville, a federal court ruled that congressional districts drawn by Texas Republicans after the 2010 election were enacted with "racially discriminatory intent" against Latino and African American voters.
This is the seventh time since 2011 that a federal court has found that Texas intentionally discriminated against minority voters, through its redistricting plans and strict voter ID law. This repeated finding of intentional discrimination means that federal courts could once again require Texas to clear any changes to voting laws or procedures with the federal government—a requirement that was in place until the Supreme Court struck down part of the Voting Rights Act in 2013.
Texas added 4.3 million new residents from 2000 to 2010 and gained four new congressional seats after the 2010 census. Although nearly 90 percent of that growth came from minorities, who lean Democratic, under the congressional redistricting map passed by Texas Republicans in 2011, white Republicans won three of the four new seats that resulted. The League of Women Voters called the plan "the most extreme example of racial gerrymandering among all the redistricting proposals passed by lawmakers so far this year."
In August 2012, a federal court in Washington, DC, blocked the maps under the Voting Rights Act, writing that "the plan was enacted with discriminatory purpose." A federal court in San Antonio hastily drew new maps for the 2012 election, based largely on the rejected 2011 maps. They were intended to be only a short-term fix, but the Texas legislature made them permanent after the Supreme Court's 2013 ruling that freed states like Texas with a long history of discrimination from federal oversight of voting changes. Civil rights groups challenged both the 2011 and 2013 congressional redistricting maps in court.
In March 2017, a federal court in San Antonio finally ruled on the original 2011 plan, finding that Texas Republicans "intentionally diluted minority voting strength in order to gain partisan advantage." On Tuesday, the same federal court panel unanimously ruled against the 2013 maps as well, finding that they failed to cure discrimination in two of the state's congressional districts. Here's the key language from the ruling:
In sum, the Court concludes that the racially discriminatory intent and effects that it previously found in the 2011 plans carry over into the 2013 plans where those district lines remain unchanged. The discriminatory taint was not removed by the Legislature's enactment of the Court's interim plans, because the Legislature engaged in no deliberative process to remove any such taint, and in fact intended any such taint to be maintained but be safe from remedy. The Legislature in 2013 intentionally furthered and continued the existing discrimination in the plans.
Specifically, the court found that in the 35th Congressional District, which runs from Austin to San Antonio, Republicans sought to "intentionally destroy an existing district with significant minority population (both African American and Hispanic) that consistently elected a Democrat." (Nonetheless, a Democrat, Lloyd Doggett, has held the seat ever since.) And in the 27th District in southeast Texas, Republicans transformed a majority-Latino district into a majority-white district to protect Republican Rep. Blake Farenthold, who famously challenged female senators opposed to repealing Obamacare to a duel. The court said Hispanic voters were "intentionally deprived of their right to elect candidates of their choice."
The ruling means that the districts could be redrawn in a way that favors minority candidates. (In a victory for Republicans, the court rejected claims to redraw districts in Houston, Dallas-Fort Worth, and South Texas.) Texas has already said it will appeal the case to the Supreme Court, which is "pretty likely" to hear it, says Michael Li of the Brennan Center for Justice. The ruling also means that Texas could become the first state to be subject again to preclearing its voting changes with the federal government under the Voting Rights Act.
Texas's voter ID law, which requires certain forms of government-issued photo ID to vote, was passed at the same time as the redistricting maps and was also initially blocked under the Voting Rights Act. It has subsequently been ruled intentionally discriminatory by a federal district court on two occasions, in October 2014 and April 2017. A federal judge is currently deciding whether to block full implementation of the law.
Republicans in state and federal government broadly condemned the racism on display in Charlottesville. But there have been repeated instances of voting changes by Republican-controlled state governments, in states beyond Texas, that have been found to discriminate against minority voters:
In North Carolina, the 4th Circuit Court of Appeals found that the Republican legislature tried to disenfranchise African American voters "with almost surgical precision."
In Wisconsin, a federal judge found that Republicans cut early voting locations and hours "to suppress the reliably Democratic vote of Milwaukee's African-Americans."
In Indiana, Republicans closed polling places and cut early voting in minority areas but not in white ones.
In Ohio, African American voters were twice as likely to be purged from the rolls by Republican Secretary of State Jon Husted as white voters.
In Alabama, after passing a strict voter ID law, Republican officials closed DMVs in eight of the 10 counties with the highest non-white populations of registered voters.
It's impossible to truly denounce white supremacy without confronting suppression of minority voters.