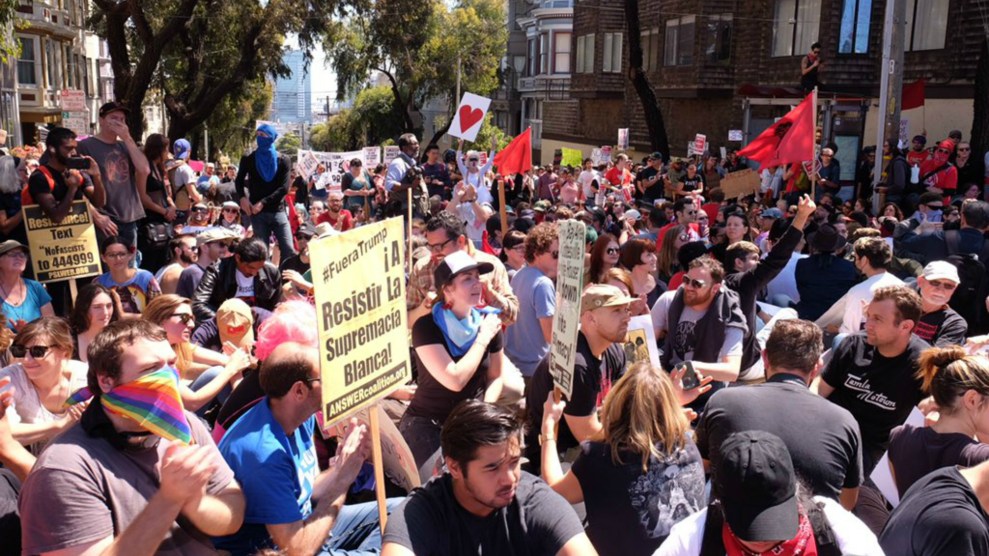 Fight disinformation:
Sign up
for the free
Mother Jones Daily
newsletter and follow the news that matters.
A small patch of federal land in San Francisco called Crissy Field gained unusual amount of attention this week leading up to a permitted rally planned there Saturday by a far-right group called Patriot Prayer. But come Saturday morning, the field was bare, save for small groups of police officers patrolling its dirt sidewalks and a a handful of activists holding signs, the fog-flanked Golden Gate Bridge a dazzling site behind them.
Less then 24 hours before the scheduled event, Patriot Prayer leader Joey Gibson called off the Crissy Field rally, claiming that mounting tensions would lead to violence, and urged supported to instead meet him for a press conference in the city's Alamo Square Park—site of the famous Painted Ladies Victorian houses, sweeping views of the city, and much closer proximity to a large counter-protest planned at Civic Center. Patriot Prayer has no permit to conduct a protest in Alamo Square, and come Saturday at 10:00 a.m., the park had been fenced off by city workers, preventing anyone from gathering inside.
Gibson then posted to a Facebook page that he would be holding an "indoor news conference" at 2 p.m. Meanwhile, groups including Showing Up for Racial Justice (SURJ), Bay Area Resistance, and Democratic Socialists of America planned their own presser for 1:00 p.m. at the corner of Alamo Square; more anti-racist gatherings, marches, and dance parties are scheduled for locations around the city. MoJo reporters Shane Bauer, Brandon E. Patterson, and Julia B. Chan will be tweeting from various locations; we'll keep you posted on the latest happenings below.
4:53 p.m. PT: 
While crowds linger at Civic Center and a few Patriot Prayer supporters and counter protesters mill around Crissy field, the day's main events appear to be winding down. We're signing off for now. Tomorrow, we'll be following the protests and counter protests in Berkeley. 
4:07 p.m. PT: 
Multiple reports suggest that Patriot Prayer leader Joey Gibson just arrived in San Francisco's Crissy Field.
Joey Gibson just arrived at #Crissy Park pic.twitter.com/zl1Pn89qGi

— Catherine Ho (@Cat_Ho) August 26, 2017
Earlier, the San Francisco Chronicle reported that Gibson, then in Pacifica, railed against the city of San Francisco for thwarting his group's plans: 
"Today has been a crazy day," Joey Gibson, organizer of the group Patriot Prayer, said on a Facebook Live broadcast. "Everywhere we go the police, the city, they want to shut it down."

Gibson said officials such as Mayor Ed Lee and House Democratic leader Nancy Pelosi of San Francisco had wrongly labeled his group white supremacists while ignoring what he called the threat to public safety from counter-protesters such as those who massed outside Alamo Square Park on Saturday.

Referring to confrontational left-wing activists who have clashed with people at some right-wing rallies, Gibson said he had a question for San Francisco and other liberal cities. "Do you stand with antifa or not? Ask your mayor. Ask Nancy Pelosi. They're using them as tools. They're afraid to speak out against them."
3:45 p.m. PT: 
Diana Nara Kim & William Moncayo believe "silence is violence"—"being present physically as a person of color&queer is an act of resistance pic.twitter.com/qTBPEsttq2

— Julia B. Chan (@juliachanb) August 26, 2017
This woman's sign echoed Michelle Obama and Heather Heyer. "If white people arent speaking out about racism, they're enabling it." #sfrally pic.twitter.com/XQtDtHf9Mb

— Brandon Patterson (@myblackmindd) August 26, 2017
3:10 p.m. PT: 
The crowds have flooded into San Francisco's Civic Center. Meanwhile, police continue to keep people away from Alamo Square, where the Patriot Prayer group had planned to convene before the organizers decided to hold their press conference in Pacifica instead. 
A view of the San Francisco Civic Center protest rally from above. #Sfprotest #PatriotPrayerRally #AlamoSquare pic.twitter.com/ldlSVifOEb

— Chris Messina 🏴‍☠️ (@chrismessina) August 26, 2017
All quiet at Alamo Square, where #PatriotPrayer had planned press conference. Park still closed and police not letting anyone through #SF pic.twitter.com/cDZhtTwuAt

— Casey Tolan (@caseytolan) August 26, 2017
2:45 p.m. PT: 
San Francisco's counter protests continue through the afternoon. 
Image of Heather Heyer, killed while protesting white supremacists in Charlotesville, held by man rallying against far-right events in S.F. pic.twitter.com/GchgTcZPOP

— KQED News (@KQEDnews) August 26, 2017
It feels more like an afternoon rock concert at Civic Center Plaza than a counter-protest. (Video taken by a v v short person, sorry). pic.twitter.com/mlY0Nsly4d

— Lizzie Johnson (@lizziejohnsonnn) August 26, 2017
2:20 p.m. PT: 
A group of a half dozen pro-Trump demonstrators are hanging out at Crissy Field. Daryl Tempesta says he picked up a lot of dog poop here #SF pic.twitter.com/Mg2BMi75pg

— Casey Tolan (@caseytolan) August 26, 2017
This might be the most creative sign I've seen today. 😂 #PatriotPrayer pic.twitter.com/G0G4Mky3hb

— Lizzie Johnson (@lizziejohnsonnn) August 26, 2017
2:00 p.m. PT: The Patriot Prayer group held its press conference in Pacifica, a coastal town south of San Francisco, but the organizers say they plan to head to San Francisco today. 
Joey Gibson appears with Based Stickmam Kyle Chapman to say he will go to Alamo Square, Chrissy Field and "walk the streets today". #ABC7now pic.twitter.com/9L4AIz9b4T

— Dan Noyes (@dannoyes) August 26, 2017
1:34 p.m. PT:
Kate Amon and her two teenage children (Fremont) came out today to help spread the message that "terrorism isn't protected free speech." pic.twitter.com/TEb29dO49j

— Julia B. Chan (@juliachanb) August 26, 2017
1:09 p.m. PT: Members of the Patriot Prayer group started livestreaming a press conference from a hotel room in an undisclosed location. A large crowd of protesters begins marching from Alamo Square towards the Mission District.
https://twitter.com/shane_bauer/status/901538571537993728
12:56 p.m. PT: In an email to its followers, Bay Resistance called off its 1:00 p.m. press release and said it would be marching towards 24th and Mission streets instead.
Okay, #AlamoSquare crowd is getting ready to get marching, headed on Steiner … pic.twitter.com/SLritVylLt

— Erika Aguilar (@erikaaaguilar) August 26, 2017
12:47 p.m. PT: A rotating group of anti-racist speakers is addressing a crowd gathered at a corner outside of Alamo Square Park.
Refuse Fascism is on the mic now calling for an Occupy-esque demonstration starting November 4

— Blake Montgomery 💀 (@blakersdozen) August 26, 2017
https://twitter.com/shane_bauer/status/901529989266513921
12:02 p.m. PT
https://twitter.com/shane_bauer/status/901520204982763520
11:50 a.m. PT: People are flocking to the city's Castro neighborhood, where LGBTQ activists Cleve Jones and Juanita More planned a counter protest called Come Together in Harvey Milk Plaza at 12 p.m.
Hundreds are clustering at the heart of the Castro. They want to show the beauty and pride of the LGBT community, one organizer said. pic.twitter.com/txlvG3sFBl

— Lizzie Johnson (@lizziejohnsonnn) August 26, 2017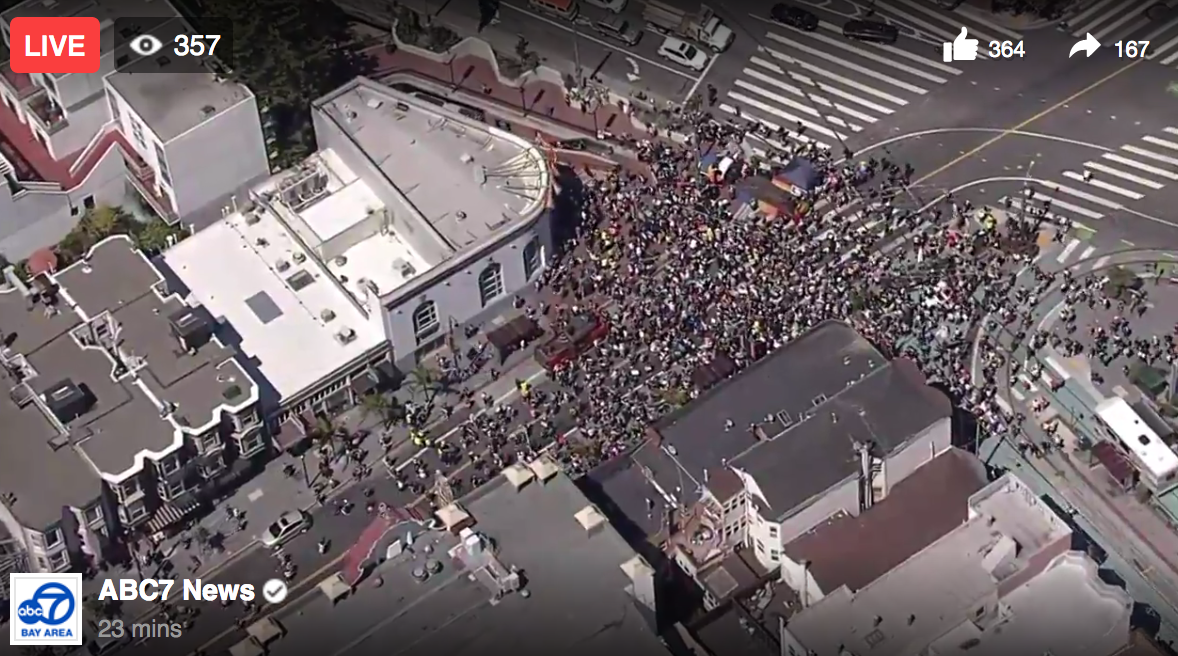 Back at Alamo Square, police officers have herded protesters towards Fillmore Street.
VIDEO: @SFPD declared unlawful assembly at Alamo Square orderrs dispersal #patriotprayer #SanFrancisco pic.twitter.com/3dtwxdWMRq

— Joe Fitz Rodriguez (@FitzTheReporter) August 26, 2017
10:45 a.m. PT
https://twitter.com/shane_bauer/status/901499988227743744
https://twitter.com/shane_bauer/status/901499535595143168
New: Now it will be an "indoor news conference" & organizer will "pop up at random spots in the city to talk with any citizens of SF" pic.twitter.com/9h73anOo9a

— Julia B. Chan (@juliachanb) August 26, 2017