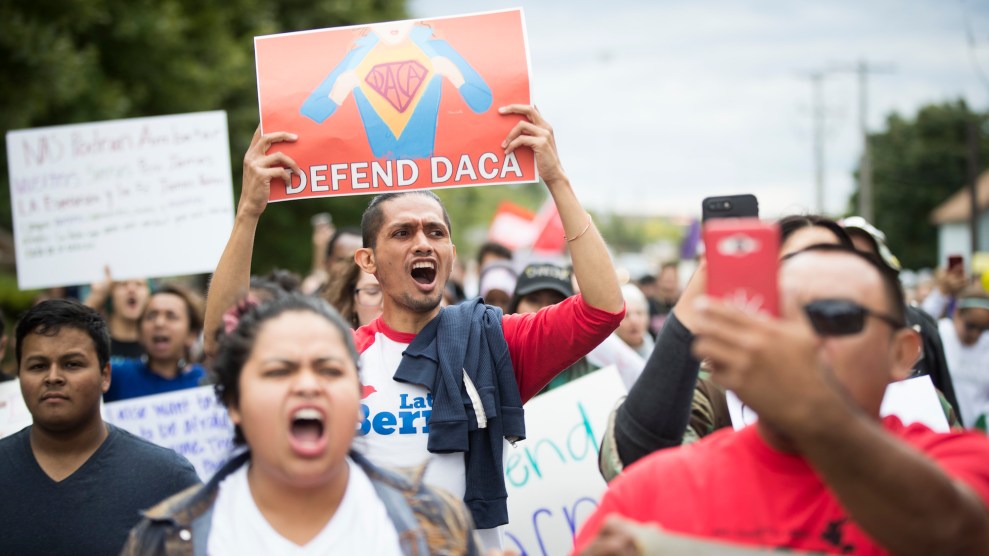 Fight disinformation:
Sign up
for the free
Mother Jones Daily
newsletter and follow the news that matters.
The government knows where the nearly 800,000 young undocumented immigrants known as Dreamers live, where they've traveled, and what they look like. So when President Donald Trump decided to stop protecting them from deportation, there were widespread fears that the government would reverse the Obama administration's pledge and use personal information provided by Dreamers to remove them from the country.
That isn't happening so far: The Department of Homeland Security tells Mother Jones that it is still protecting Dreamers' information from immigration enforcement officials. But the Trump administration's decision to deport more undocumented immigrants without criminal records could put Dreamers at risk regardless of what DHS does with the data.
If Congress does not act, Dreamers could start to lose their protected status under President Barack Obama's executive action known as Deferred Action for Childhood Arrivals (DACA) in six months. At that point, Dreamers and immigrant advocates worry, Trump could then break from the Obama administration's promise not to facilitate Dreamer arrests by giving US Immigration and Customs Enforcement (ICE) the information that Dreamers provided to the government to get their DACA permits. After Attorney General Jeff Sessions announced the plan to end DACA, DHS said that DACA data "will not be proactively provided" to ICE, which some interpreted to mean that USCIS would provide the information if ICE asked for it.
But DHS says Dreamers' data is safe for now. Under Obama, US Citizenship and Immigration Services (USCIS), the DHS office that approves DACA permits, told Dreamers their data would be "protected from disclosure" if they followed the law. On Wednesday, a DHS spokesman told Mother Jones that "nothing has changed with regard to information-sharing after yesterday's DACA decision." The spokesman also said that the language about not "proactively" providing information does not imply any change that would cause DHS to give Dreamers' personal data to ICE upon request. Michael Tan, a staff attorney with the American Civil Liberties Union, also says that it looks like the status quo will hold for now.
Still, DHS maintains, as it did under Obama, that it can change its information-sharing policy at any time. That possibility is much more concerning in a Trump administration, Tan says. "They have no qualms changing existing policies," he says, "as [was] made painfully clear by the decision" to end DACA.
"It's scary," Maria Praeli, a Dreamer and and policy associate at FWD.us, a pro-immigration advocacy group, said on a call with reporters on Tuesday. "They know where I live, know where my family lives. I feel [that] it puts us in danger."
DACA's supporters aren't taking any chances. In a lawsuit filed on Wednesday, 15 state attorneys general moved to block the Trump administration from sharing DACA data. The lawsuit argues that going back on the repeated promises made to Dreamers would violate their constitutional right to due process. David Leopold, a Cleveland-based immigration lawyer and the former president of the American Immigration Lawyers Association (AILA), agrees. "You're changing the rules in the middle of the game," he says, "and everybody understands that's not fair."
Even if the courts allow the Trump administration to give Dreamer data to ICE, it doesn't mean that will happen. "There's definitely a reason for DACA recipients to be alarmed," says Jeremy McKinney, a North Carolina-based immigration attorney and the current secretary of AILA, "but I don't want to be unrealistic about what I think will happen." If DACA ends, McKinney does not expect a deportation force will be "sweeping around the country" arresting Dreamers. But, he cautions, the situation for Dreamers is already precarious, after a different policy change made by the Trump administration.
In 2011, the Obama administration announced that it would prioritize deportation of criminals over deportation of undocumented immigrants whose only offense was being in the country illegally. In February, DHS essentially abandoned that policy by saying that it would not exempt "pre-designated categories" of people from deportation. If Dreamers lose their DACA status, they would join other law-abiding undocumented immigrants who McKinney says are being detained "without abandon" by the Trump administration.
ICE has defended that shift. "If you're in this country illegally and you committed a crime by entering this country, you should be uncomfortable," ICE acting director Thomas Homan said in June. "You should look over your shoulder, and you need to be worried."

Trump, on the other hand, insists that his administration is focused on the "bad dudes" and on the "animals" of the gang MS-13, which has ties to Central America. Sessions amplified that message when he announced the end of DACA. "Enforcing the law saves lives, protects communities and taxpayers, and prevents human suffering," he said on Tuesday. "Failure to enforce the laws in the past has put our nation at risk of crime, violence, and terrorism." He did not mention that Dreamers already lose their protection from deportation if they commit a serious crime.
Sessions' rhetoric fits a broader trend. The Trump administration has more than doubled non-criminal immigration arrests. But that's not the picture you get from right-wing media, McKinney says. "They are projecting images of hardcore gang members," he says, "but then as a practical matter deporting grandma."