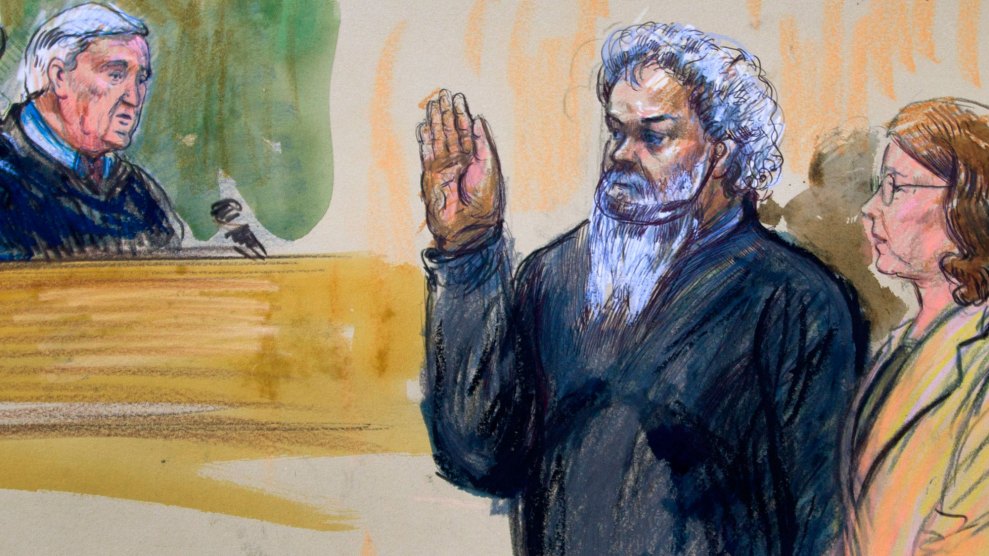 Fight disinformation:
Sign up
for the free
Mother Jones Daily
newsletter and follow the news that matters.
Next Monday, Ahmed Abu Khattala will become the only person to go on trial for the 2012 attack on the American diplomatic compound in Benghazi, Libya. The government alleges that Abu Khattala, a Libyan, was a member of the terrorist group Ansar al-Sharia and was one of the ringleaders of the attack that resulted in the deaths of US Ambassador Chris Stephens and three other American State Department employees.
American special forces captured Abu Khattala in Libya in 2014 and put him on a slow boat to the United States, where he was interrogated without a lawyer during the 13-day voyage. But unlike many terrorism suspects, Abu Khattala will have his fate decided by a federal jury in Washington, DC, rather than a military tribunal in Guantanamo Bay.
Twelve jurors and three alternates have now been picked for the trial, but selecting them was no simple task for the court. Media coverage of the Benghazi attacks has been intense, helped along by Republican members of Congress who launched endless investigations into the State Department's handling of the incident in an effort to torpedo former Secretary of State Hillary Clinton's presidential prospects.
To winnow down the pool, potential jurors were asked to complete a questionnaire that runs 36 pages, with questions from both prosecutors and defense attorneys that reflect the complexity of the case and the politics surrounding it. Some of the questions were boilerplate inquires standard for a criminal trial, such as whether the potential juror can follow the law requiring the defendant to be presumed innocent until proven guilty beyond a reasonable doubt. But others were more unusual.
In fact, the questionnaire seemed designed to exclude broad swaths of DC's workforce: employees of the CIA or other intelligence agencies, law enforcement officers, journalists, think-tank employees and donors, Arabic speakers, and international aid workers. One question—"Other than as a voter, are you now or have you ever been actively involved in politics?"—could disqualify half the city, whose primary industry is politics.
The document also asked potential jurors if they've had direct experience with a terrorist attack; that potentially encompassed a huge group of Washingtonians, given that one of the 9/11 attacks occurred just over the river at the Pentagon. A related question touched on any lingering paranoia from that awful day: "How concerned are you that a terrorist will commit acts of violence near where you and your family live or work?"
Other questions seemed designed to weed out Islamaphobes and nutty Facebook posters who watch too much Fox News. There were questions about TV viewing habits and social-media engagement, as well as inquiries about exposure to any of the Congress' 21 Benghazi hearings. The questionnaire even asked whether the potential jurors believed Clinton was responsible for the Benghazi attack.
Here's a sampling of some of the 130 questions the 15 people selected for the trial survived before getting picked to pass judgment on an alleged terrorist:
How would you characterize yourself: (check one) Leader ____ Follower ____ Team Player ____ Disrupter _____ Loner _____

What is your understanding of Sharia law, if any?

Is there anything about Islamic teachings or doctrine, or anything about Islamic or Muslim cultural practices, such as women wearing a headscarf or hijab, that is offensive to you?

Do you believe the religion of Islam endorses the use of violence?

Do you ever listen to political commentators on TV or talk radio?

If yes, please list the commentators you listen to:

Do you have an account or profile on any social media networking website (Facebook, Twitter, Instagram, LinkedIn, etc.)?

If yes, please indicate how often you use any form of social media (check one): Several times a day__ Daily__ Several times a week__ Weekly__ Rarely__ Never__

Have you, any family member or close personal friend been employed or had any association or connection with any of the following:

House Select Committee on Benghazi Yes __ No __
House Select Committee on Intelligence Yes __ No __
House Armed Services Committee Yes __ No __
House Foreign Affairs Committee Yes __ No __
House Judiciary Committee Yes __ No __
House Committee on Oversight and Government Reform Yes __ No __
National Republican Congressional Committee (NRCC) Yes __ No __
U.S. State Department Accountability Review Board Yes __ No __

Have you seen any movies (to include 13 Hours), videos, or documentaries, or read any books (to include former CIA Deputy Director Michael Morrell's book, The Great War of Our Time: The CIA's Fight Against Terrorism—From al Qa'ida to ISIS, or Kenneth R. Timmerman's Dark Forces: The Truth About What Happened in Benghazi), reports or scholarly articles specifically related to the September 11-12, 2012 attacks on the U.S. Special Mission facility and CIA Annex in Benghazi?

Have you previously formed or expressed any opinion(s) about any aspect of the events that occurred September 11-12, 2012 at the U.S. Special Mission facility and CIA Annex in Benghazi including whether action or inaction on the part of the U.S. Department of State, to include the then-sitting Secretary of State, Hillary Rodham Clinton, contributed to the attack or the ability of the U.S. Government to respond to such attack?

Do you believe that non-citizens accused of crimes in U.S. courts should be afforded the same constitutional rights as U.S. citizens?

Do you believe that defendants accused of participating in terrorist acts should be given the same constitutional rights as other criminal defendants?

Do you believe the protections of free speech including criticism of United States foreign policy should extend not only to citizens born in the United States but also to non-citizens and individuals outside the United States?
Read the entire 36-page questionnaire below: