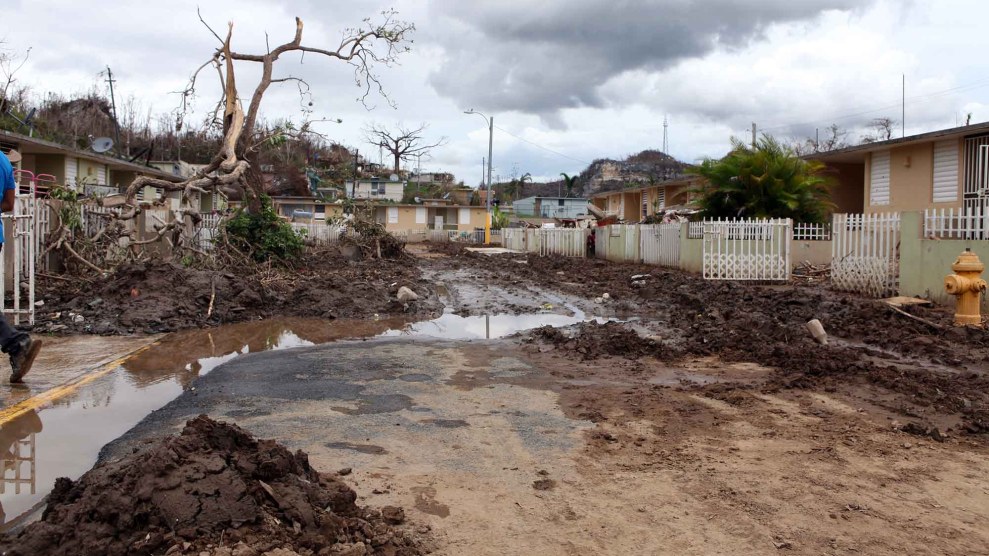 Fight disinformation:
Sign up
for the free
Mother Jones Daily
newsletter and follow the news that matters.
As two Puerto Rican journalists and I walked through Ciales, a mountain town hit hard by Hurricane Maria, and surveyed the profound devastation on Saturday, at least a dozen residents approached us with the same question: Are you from FEMA? 
Earlier in the day, President Donald Trump had slammed San Juan Mayor Yulín Cruz on Saturday for "such poor leadership ability," boasting that federal efforts to assist in hurricane recovery were robust. "10,000 Federal workers now on Island doing a fantastic job," he tweeted from his golf club in Bedminster, New Jersey. 
But according to residents, none of those 10,000 federal workers have made it to Ciales, just 45 minutes from San Juan. The storm in this town of 19,000 knocked out the power grid, destroyed entire blocks, and filled streets and homes with a pervasive chocolate-brown mud. Everyone we talked to in Ciales—young and old, residents of public housing and private homes, and even the mayor—complained about the local, Puerto Rican, and federal response to the disaster. 
Ciales is one of many towns facing the same issues, and therefore just one of the many problems the federal and local government has on its hands in Puerto Rico. As of noon on Saturday, the US Department of Energy reported that 95 percent of the island was still without power and that "fuel supplies remain an area of focus," but that "the situation is stabilizing." There is some anecdotal evidence to back that up, but it doesn't take long while driving around San Juan or other towns to see hours-long lines for fuel. Gov. Ricardo Rosselló announced Saturday morning that people living in public housing would not have to pay rent until January, and many businesses remain closed due to the lack of electricity.
But as much as the people we talked to in Ciales sympathize with storm victims elsewhere on the island, they're focused on their own gutted homes and neighborhoods. "Some of them are calling themselves 'the town of the forgotten,'" said Eduardo Melendez, a photojournalist with the newspaper Claridad and one of my companions. "The mayor has only come [to this neighborhood] once. Nobody else."
"Since we're not in the time of politics, or in the time of elections, we don't see them around," Wilfredo Salgado Santiago, an older man with white thinning hair and a white beard, yelled to us as he walked by.
We found Mayor Luis "Rolan" Maldanado at the Coliseo Raul Feliciano, a basketball arena that is serving as the center for emergency operations in Ciales. He said that almost every section of the town had been hit hard in some way and that he was trying to stretch the town's meager resources. "We are working with what little resources we have to attend to everyone," he said.
Maldanado said that he had been promised things a satellite phone to stay in touch with the governor, but it never arrived. He told us that when he gets diesel fuel, which is very hard to obtain on the island right now, it gets stolen at night, and that he has only 14 municipal police and 24 Puerto Rican police to manage a town of nearly 19,000. He showed us the meals he says the National Guard gave him to distribute to residents seeking food. Each one-day ration comprised a small fruit cup, a 7.5-ounce can of Hormel Corned Beef Hash, four small cookies, and a pack of peanut butter and cheddar crackers.
The governor's office did not respond to a request for comment about the situation in Ciales. A FEMA spokesperson didn't immediately respond to questions about Ciales.
Near the edge of Ciales, we found Paula Santos Pérez, an older woman with short hair and a soft voice, standing outside her sister's house. Their other sister, who was off waiting in a line for gasoline at the time, used to live in a small house in the back of the property. That house was mostly washed away during the storm.
"I have no words," she told us and started to cry. When we asked about help from the federal, island-wide, or local government, she quickly said, "nada, cero"—nothing, zero. She told us that if government officials were standing in front of her, she would tell them that her family feels that "they only have help from God."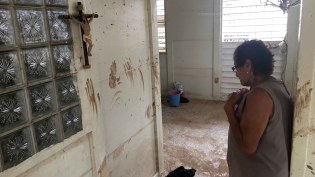 Santos led us across town to her house, where the flood waters had reached six to eight feet high. Now the floors were coated with mud and her possessions were ruined. The situation was similar across the street at the home of Nestor and Rosa Miranda, a middle-aged couple. Their house was standing, but it had been flooded with more than six feet of water, covering everything in mud. Over the last 10 days, they'd managed to clear out most of the mud, but everything they had was destroyed.
"You are the first person to come here," she told me—no government officials or relief workers had come. She and her husband had been staying with various family members. "One or two days with this one, then one or two days with that one," he said. "We've lost everything. We can't even say what we're going to be wearing."
We walked around to the next block, on a street called Dos Rios. Armando Fernández was in the street with half a dozen other people working to clear the mud. Most people's belongings were piled into huge mounds in their front yards. Fernández said he works with the local public housing office, and he said 44 of 60 public housing units in this part of Ciales had suffered severe damage or been completely destroyed. He told us we were the first people from outside the neighborhood to come to the street asking people how they were getting by. He and his neighbors were more than willing to help the local government clear the mud, he said, if the government could just bring the machines to do it. He added that he and his friends were organizing to obtain their own fuel and equipment if the government couldn't step up.
Fernández's neighbor Saul Pagan told me that the mud—and everything inside it, from trash to dead animals—was a major public health hazard. "There are all sorts of bacteria and other stuff in there that can get on us," he said.
On our way out of town, we visited a shelter for people who lost their homes near the Ciales city center. Marisol Vega, a doctor volunteering to help coordinate medical care at the shelter, told us that the local government did have some supplies to nourish the people, but that the bulk of the water and other items were donated by people in Ciales.
"It's amazing," she said. "The same community that's down is the same community that donates."
What else do you want to know about the crisis in Puerto Rico? AJ is taking your questions while he reports from the island. You can submit them here, and he'll see what he can investigate for you.