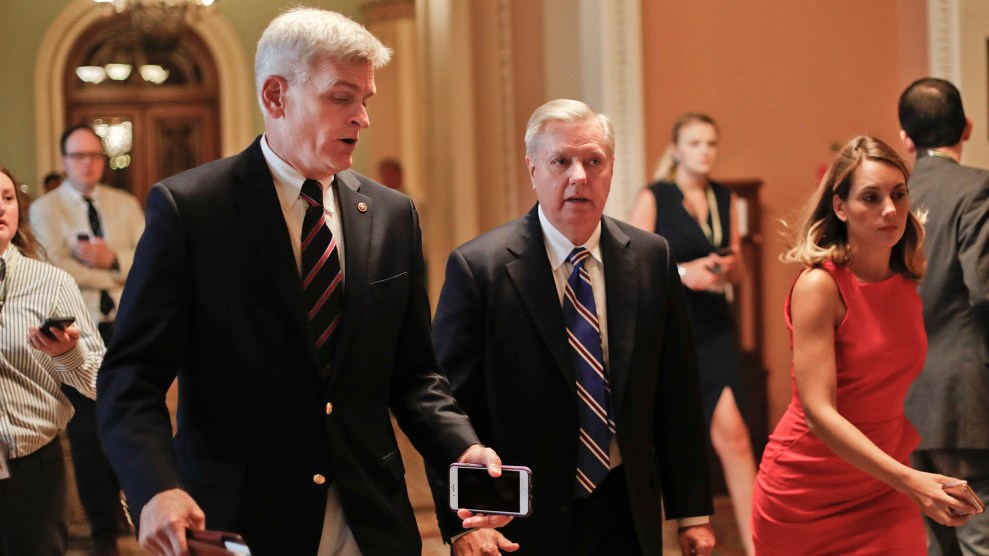 Fight disinformation:
Sign up
for the free
Mother Jones Daily
newsletter and follow the news that matters.
A pair of Republican senators on Wednesday introduced a last-ditch effort to repeal and replace Obamacare. The scheme is an audacious one, going even further than previous failed efforts to end Obamacare—proposals that would have resulted in millions more uninsured Americans. The new effort faces steep odds in the Senate, in part because Republicans have just 18 days to pass it.
Wednesday's bill, authored by Sens. Lindsey Graham (R-S.C.) and Bill Cassidy (R-La.), would end Obamacare almost entirely, replacing it with so-called block grants to states; individual states could then decide how they want to spend the money. They could keep on offering the same policies as Obamacare—as blue states would likely attempt to do—but they'd also be free to tinker with the insurance market, ending Obamacare's programs to help low-income families buy insurance.
But there's a big catch: Over time, the amount of money offered to states to carry out their health care programs would be significantly less than the government would spend under Obamacare. So even states that want to maintain the status quo would struggle to keep the various Obamacare programs running. This is especially true for the 31 states that have adopted Obamacare's expansion of Medicaid to cover everyone who makes up to 138 percent of the poverty line. By 2026, the bill would reduce federal spending on Obamacare programs by about a third. Starting in 2027, it would offer zero funds to states, leaving them with no money to shore up insurance markets. Where previous Republican bills maintained at least part of Obamacare's structure, Cassidy-Graham tears the whole thing down with a sledgehammer.
The bill would also fundamentally restructure all Medicaid spending, drastically reducing the amount of money states receive from the federal government to provide health insurance for the poor. According to past analyses from the non-partisan Congressional Budget Office, similar policies would leave Medicaid underfunded by hundreds of millions of dollars, with the gap in funding growing worse each year.
"It would cause many millions of people to lose coverage, radically restructure and deeply cut Medicaid, increase out-of-pocket costs for individual market consumers, and weaken or eliminate protections for people with pre-existing conditions," the Center for Budget and Policy Priorities concluded last week based on early reports about the bill.
"This is a defining fight for the future of health care and the Republican Party," Graham said at Wednesday's announcement event. "We refuse to quit."
But unlike the last Republican effort, which fell one vote short of passing the Senate, this new bill might never even come to the Senate floor. There's not a lot of time for Cassidy and Graham to round up support. Because they want to sidestep a Democratic filibuster, they're relying on a legislative maneuver called reconciliation that would allow a bill to pass with just 50 votes. But that comes with a September 30 deadline, leaving just 18 days before the bill is dead. In that time, the legislation needs to get scored by the Congressional Budget Office and evaluated by the Senate's parliamentarian to make sure it conforms to the arcane rules of reconciliation. And at Wednesday's unveiling, the senators said they intend to have the bill go through a Senate committee hearing, which would bog down the process even further.
Even ignoring the difficulties of the timeline, it's hard to envision how the new bill would be able to garner 50 Republican votes in the Senate. The duo was joined by just two fellow senators—Ron Johnson (R-Wis.) and Dean Heller (R-Nev.)—at the event introducing the bill. Senate Republican leaders haven't been enthusiastic about the plan, with Majority Leader Mitch McConnell (Ky.) reportedly not planning to help get the bill ready for a vote unless Cassidy and Graham manage to cobble together the votes they need.
The bill has the same problems that prompted Sens. Lisa Murkowski (R-Alaska) and Susan Collins (R-Maine) to reject previous GOP proposals. It should raise the concerns for Sen. John McCain (R-Ariz.), who cast the deciding vote to kill Republicans' previous attempt to undo Obamacare. But McCain is close buddies with Graham, so there's a reasonable chance he'd vote for it anyway. "While I support the concept of the Graham-Cassidy proposal, I want to see the final legislation and understand its impact on the state of Arizona before taking a position," McCain said in a statement last week. But Sen. Rand Paul (R-Ky.) has already said that he opposes the bill, which appears to leave it short of the 50 votes it needs. "I don't think it's going anywhere," Paul said Monday. "I haven't heard anybody talking about it."
Read the summary Cassidy and Graham released describing their bill below: