Fight disinformation:
Sign up
for the free
Mother Jones Daily
newsletter and follow the news that matters.
Between January and July of this year, Immigration and Customs Enforcement arrests of undocumented immigrants with no criminal history skyrocketed by more than 200 percent, according to a Reuters analysis—jumping from 1,411 arrests in January to a whopping 4,399 in July. Arrests of immigrants with criminal records have also increased but by a much smaller margin of 17 percent. 
Reuters' findings demonstrate the chilling effects of President Trump's crackdown—and that his policies have led to repercussions across the justice system and multiple borders.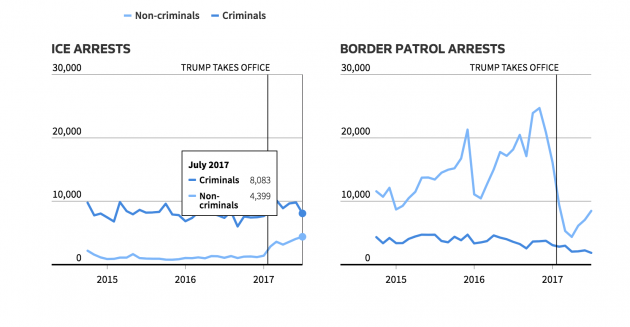 While Reuters only looks at data through July, the Washington Post reports the trend is ongoing; immigrants without criminal records have become the fastest-growing category of ICE arrests this year. 
Despite the uptick in arrests, the number of removals has actually slowed. Immigration experts, though, say that's not due to a lack of effort by the Trump administration—rather there's a backlog in the immigration court system and significantly fewer people are attempting to cross the US-Mexico border since Trump took office. In August, arrests at the border dropped by more than 40 percent compared to the same time last year, according to US Customs and Border Protection. 
Reuters also found that immigrants' lives in the US are more imperiled because those who were previously spared from deportation orders under the Obama administration are now seeing their cases reopened. Between March and May, the Trump administration has requested the courts reopen more than 1,300 cases. During that same period, the Obama administration requested 430. 
The Trump effect isn't limited to America's borders. The number of asylum seekers who have been arrested crossing into Canada from the US has also spiked, nearly doubling in August. Canada is now on track to receive the most asylum claims in a decade.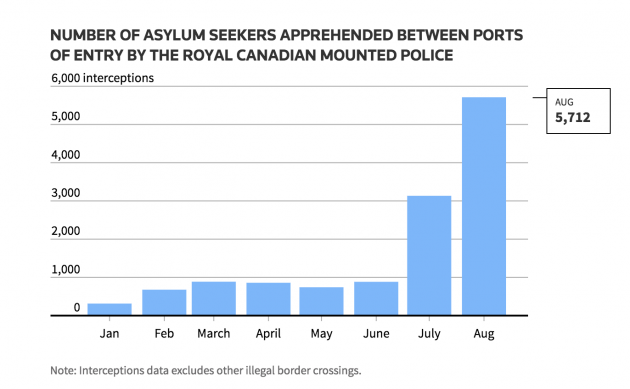 See more figures on Trump's effect on immigration with the full report from Reuters here.