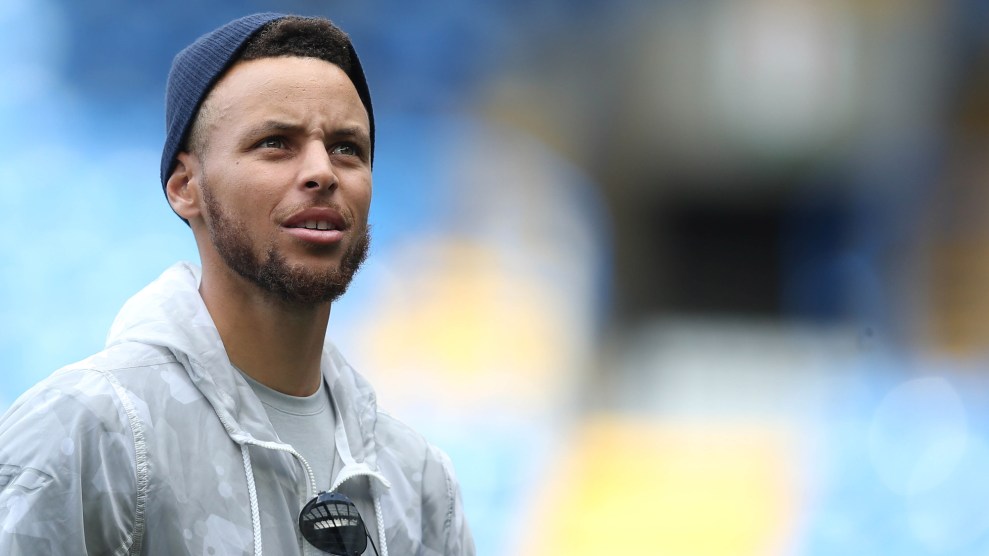 Fight disinformation:
Sign up
for the free
Mother Jones Daily
newsletter and follow the news that matters.
It's not normal for the nation's chief executive to spend his time going after America's top athletes. But on Friday night and Saturday morning, President Donald Trump went out of his way to lambast players who have taken stands on social issues. First, during a campaign rally in Huntsville, Alabama, Trump insulted NFL players who have taken a knee during the national anthem to condemn police violence and took a veiled shot at former San Francisco 49ers quarterback Colin Kaepernick.
"Wouldn't you love to see one of these NFL owners, when somebody disrespects our flag, to say, 'Get that son of a bitch off the field right now, out, he's fired. He's fired!" Trump told the crowd at a rally meant to support Sen. Luther Strange, who is vying to keep Jeff Sessions' open Senate seat.
Trump's comments in Alabama tonight on the NFL's rule changes and ongoing anthem protests. pic.twitter.com/yEUumh31pq

— Bryan Armen Graham (@BryanAGraham) September 23, 2017
Kaepernick has gone unsigned this season, raising concerns that he's been blackballed by NFL owners for his decision to kneel during the national anthem. NFL Commissioner Roger Goodell disputed the notion in August, saying that the NFL teams "make those decisions individually." Over the past year, NFL players have raised fists and taken knees and spoken out about social issues, inspiring high school, college and even Pee-Wee athletes to do the same.Yahoo Sports reported that in August, four NFL players—Michael Bennett, Malcolm Jenkins, Torrey Smith and Anquan Boldin—sent a 10-page memo to Goodell and executive vice president Troy Vincent calling for the NFL for the league's support for a racial equality and criminal justice reform campaign. The commissioner has not commented on the memo nor have the players.
On Saturday, NFL Commissioner Roger Goodell said the president's comments "demonstrate a lack of respect" for the NFL and its players.
New NFL statement pic.twitter.com/XHPgVvPPfH

— Brian McCarthy (@NFLprguy) September 23, 2017
DeMaurice Smith, executive director of the NFL Players Association, took a more defiant stance.
We will never back down. We no longer can afford to stick to sports. pic.twitter.com/Ec3Bc4qt9h

— DeMaurice Smith (@DeSmithNFLPA) September 23, 2017
Trump didn't stop at calling out players who have protested. He criticized the NFL's concussion rules for "ruining the game," even though the rules were made to protect players from the debilitating long-term effects of brain injuries. And on Saturday morning, Trump claimed to have withdrawn an invitation to Golden State Warriors star Steph Curry after Curry told reporters he did not want to go. Curry said:
"That we don't stand for basically what our president has—the things that he's said and the things that he hasn't said at the right times—that we won't stand for it. By acting, and not going, hopefully that will inspire some change when it comes to what we tolerate in this country, what is accepted and what we turn a blind eye toward. It's not just the act of not going…That's kind of where I stand on that. I don't think us going to the White House will miraculously make everything better, but this is my opportunity to voice that."
Stephen Curry pretty forceful on his thoughts about Trump and possible White House visit pic.twitter.com/Ubj6V91EsL

— Anthony Slater (@anthonyVslater) September 22, 2017
Going to the White House is considered a great honor for a championship team.Stephen Curry is hesitating,therefore invitation is withdrawn!

— Donald J. Trump (@realDonaldTrump) September 23, 2017
Of course, LeBron James had a hilarious clapback.
U bum @StephenCurry30 already said he ain't going! So therefore ain't no invite. Going to White House was a great honor until you showed up!

— LeBron James (@KingJames) September 23, 2017
Update: Trump's remarks sparked significant outcry from other NBA and NFL players as he continued to tweet on Saturday. Even Colin Kaepernick's mom got in on the responses.
If a player wants the privilege of making millions of dollars in the NFL,or other leagues, he or she should not be allowed to disrespect….

— Donald J. Trump (@realDonaldTrump) September 23, 2017
…our Great American Flag (or Country) and should stand for the National Anthem. If not, YOU'RE FIRED. Find something else to do!

— Donald J. Trump (@realDonaldTrump) September 23, 2017
With everything that's going on in our country, why are YOU focused on who's kneeling and visiting the White House??? #StayInYoLane

— Chris Paul (@CP3) September 23, 2017
And I doubt he's man enough to call any of those players a son of a bitch to their face…

— Chris Paul (@CP3) September 23, 2017
The behavior of the President is unacceptable and needs to be addressed. If you do not Condemn this divisive Rhetoric you are Condoning it!!

— Richard Sherman (@RSherman_25) September 23, 2017
"Stick to sports boy… Sit down and do what your told. Say or do something we don't like and your fired" Well I hate to break it to ya…

— Chris Conley (@_flight17_) September 23, 2017
It is a sad day when the #POTUS seeks to disregard and punish American citizens for peacefully exercising their constitutional rights. https://t.co/QPvrKDS29D

— Benjamin Watson (@BenjaminSWatson) September 23, 2017
Guess that makes me a proud bitch!

— Teresa Kaepernick (@B4IleaveU) September 23, 2017
In a statement on Saturday, the Golden State Warriors accepted Trump's withdrawal of an invitation to the White House. "We believe there is nothing more American than our citizens having the right to express themselves freely on matters important to them," the team noted.
Statement from the Golden State Warriors: pic.twitter.com/6kk6ofdu9X

— Warriors PR (@WarriorsPR) September 23, 2017
On Saturday night, Oakland Athletics catcher Bruce Maxwell joined dozens of athletes before him and took a knee during the national anthem before a game against the Texas Rangers. He became the first Major League Baseball player to do so. The Oakland A's issued a statement in support.
From the @sfchronicle's Santiago Mejia, here is A's rookie Bruce Maxwell becoming the first MLB player to take a knee for the anthem: pic.twitter.com/q8QVY9hW15

— Susan Slusser (@susanslusser) September 24, 2017
— Oakland A's (@Athletics) September 24, 2017
And LeBron James elaborated on his tweet in response to Trump's withdrawal of the Golden State Warriors' invitation to the White House. "This guy that we've put in charge is trying to divide us again," James said in a video. "He's now using sports as the platform to try and divide us…For him to try and use this platform and divide us even more, it's not something I can stand for. It's not something I can be quiet about."
"It's not about dividing. We as American people need to come together even stronger." — @KingJames responds to @realDonaldTrump's comments. pic.twitter.com/UHpzXpb42K

— UNINTERRUPTED (@uninterrupted) September 23, 2017