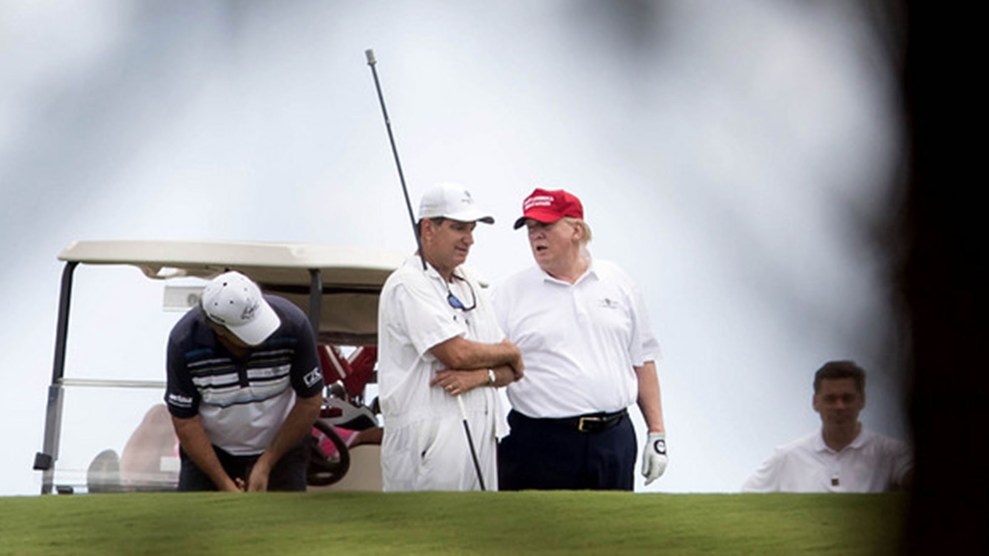 Fight disinformation:
Sign up
for the free
Mother Jones Daily
newsletter and follow the news that matters.
The country's biggest private prison company last week held its annual leadership conference at a golf resort owned by President Donald Trump, underscoring an increasingly cozy relationship between the ever-expanding industry and the White House.
GEO Group executives met for several days at the Trump National Doral near Miami, the Washington Post reports, as the company continues to hold multiple lucrative prison contracts with the federal government.
Business for private prison operators like Florida-based GEO Group has been booming since Trump took office, and perhaps that shouldn't come as a surprise. GEO Group spent hundreds of thousands of dollars supporting the Trump campaign last year: The prison giant donated $225,000 through a subsidiary to a pro-Trump super-PAC, according to campaign disclosures, including a gift of $100,000 on August 19, 2016, just one day after the Obama administration announced it would phase out its use of private prisons because of their high rates of violence. The Post also reports that GEO gave $250,000 to the president's inaugural committee.
After Trump's inauguration, Attorney General Jeff Sessions announced that the Justice Department would continue its relationship with private prisons. Prison stocks soared. The following month, GEO won a $110 million contract to build a federal immigrant detention center in Texas. The facility is expected to generate $44 million a year.
In June, a nonprofit watchdog group called the Campaign Legal Center sued the Justice Department, demanding documents that might show whether the administration's decision to keep working with private prisons was influenced by GEO contributions to the pro-Trump super-PAC. The watchdog argues that the donations violated campaign finance laws, an allegation the prison company denies. The Federal Election Commission has yet to weigh in.
The Florida golf resort where GEO executives met is the single-largest source of revenue to the Trump Organization, bringing in $116 million between January 2016 and March 2017, according to the Post. Over the past year, ethics experts have highlighted the conflict of interest created by the president's continued ownership of his company and his vast real estate holdings. Corporations seeking contracts from the federal government, or foreign diplomats seeking policy outcomes, may attempt to curry favor with the Trump administration by doing business with the president's company, ethics experts have warned.
GEO Group did not respond to requests for comment from the Washington Post about its timeline for booking the leadership conference at the resort or the cost of doing so. A White House spokesperson told the newspaper the Trump administration was not aware of the prison company's conference that was held there.