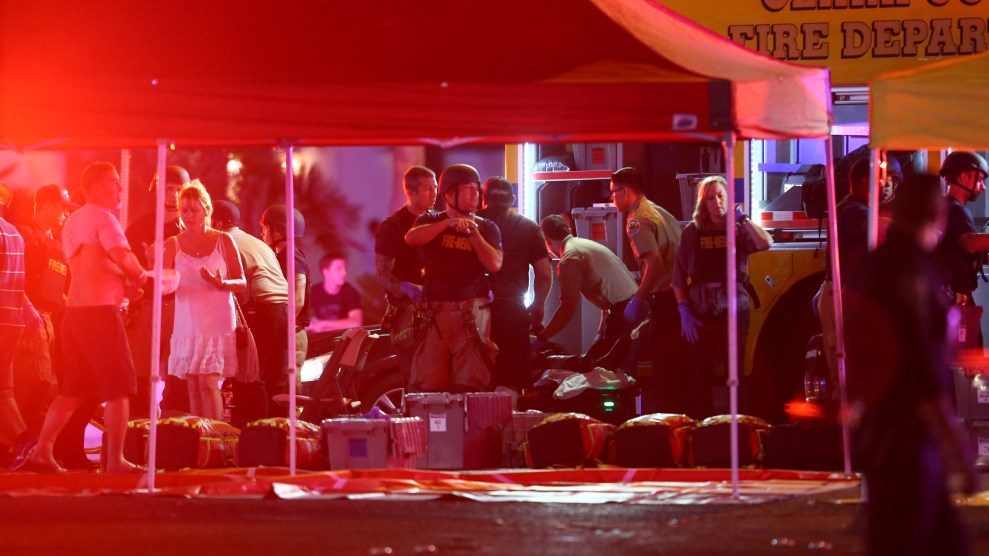 Fight disinformation:
Sign up
for the free
Mother Jones Daily
newsletter and follow the news that matters.
Update, 6:56 a.m. EST: The death toll rose to at least 59 people killed and 527 injured.
Update, 11:55 a.m. EST: Las Vegas Metropolitan Police Sheriff Joe Lombardo told a press conference Monday morning that the death toll has climbed to at least 58 people; the number of injured now stands at 515 people.
Update, 10:56 a.m. EST: In a press conference from the White House, President Donald Trump condemned the shooting as an "act of pure evil." He also announced he'll be traveling to Las Vegas on Wednesday to meet with victims' families and first responders.
President Trump calls Las Vegas shooting "an act of pure evil" https://t.co/7wAC42wB7P https://t.co/5sCSi4Zwrf

— CNN Breaking News (@cnnbrk) October 2, 2017
Update, 6:45 a.m. EST: More than 50 people have been killed and at least 400 people were transported to the hospital in the worst mass shooting in US history. Officials identified the gunman as 64-year-old Stephen Paddock. Paddock is believed to have killed himself, Clark County Sheriff Joseph Lombardo told reporters Monday morning.
As the country woke up to the news, a fuller picture of the horror began to emerge. Officials say Paddock opened fire around 10 p.m. from the 32nd floor of the Mandalay Bay hotel on the Las Vegas strip, where he shot down at concertgoers attending the Route 91 Harvest Festival outside, sending tens of thousands of people fleeing the chaotic scene. Witnesses say the gunfire lasted for nearly 10 minutes.
Nearly two hours elapsed before police confirmed the suspect had been shot, according to the New York Times.
An "excess of ten rifles" were discovered in Paddock's hotel room, Lombardo said.
Authorities were initially searching for a woman named Marilou Danley, who was suspected of being connected to the shooting after her identification was found on Paddock. Lombardo updated reporters on Monday and said police have located her out of the country.
"He was utilizing some of her identification and we have had conversations with her," he said at a press briefing. "We believe her at this time not to be involved. But obviously that investigation will continue."
White House press secretary Sarah Huckabee Sanders confirmed the president was briefed on the shooting. He posted the following tweet:
My warmest condolences and sympathies to the victims and families of the terrible Las Vegas shooting. God bless you!

— Donald J. Trump (@realDonaldTrump) October 2, 2017
Previously:
At least one gunman opened fire on the Las Vegas strip down at an outdoor country music festival late Sunday night. Video footage quickly circulating on social media showed panicked crowds fleeing the scene and the sound of what appeared to be sustained automatic gunfire.
Initial news reports, citing local hospitals, said there were at least 24 victims with gunshot wounds. Some flights into Las Vegas' McCarran airport were diverted.
Witness in Las Vegas: "We watched these people getting gunned down…the air just reeked of gunpowder." https://t.co/96ev6wcVZT pic.twitter.com/c4Vf2XQGNI

— ABC News (@ABC) October 2, 2017
https://twitter.com/NateNews3LV/status/914728749668507648?ref_src=twsrc%5Etfw&ref_url=http%3A%2F%2Fabcnews.go.com%2FUS%2Factive-shooter-situation-las-vegas-police%2Fstory%3Fid%3D50223240
This is a developing story.