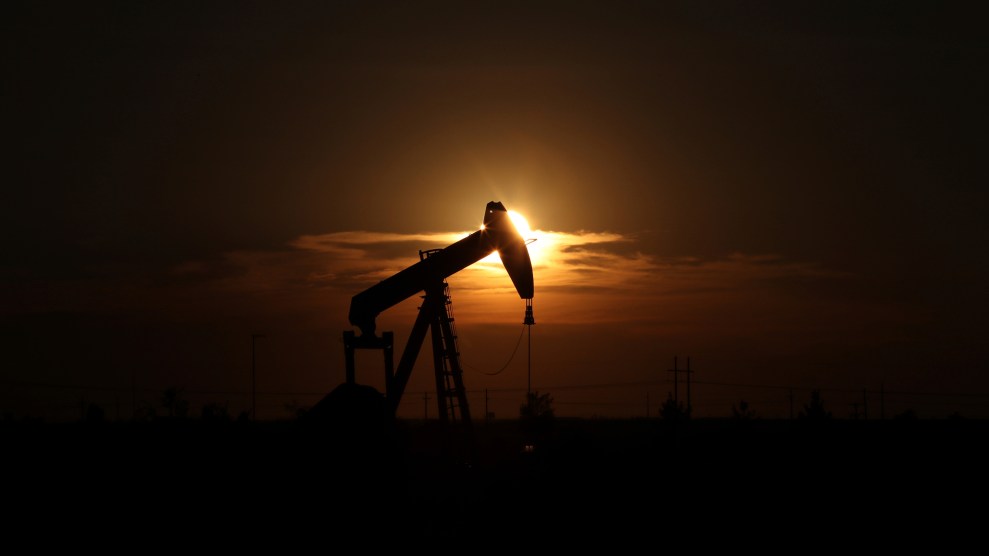 New Mexico's top education official is misleading the public about how his agency crafted a series of controversial changes to the state's science standards, according to a former state employee who worked on the standards and later quit in protest.
Last month, as Mother Jones first reported, the state's public education agency released a plan for updating its science education guidelines for grades K-12. The draft language drew heavily on the Next Generation Science Standards (NGSS), which were developed over several years by national science and teaching associations, as well as by an array of other scientists, teachers, professors, engineers, cognitive experts, and business leaders. At least 18 states and the District of Columbia have adopted NGSS to teach science to their students.
But there were some eyebrow-raising differences in New Mexico's guidelines. The proposed standards deleted language from the NGSS referencing the "4.6-billion-year" history of the Earth, omitted entirely one mention of evolution, and eliminated references to human-caused global warming. In one case, the proposed standards would replace language about the "rise in global temperatures" with a reference to the supposed "fluctuation" in global temperatures. The new standards have not yet gone into effect; they'll be debated at a public meeting later this month.
News of the anti-science language sparked a backlash in a state that is home to such renowned institutions as Los Alamos National Laboratory and the Sandia National Laboratories. New Mexico's two US senators wrote that they were "disturbed" at their state's actions. Glenn Branch, the deputy director of the National Center for Science Education, said the changes were "evidently intended to placate creationists and climate change deniers."
Christopher Ruszkowski, the head of New Mexico's Public Education Department, shot back at critics by saying that his agency's proposed changes—including those that fly in the face of peer-reviewed science and long-accepted facts—resulted from input by "a bunch of different groups," among them "business groups, civic groups, teacher groups, superintendents." He wouldn't specify who the groups were but said the process that went into writing the controversial proposed standards was "how PED does business."
But that's not how it happened, according to Lesley Galyas, a former state employee who was in charge of PED's efforts to revamp its outdated science standards until late last year, when she resigned. Galyas, who served four years as the math and science bureau chief at the department, said her job in part entailed overseeing teachers' groups, focus groups, and a math and science advisory committee, all with the aim of bringing New Mexico's standards in line with the latest research on science and teaching.
In an interview with Mother Jones, Galyas described an attempt by "one or two people" working "behind closed doors" to politicize how science is taught in the state. She was reluctant to speak about her time at PED, but she said the directive to alter the standards came from her superiors. One of the officials involved, she says, was Ruszkowski, who was then a deputy secretary.
"They wanted me to personalize [NGSS] for New Mexico, and then more requests [for changes] came out of it," she recalls. "I didn't feel comfortable with it." According to Galyas, she wasn't allowed to share the changes with others in her department as they were being debated internally.
When asked why she believed her bosses sought the changes, Galyas replied: "They were really worried about creationists and the oil companies."
A Public Education Department spokeswoman did not respond to a detailed set of questions for this story.
Galyas, whose LinkedIn profile lists a doctorate in science curriculum from New Mexico State University, says she fought against the changes internally. "I warned them that the school district in Los Alamos and the teachers would reject them," she says. "I told them that it's going to backfire." In the end, she quit her job at PED rather than go along with the requests made by her superiors. "I felt I had a moral obligation to leave my position," she says.
This isn't the first time Galyas has spoken publicly about her time at PED and the controversy over the state's science standards. In February, while the standards were still being developed, she read a brief statement during a state House of Representatives hearing on a bill that would have required PED to adopt NGSS without significant changes. Galyas told lawmakers that before she left the department, she had received numerous letters from industry officials, teachers, superintendents, and associations of scientists and science teachers urging the state to adopt NGSS.
"Toward the end of my tenure at the PED, I was tasked to edit and change some of the language in the standards to make them politically sanitized," she said. "My request is that the Next Generation Science Standards be adopted as written in the whole as the experts wrote them. And not be piecemealed."
The bill went on to pass the state House and Senate but was vetoed by Gov. Susana Martinez, a Republican now in her second term. Martinez elevated Ruszkowski, a former social studies teacher and staffer in Delaware's education department, to be New Mexico's education secretary in August.
In September, seven months after Galyas first raised the alarm, PED released its proposal. The new standards borrowed substantial language from the NGSS, but the changes were hard to miss. In addition to removing language about rising temperatures, evolution, and the age of the Earth, the proposal would add a new standard declaring that middle school students should be able to "describe the benefits associated with technologies related to the local industries and energy production."
The new proposed standards have led to calls for protests. The Santa Fe school board voted to organize a teach-in for state education officials. Outside experts involved in advising PED criticized the process. The Los Alamos National Laboratory Foundation, an independent nonprofit that funds education programs in northern New Mexico, sent a letter to PED last week charging that "the collective expertise and voice of [PED's math and science advisory] council was ignored, with no involvement in the revisions leading to these objectionable changes proposed by the PED."
PED says it will hold a public hearing on its proposed science standards on October 16 in Santa Fe, the state capital.