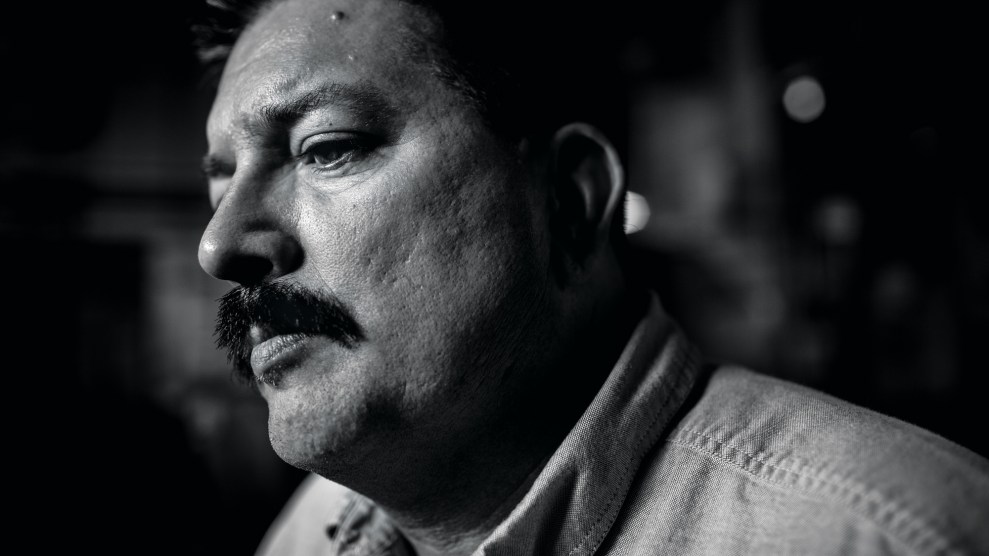 Fight disinformation:
Sign up
for the free
Mother Jones Daily
newsletter and follow the news that matters.
Randy Bryce was looking for another hit. On a weekday afternoon in August, the Democratic candidate for Congress in Wisconsin's 1st District sat at his kitchen table, staring into the camera lens of his laptop. Bryce is a union ironworker when he is not running for office, and he was surrounded by traces of his craft. Four pairs of heavy high-topped work boots were scattered across the cluttered apartment he shares with his 11-year-old son on the second floor of a multifamily house. A weight machine took up most of the living room. The stairway smelled of cigarettes.
In four days, Bryce's Republican opponent, Speaker of the House Paul Ryan, would return to the district for a nationally televised forum on CNN. Ryan had gone more than 650 days without holding a town hall, and attendance at this one, like his other events, would be strictly vetted. Unable to score an invite, Bryce and his campaign team had decided to buy local airtime during the broadcast and run a series of ads. If Bryce couldn't ask one question at the town hall, he'd pay $580 to ask three, pre-recorded with a dusty air-conditioning unit in the background.
Bryce looked into the camera lens and said, "Paul Ryan! Welcome to Wisconsin."
"So many people watch our shit," Bryce's campaign manager, David Keith, standing nearby, said to Bryce. "We might go viral again."
Skyping in, their Brooklyn-based ad maker, Matt McLaughlin, feigned exasperation. "Listen, guys, stop asking for viral videos. I don't want them!"
The 52-year-old Bryce is built like a lineman, with soft brown eyes and a flattop that flares up in the front like uncut grass. He grew a handlebar mustache for kicks years ago, and the bushy black ellipse is now so popular he could not get rid of it even if he wanted to. It has taken on almost Samson-like qualities among his growing base of supporters. If it weren't for the Iron Stache, you might have never heard of Randy Bryce.
But plenty of people have heard of him now. After seven years as a union activist, Bryce exploded onto the national political scene in June with a viral announcement video one congressman called the greatest campaign launch he'd ever seen. The Democratic Congressional Campaign Committee's recruitment team gathered its members together to watch it: Bryce, in a hard hat, tells Paul Ryan, "Let's trade places…You can come work the iron, and I'll go to DC." After the video ended, no one said a word. On a visit to the Capitol, a supporter tried to introduce Bryce to Rep. Joe Kennedy III, but Kennedy already knew who he was: "I had your video on loop for 10 minutes," he said. The hosts of The View even talked about him.
Bryce's task seems impossible. He is running in a district Democrats haven't seriously contested in decades, against one of the most powerful men in America. Ryan has a bottomless bank account and a well-cultivated reputation as a genial kid from Janesville that has made him more popular than every other Republican on the ticket. You could make a good case that the Trump presidency was forged in southeast Wisconsin. In 2016, the 1st District—a mix of old manufacturing cities, suburbs, and farmland from south of Milwaukee west along the Illinois border—captured the state's shift in miniature. Trump carried Ryan's seat by double digits by flipping historically Democratic working-class strongholds and narrowing the margins in places like Janesville.
But Bryce's candidacy has spoken to Democrats in deeper ways, because he is running at a moment when they are asking aloud who and what the party stands for. In Bryce, a lot of people who don't know the difference between Chinese and American steel, who have never stepped foot in Racine, whose own mustaches are ironic, have found an avatar of a new direction—by the working man, for the working man. If their problem is that people who look like Randy Bryce stopped voting like him, then this, they believe, is the way to win the state that got away.
Bryce was raised in South Milwaukee, the son of a Mexican American father and a Polish American mother, who handled paperwork at a doctor's office. After high school he spent three years in the Army and then bounced around a series of jobs without benefits. He was delivering appliances when he finally complained to his mother about his chronic pain. She brought him in for tests. When they went back for the results, the doctor tossed him a pamphlet: "What you need to know about testicular cancer."
The doctor said he'd need to operate immediately and asked about insurance. Bryce had none. What saved him was an experimental program at a teaching hospital. The doctor made some calls, and Bryce got free treatment after agreeing to become a guinea pig for students. After he recovered, he was holding down two jobs when his mother tipped him off to an ironworker apprenticeship. The pay was good, the work was plentiful, and it came with insurance, so he could afford the CT scans and the lymph node dissections and regular checkups. "I don't live for the union," he once said. "I am alive because of it."
Bryce's political life began in 2010, when Scott Walker was elected governor of Wisconsin. It was a time of transition. Wisconsin had been a Democratic stronghold dating back to the 1980s, when unions such as the United Auto Workers kept the state reliably blue, and it had been a proving ground for progressive policies long before that. Milwaukee elected three socialist mayors in the early 20th century, and unions backed Robert La Follette, the crusading anti-corporate senator and governor, for president. Policies like collective bargaining, mandatory workers' compensation, and unemployment benefits existed in Wisconsin before they existed almost anywhere else. If Walker was going to break the back of that progressive tradition, he would have to go through labor to do it.
Six weeks into Walker's term, Bryce, who was then the political director of his local, was finishing up a job at the Nestlé plant in Burlington when he got a call about Act 10. The bill, Walker's first major legislative effort, would slash benefits and limit collective bargaining for most of the state's public employees. Bryce threw himself into the work of organizing, showing up to serve meals during the weeks of sit-ins at the state Capitol and later launching a political action committee, Recall Walker, as part of an effort to drive the Republican from office. "Walker's attacks are killing our children's shots at being anything other than either indentured servants or slaves," he said at one rally. Wisconsin, he proclaimed, would be the place that "killed the tea party."
It wasn't. Walker fended off the recall—exit polls showed that many voters who didn't like Walker opposed the vote on principle—and then won again two years later. People like Bryce had counted on the state's progressive, union electorate to eject Walker from office once he showed his colors. But Wisconsin, it turned out, was not what Democrats thought it was.
Walker was able to transform the state by capitalizing on its instability. The recession had accelerated an exodus of tens of thousands of union jobs from southeast Wisconsin that hadn't come back. Workers who once made $28 an hour at a union auto manufacturer now made $15 an hour at a nonunion distribution center—if they had a job. On top of that, the law functioned as Walker intended it to—after Act 10 and the subsequent passage of right-to-work legislation, membership in public employee unions plummeted. If a county lost 10,000 union members, that wasn't just an economic disaster; it also meant 10,000 fewer people paid union dues and 10,000 fewer households received union campaign literature. The recession exposed cracks in the Democratic base, and Walker stuffed them with dynamite.
The end result was what one University of Wisconsin researcher dubbed "the politics of resentment"—a distorted kind of populism that pitted different working-class constituencies against each other. Rural against urban, private-sector unions against public-sector unions, labor against environmentalists: Walker called it "divide and conquer."
Even Bryce had to make compromises in the face of Walker's maneuvering. When his union backed a controversial open-pit ore mine in northern Wisconsin that had been opposed by tribal groups, he conceded that the pressures of the moment trumped solidarity. "They're trying to divide us," he told the New York Times, "but my members need work."
Since the Walker recall effort, Bryce has run for local office without much vigor or success, campaigning for state Senate and the school board on weekends while continuing to work full time. He stumped for Sen. Bernie Sanders ahead of the Wisconsin primary (where Sanders carried 71 of 72 counties) and was a delegate to the convention, but he volunteered to be an elector for Hillary Clinton if she won. On election night he went to bed early, confident Donald Trump would not win his state. A few months later he got a call from Marina Dimitrijevic, the Wisconsin director of the Working Families Party.
In New York, where it was founded, the WFP functions as a hybrid third party thanks to fusion balloting—whether you support Bill de Blasio under the Democratic line or the WFP line, the votes all go to the same place. In Wisconsin, which lacks fusion balloting, the WFP functions more as an advocacy platform for leftist politics. In its two and a half years in southeast Wisconsin, the organization has pushed through a $15 living wage in Milwaukee and defeated charter school supporters in local school board races.
The WFP, like a lot of left-leaning organizations, viewed the 2016 election as an opportunity wrapped in a disaster. Of all the Democratic setbacks, Clinton's loss in Wisconsin seemed to lay bare the disconnect between what Democratic candidates said they were and what voters saw them as. She had declined to visit the state after winning the nomination because a loss there was considered unthinkable, and turnout dropped in the once rock-solid union cities that dot the 1st District. Dimitrijevic saw the Ryan race as an opportunity to start over with a more robust Sanders-style leftism in a place Democrats had abandoned, led by a candidate whose lived experiences more closely matched the people the WFP aims to help.
Congress is "not reflective of society," Dimitrijevic told me. "If we could send more teachers, firefighters, ironworkers, policemen, nurses to Congress, perhaps we wouldn't have this completely transparent Wall Street agenda that Paul Ryan has been [pushing]." Bryce found the idea of leading a new slate of worker-candidates appealing. On May Day, he made up his mind and enlisted the advisers who'd helped de Blasio—the WFP's greatest success story—get elected mayor of New York.
Bryce is not without his warts. Like a lot of hyperactive liberals on Twitter, he used to be a fan of the former British lawmaker and conspiracy theorist Louise Mensch, who in May claimed that the "marshal of the Supreme Court" had notified Trump that impeachment proceedings had already begun. (Bryce even offered to buy her a "supersize order of #FreedomFries if you're ever in [the] states.") And his views on some issues have evolved. Bryce stated in a 2014 campaign questionnaire, for example, that he supported parental consent for teenagers seeking abortions, a position he abandoned only in June. (He now has the endorsement of NARAL Pro-Choice America.) He can be awkward in speeches or interviews and can sometimes shoot wildly from the hip, such as when he lambasted Trump for failing to appoint a Federal Emergency Management Agency director before Hurricane Harvey. (Trump had.)
What he does have, which is unusual in a field occupied largely by millionaires, is an uncanny ability to articulate the impact of his opponent's policies on his own life. Bryce's announcement video focused on Ryan's push to repeal the Affordable Care Act, which would devastate programs like Medicaid and leave as many as 23 million Americans without insurance. The star of the spot was his 70-year-old mom, Nancy, whose speech is impaired by her multiple sclerosis. "I'm on 20 drugs," she says to her son softly, her feet up on her living-room sofa, "and if I don't take the one that costs thousands of dollars, I don't know what would happen." Bryce has his hands over his face as she explains it; when she's done, he walks over to give her a hug. At this point in a typical campaign ad, the candidate would appear, with sleeves rolled up, perhaps, to explain why he's fighting for people like Randy and Nancy. The essential appeal of Bryce, to his boosters, was that the regular guy in someone else's ad was now the candidate. The campaign raised $430,000 in less than two weeks and Bryce became a national figure overnight—speaking at Netroots Nation one week and then headlining a fundraiser in Manhattan's East Village alongside the actress Cynthia Nixon.
Embedded in Bryce's instant popularity was an inescapable cultural anxiety among commentators and political types still reeling from the Trum­pocalypse. One writer observed that "Bruce Springsteen's discography has taken on human form." Chris Matthews, interviewing Bryce on MSNBC, told him, "You strike me, Mr. Bryce, as the kind of guy or woman who voted for Trump."
The timing was also fortuitous. If Jon Ossoff, the fresh, yuppie, technocratic Georgia congressional candidate, captured the capital-R resistance at its most desperate hour—when everyone seemed to be toting a pussy hat or a fundraising app—the popularity of Bryce in some circles captured the next wave. Ossoff had barely touched health care during a campaign that spanned the length of the Ryan repeal effort. Bryce was living the fight. It was as if lefty activists were collectively saying, "No, this is what a Democrat should be."
"Populism is what people want," Bryce told me over lunch at a fish house on Lake Michigan. "I think that's why it blew up as big as it did. There's just such a hunger for that. People want somebody like them to make decisions for them."
The outpouring of money and support suggests Bryce and the WFP may be on to something. But much of that money and support also came from people who aren't very much like Randy Bryce. And that's the irony—and central challenge—of his candidacy. He may be a Brooklynite's idea of what a Midwestern populist ought to be. But is he Wisconsin's too?
On paper, the 1st district is a place where Democrats should compete. It was, until recently, a hub of auto manufacturing and union labor. When Ryan was first elected in 1998, General Motors employed about 5,000 people in Janesville and Chrysler staffed nearly 1,400 in Kenosha. Unions like the UAW formed the backbone of the Democratic Party in the district. The hometown hero who best represents Janesville politics historically isn't Ryan—it's Russ Feingold. Although there are enough Republican-heavy rural areas and suburbs to tilt the district red, Democrats have needed those enclaves to pad their margins in statewide races.
Ryan, who lives on the same block as his childhood home, in a stately brick house that once belonged to an executive from the now-shuttered Parker Pen Co., is an outlier in Janesville. Democrats like to point out that he has trouble carrying his own ward. But he has been uniquely bulletproof across the district. Since he won the seat at the age of 28, the Democrats have never mounted a serious challenge in what may be the closest that gerrymandered Wisconsin comes to a swing seat. Ryan has won by fewer than 20 points only twice and has outperformed the Republican presidential nominee in his district by large margins without fail. In 2008, Barack Obama carried the 1st District by 3 points; that same year, Ryan won it by 29.
Most of Ryan's races have been foregone conclusions. Before Bryce got in, the only other Democrat in the race was a HuffPost blogger who had moved from Ohio specifically to run. He promptly dropped out, but Bryce now faces a primary challenge from Janesville School Board member Cathy Myers. Ryan's 2016 opponent, Ryan Solen, spent just $17,000 after winning a primary against a plumbing engineer whose campaign vehicle was a hearse. After Kenosha County Supervisor Rob Zerban lost by 12 points in 2012, Zerban told reporters no one would ever come that close again.
Sure, Ryan has likely benefited from a hometown discount, but his ascendancy also coincided with the rise of people like Walker and Trump. "I can guarantee you, if the AFL-CIO and the UAW and all of them were still as influential as they used to be, that would have never happened," says Stan Milam, a Janesville talk-radio host, of Clinton's Wisconsin no-show. "When the plant closed, it just sucked the air right out of Janesville."
I met Rick Gallo, a former postal worker who serves as president of the AFL-CIO in Kenosha and is backing Bryce. Walker's union-busting had thinned the ranks of Gallo's local so much that it had recently been forced to switch offices, to a new one-room space littered with boxes. He pulled out a piece of paper and began reading off a list of companies that had left the area. A good Democratic message alone won't reverse that decadelong transformation.
Besides, it's not as if no one has ever tried populism before. Perhaps no Wisconsin politician channeled this style of politics better than Feingold, the Democratic senator who fought dark money and corporate offshoring during his time in Washington. His reward? Losing two straight elections to Ron Johnson, a wealthy businessman who installed an Atlas Shrugged statue on a roadside near Oshkosh.
To win, Bryce will have to do what Feingold couldn't. That means making union politics work in a place where the jobs aren't union anymore, and getting working-class rural residents who have embraced Walker's politics of resentment to buy into the idea that populism can work for them too.
In Medicare-for-all, he thinks he's found a policy that can cut across those divides. It would certainly make his life easier. Although he has taken time off for the campaign launch, Bryce plans to start working again during the race—he has to, or he'll risk losing the insurance the union provides him and his son.
His work informs his politics in other ways. Bryce is passionate about subsidizing steel, in part from trying to weld Chinese metals on the job. "You're going at a good rate and you have your temperature, the heat right—all of a sudden, it just blows out," Bryce says. He extends his hands to form a circle. "I mean, just like a big hole." (Industry groups have long complained about the quality of Chinese steel, although those complaints are mostly, like Bryce's, anecdotal.) He supports new stipulations on buying American products for government vehicles (something Ryan has opposed), and he's pushing a $15 minimum wage, which would be double what some of the district's service workers make.
Meanwhile, Walker and Ryan's makeover of the area is continuing at ludicrous speed. In August the Legislature agreed to Walker's coup de grâce, a $3 billion package of incentives and tax breaks to lure the tech manufacturer Foxconn to the 1st District. Ryan, who lobbied for the move, calls the company's arrival a "game changer" that has the potential to create up to 13,000 jobs—nonunion, of course.
Bryce cites his own experience in condemning the project. He explains that after Walker cut nearly $1 billion in education funding, his son's summer school program shut down. Not long after that, the school closed. Then his son was transferred to a new school, where he no longer qualified for extra help because the average test scores were lower. Then the school cut the tutoring program. "When I hear $3 billion, I'm like, that's a heck of a lot of money," Bryce says.
And it is. But it means that Bryce will be running against a massive injection of capital into an area where the American Motors plant has been reduced to nearly 20 square blocks of rubble across the street from the headquarters of another company, Jockey, that no longer makes anything in Kenosha either. And he could clash with party leadership when he does it; Walker persuaded Kenosha's Democratic legislator Peter Barca, the minority leader in the state Assembly, who resigned in September, to back the measure too. Divide, conquer, repeat.
A few hours before I watched Bryce film his town hall ad, he dropped in on a picnic of 50 retirees from the United Auto Workers local in a shaded pavilion at a park in Racine. They were his kind of people. Most of them used to work at Case IH, which manufactures agricultural machinery at a plant just down the street, and Bryce was dressed comfortably, in his customary short-sleeved blue button-­down shirt, jeans, and pair of sturdy brown work boots. After a short introduction, Bryce took the microphone from a white-haired union hand with a fishing T-shirt that identified him as "The Rodfather." Bryce was about to launch into his remarks when the Rod­father invited the group to grab some food.
Bryce could draw a packed ballroom in Atlanta and quiet a room in DC, but in Racine he was just the guy getting between union hands and their lunch break. Octogenarians crept past with their walkers, opening tins of baked ziti, chicken, and potato wedges and making small talk. A handful of people stayed seated. Bryce looked flustered for a moment. "This isn't working," a supporter murmured.
Less than two minutes after he began, Bryce cut himself off: "I'm not a stupid guy, and I know when I'm competing against a chicken leg."
But voters who were paying attention greeted him warmly. Clutching a can of Miller Genuine Draft, a woman who'd once hosted a fundraiser for one of Ryan's previous challengers approached Bryce to tell him that her daughter in Chicago had called her up about the ad. "'What's with this guy? He looks fabulous!'"
Another man recognized his face: "You're the Iron Stache!"
Bryce loaded up a plate with his chicken and broccoli and ranch dressing and sat down at a picnic table. Finally, along came Monte Griffin. Griffin is bald with a white mustache, and he wore a purple T-shirt bearing the logo of an annual biker rally in the north woods. If Bryce is where Democrats want Wisconsin to be, Griffin is where the state is currently at. He nursed a can of MGD, and then another. For nearly an hour, the two strangers chatted about work and life.
Politicians tend to respond to the complaints of their constituents by offering solutions, or by changing the subject; Bryce responds by rattling off his own problems. When Griffin talked about working in a foundry, Bryce talked about the strain he's putting on his body when he goes out to a site. When Griffin talked about the frustration of losing his job but still being above the cutoff to receive assistance from the local United Way, Bryce told him about giving his son a can of food to donate to the local pantry and wondering if he'd end up needing to go to the pantry himself. They talked about apprenticeship programs and job retraining and what it's like to look for work when you can't afford to hit the road, and about the ways in which the people who run the state squeeze people like them. Bryce told Griffin about his cancer, and Griffin told Bryce about his cancer—"It's bad enough that you have it, but it's worse that you get everything taken away from you." Griffin explained why he voted for Trump.
Over the course of the conversation, Bryce's ability to listen and relate won him Griffin's vote. But there was one thing Griffin took issue with.
"The whole thing is," Bryce had said to him, "who's more like most of the people in the district, Paul Ryan or me?"
It was meant to be rhetorical, but Griffin put down his Miller Genuine Draft and answered anyway. "Well, that's the big thing, too, okay?" he said. "There isn't that many factory workers and stuff like there used to be."
Bryce returned to his backstory and his roots, but Griffin was insistent.
"What I'm saying is, the young college people look down on working people. They look up to the people in the offices and stuff, you know? And sometimes it's hard for them to relate to that because they never knew what that was about." Wisconsin just isn't what it used to be.
Bryce's ad ran as promised during Ryan's CNN town hall. It didn't break the internet this time, but that week the campaign raised more than $100,000, and Bryce found a receptive audience among the protesters outside the arena. That Ryan would be forced to spend part of his August vacation in Racine was itself a small victory, a sign to Bryce that the speaker of the House for once felt compelled to mind his own backyard.
A few days after that, Bryce noticed a new ad running in the 1st District. Paid for by American Action Network, a PAC affiliated with the speaker, it cheered Ryan on for fighting for "tax reform" and job creation. It was the choice of a narrator, though, that caused Bryce to do a double take. He had a yellow hard hat and goggles and a thick beard and was grinding down a piece of steel with a look of determination. The caption identified him as "Albert Jones, former metal worker."