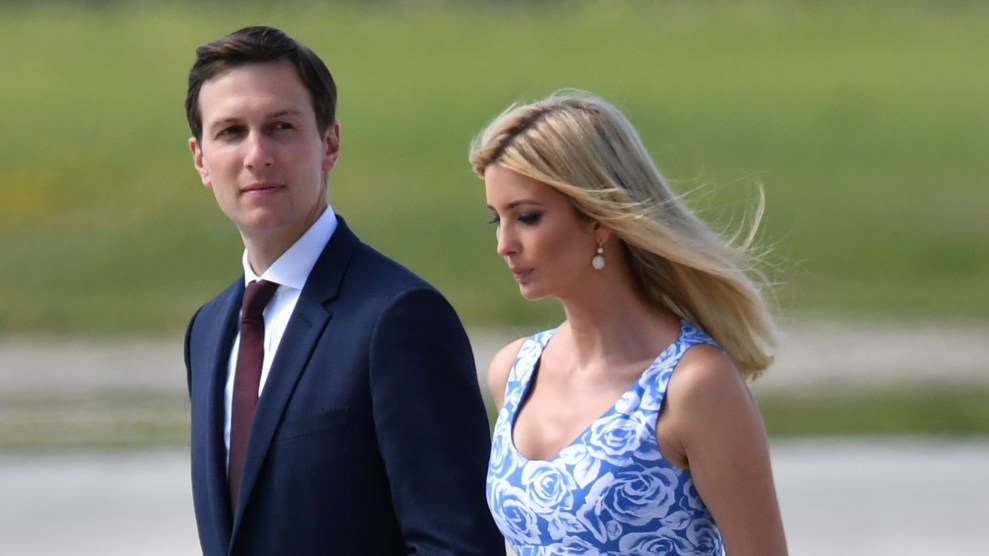 Fight disinformation:
Sign up
for the free
Mother Jones Daily
newsletter and follow the news that matters.
The top Democrat on the House Oversight and Government Reform Committee on Thursday sent letters to Ivanka Trump and Jared Kushner demanding that they preserve government-related messages they sent using private email addresses and explain why they reportedly transferred the emails to Trump Organization servers after the committee told them not to relocate the records.
"If these reports are accurate, they raise serious questions about your actions," Rep. Elijah Cummings (D-Md.) wrote to Trump and Kushner.
USA Today reported Tuesday that Trump and Kushner, President Donald Trump's daughter and son-in-law, moved their personal email accounts to Trump Organization computers after news of Kushner's use of a personal email account became public. Ivanka Trump and Kushner work as advisers in the White House.
The couple's use of nongovernmental emails has drawn comparisons to Hillary Clinton's use of a private email server while she was secretary of state.
Cummings and committee chairman Trey Gowdy (R-S.C.) in a bipartisan letter sent September 25 asked the couple to preserve the emails. The letter and a follow-up request specified that preservation meant the records should not be destroyed, modified, or transferred, Cummings noted.
"Although there may be legitimate reasons for transferring email accounts to different servers, neither you nor anyone from the White House contacted the Committee before you took these steps, despite the fact that you had received our letters before you reportedly took these actions," Cummings writes.
"Finally, there are questions about whether any of the emails you sent or received on your private email accounts included classified or sensitive information, such as information relating to foreign leaders or the schedules of senior White House officials," Cummings adds.
Cummings also notes that the reported transfer of the emails—revealed on Wednesday by USA Today—could violate a pledge made by the couple to avoid business communications with the Trump Organization in order to steer clear of conflicts of interest.
Cummings sent letters to GoDaddy, which originally housed the couple's email accounts and servers, and to the Trump Organization, instructing both companies to preserve the records. In addition, Cummings wrote to the FBI, asking the bureau to "conduct a security review to determine whether any classified or sensitive information was transmitted or stored on private email accounts or nongovernmental servers by senior White House officials."
The congressman's requests are not subpoenas and are not legally binding.