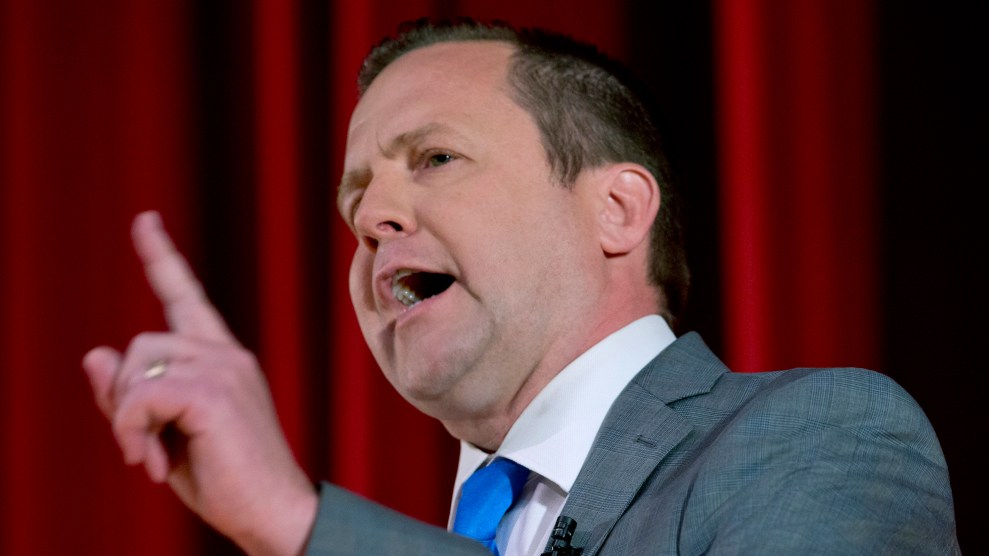 Fight disinformation:
Sign up
for the free
Mother Jones Daily
newsletter and follow the news that matters.
A prominent Republican candidate for Senate in Virginia called Democrats the party of "criminals, communists, crackheads, and weirdos" at a get-out-the-vote rally on Sunday—and mocked a transgender candidate for good measure.
The comments from Corey Stewart, who narrowly lost the Republican gubernatorial primary to Ed Gillespie this summer and is now running for US Senate, came at a rally at a Virginia Beach church to galvanize Republican voters ahead of the election for governor just nine days away. Gillespie had declined an invitation to attend the rally, which was sponsored by the national group Bikers for Trump. But Stewart was joined by one member of the Republican ticket, state Sen. Jill Vogel, who is running for lieutenant governor; the other Republican on the slate, attorney general candidate John Adams, was a last-minute cancellation.
The event itself, and Stewart's remarks, illustrate the bind in which Virginia Republicans find themselves in the run-up to the year's most closely watched election on November 7. Gillespie, seeking to portray himself as a soft-spoken moderate, has publicly kept his distance from his onetime rival, and yet, because his fortunes are to a large degree in the hands of Trump-backing conservative activists, the general election has been shaped by Stewart in tangible ways. In the campaign's closing months, Gillespie has trained his fire on two subjects that Stewart and Trump have also embraced: the Latino gang MS-13, and the state's assemblage of monuments to Confederate generals.
Stewart, the chairman-at-large of the Prince William County board of supervisors, branded himself during the primary as a sort of mini-Trump, and he has a flair for stunts that proved too much for even the Trump campaign. He was fired from his position as Virginia chairman of the Trump campaign for organizing a protest outside the Republican National Committee headquarters last October. (His goal was to shame Republicans who abandoned the presidential nominee after the publication of the infamous Access Hollywood tape, in which Trump bragged about committing sexual assault.)
During the primary, he built a following among conservatives by traveling to Charlottesville to protest a proposal to remove a statue of Robert E. Lee. (The white supremacist Richard Spencer would travel to the same spot three months later.) On Twitter, he declared, "Politicians who are for destroying the statues, monuments and other artifacts of history are just like ISIS."
Before we know it the #ViolentLeft will ban the names "Robert" and "Lee".#Antifa and #BLM will punch anyone with those names.

— Corey Stewart (@CoreyStewartVA) August 19, 2017
The tone of Sunday's event was set from the beginning. Before the candidates took the stage, the speaker's podium had been festooned with a "Hillary for Prison 2016" campaign sign. (It was removed before the candidates began their speeches.) Attendees in "Make America Great Again" hats wore red stickers with a statue of Robert E. Lee emblazoned on the front, under the text "Save our Monuments." To kill time before the main event, a saxophonist broke into a rendition of "Dixie," and a few audience members started to sing along.
Vogel, the lieutenant governor candidate, was the first speaker to bring up the statues. She referred to her upbringing in the Shenandoah Valley, a major theater for the war, and attacked her Democratic opponent, Justin Fairfax, for calling the monuments, she said, "psychologically damaging and offensive." (Fairfax, who is African American, had in fact cautioned against assuming that "because [a monument] doesn't psychologically harm you or a particular community, it doesn't affect anyone.")
"All for a moment of political expediency, people have been able to take positions that I know they do not believe," Vogel said. "They cannot possibly—if you stand up for the commonwealth of Virginia and you stand up for the men and women who have put their lives on the line for history, to save our history, to protect our freedoms, and tell that story to the next generation of men and women who need to know that story." In other words, if you attack the monuments, you're disrespecting veterans.
But the event's biggest draw was Stewart, who is now seeking to take on Sen. Tim Kaine in next year's US Senate race.
"The Democrats really fall into four basic categories: criminals, communists, crackheads, and weirdos," Stewart said at the outset.
While acknowledging that attacks on family members, and particularly children, of candidates are typically considered poor form, Stewart spent several minutes explaining that Kaine's son Woody had been arrested for protesting at a pro-Trump rally in Minneapolis, and accused him of being a "a member of Antifa," the anti-fascist movement whose members have sometimes clashed with Trump supporters.
Stewart, whose own monuments cause has been embraced by white supremacists, cast Antifa as a wing of the Democratic Party. He accused Antifa of attempting to bomb a Confederate reenactment in Winchester in October—an investigation into a reported pipe bomb is ongoing but no motive or suspects have been identified—and then blasted Northam and Fairfax for failing to denounce the plot.
It was part of a general lawlessness within the Democratic Party, he said. "They absolutely love criminals," he said, warning that Northam would turn Virginia into a sanctuary state (an idea Northam has rejected outright) and, in Trump fashion, recounting a years-old murder in Virginia Beach in which the criminal had been undocumented. "And did you know that this criminal alien scumbag has still never been brought to justice?"
At one point, someone shouted out that Democrats were "neo-fascists," and Stewart agreed. "The neo-fascists, by the way, are the Democrats!" Stewart said. "They really are."
Later on, seemingly out nowhere, Stewart told the audience about the former Washington, DC, mayor Marion Barry, who was caught smoking crack nearly three decades ago. "I don't know if you've heard this, folks: The liberals, the left-wing lunatics, are erecting a statue to Marion Barry," he said.
"Oh my god," someone in the crowd said.
"On Pennsylvania Avenue—of Marion Berry," Stewart continued. "A crackhead. So that's who the Democrats honor: crackheads. Who do we honor? Robert E. Lee, Stonewall Jackson, J.E.B. Stuart, James Madison, George Washington—all the great heroes." Stewart referred to Lee, who is known mostly for an armed struggle against the US military, as a "US military veteran."
"The weirdos are taking down those monuments," Stewart said. "Are we going to let them do that? We can do something about it."
Stewart, whose delivery at times was more stand-up than stump-speech, couldn't resist expanding his culture war to a few more fronts. He praised the author of Virginia's failed bathroom bill, Del. Bob Marshall, who is locked in a tight reelection fight in a district Hillary Clinton carried by double digits. Marshall's Democratic opponent, Danica Roem, is transgender.
"So [Marshall] has an opponent," Steward began. A few people started to laugh.
"His name is—well, it was," Stewart said. "His name was Dan Roem. Now it's Danica Roem. Okay? So, not that there's anything wrong with that!"
More laughter.
"But this guy," Stewart said, pausing again for comic effect, "or, Roem, wants to teach transgenderism to kindergarteners. Folks, this is what's coming. This is the war on our culture, it is the war on our values."
Stewart ended his remarks with a call-and-response. "In 2017, on November 7th, do you want the criminals to be representing you?" he asked. "No!" "Do you want the communists to be representing you?" "No!" "Do you want the crackheads to be representing you?"
But perhaps the most important thing Stewart and his partners on stage did was to talk up Gillespie. He called his primary opponent—a man he once derided as "Establishment Ed" and a "cuckservative"—"a good solid Republican," and later praised him for embracing the Lost Cause as a campaign issue. "I've got to hand it to Ed Gillespie, he has come out and said we are going to clarify that law in Virginia and make sure that no more historical monuments—especially those to our great veterans—are removed, anywhere," Stewart said.
It was a far cry from the defiant Stewart of primary night, who refused to concede and then promised never to endorse Gillespie: "There is one word you will never hear from me, and that's unity."
Stewart, hoping to consolidate conservative support as he ramps up his Senate campaign, stands to benefit from being a team player this fall. But Gillespie, who has trailed in most polls, also needs the help. Instead of hanging out with the bikers, Gillespie spent his Sunday holding a meet-and-greet in Eden Center, a Vietnamese-American strip mall in the DC suburb of Falls Church, and watching the Redskins-Cowboys game with Ohio Sen. Rob Portman, a leading establishment Republican. He spoke to the NAACP in Richmond the day before that. Last week, he stopped by a Diwali celebration of Virginia Beach. His strategy hinges on winning Trump's voters without associating too closely with Trump. And that's where Stewart comes in.
"I think he's gonna help bring a lot of folks in for Ed," said Waverly Woods, the Stewart backer who organized the event. "Because Corey's asked them. Repeatedly, people are like, 'Look, I'm in because Corey asked me to.' It's all over Facebook. I see it everywhere. People call me, text me."
What did she think of Gillespie? Woods made a face. "I'll tell you more on November 8," she said.