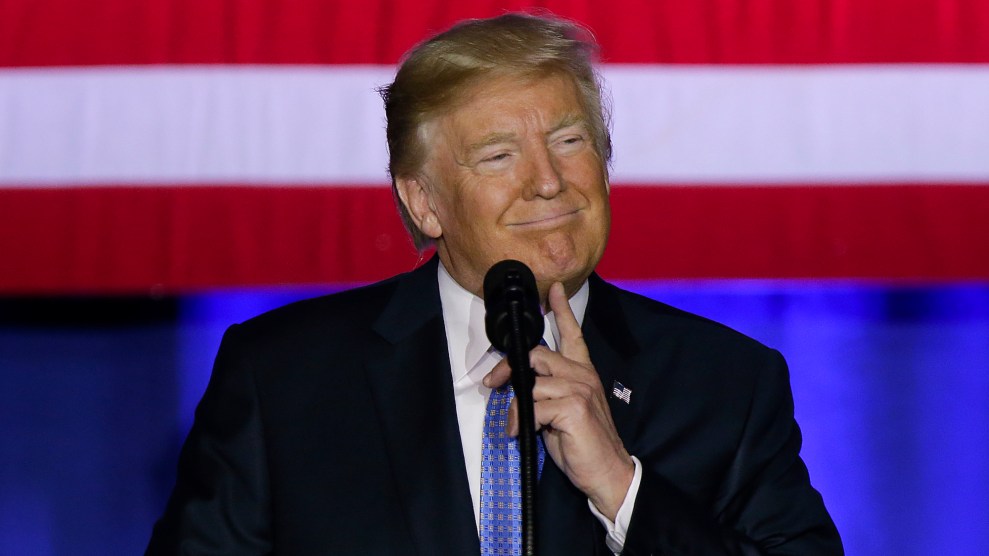 Fight disinformation:
Sign up
for the free
Mother Jones Daily
newsletter and follow the news that matters.
On Tuesday, President Donald Trump told a group of Democratic Senators: "My accountant called me and said 'you're going to get killed in this [tax] bill," NBC News reported. If true, Trump has managed to hire a spectacularly incompetent accountant. Another possibility is that Trump is lying.
There's a lot we don't know about Trump's finances. Trump broke from more than 30-years of precedent by refusing to release any of his tax returns during last year's presidential campaign. But thanks to a leaked portion of Trump's 2005 tax return and a 2016 letter from his tax lawyers, it's clear that Trump is likely to be one of the biggest winners under Republicans' plan. It's not for nothing that New York Times columnist Paul Krugman wrote last week that you "won't go far wrong if you think of the big tax cuts in the law as having been custom designed to benefit the Trump family."
Trump's tax plan would benefit him in three major ways. The Tax Cuts and Jobs Act introduced by House Republicans eliminates the Alternative Minimum Tax, which cost the president $31 million in 2005. It cuts income taxes for the types of businesses—known as "pass-throughs"—that Trump favors from 39.6 percent to 25 percent. And, most importantly, it gets rid of taxes on inherited wealth. A rough calculation shows that could give his children $620 million.
Trump also claimed he would be a "big loser" under his tax cut, according to the Washington Post. "The deal is so bad for rich people, I had to throw in the estate tax just to give them something," he said. That is not true. The left-leaning Institute on Taxation on Economic Policy finds that the top 1 percent of Americans would get a tax break of nearly $50,000 next year as a result of the House bill. The working class would receive $360 on average.
And as Jonathan Chait writes for New York, Congress' nonpartisan tax committee does not include the estate tax in its projections. The committee still finds that two-thirds of taxpayers who make more than $1 million per year would get at least $500 from the Republican bill in 2027, compared to 5 percent of people who make between $30,000 and $40,000 per year. Overall, more than half of taxpayers—including about 40 percent of the middle class—would either pay more taxes or get less than $100 in 2027 as a result of House Republicans' tax plan.
It is theoretically possible that Trump would pay more taxes under his plan, but all the evidence suggests otherwise. The only way to know for sure is for Trump to release his tax returns.