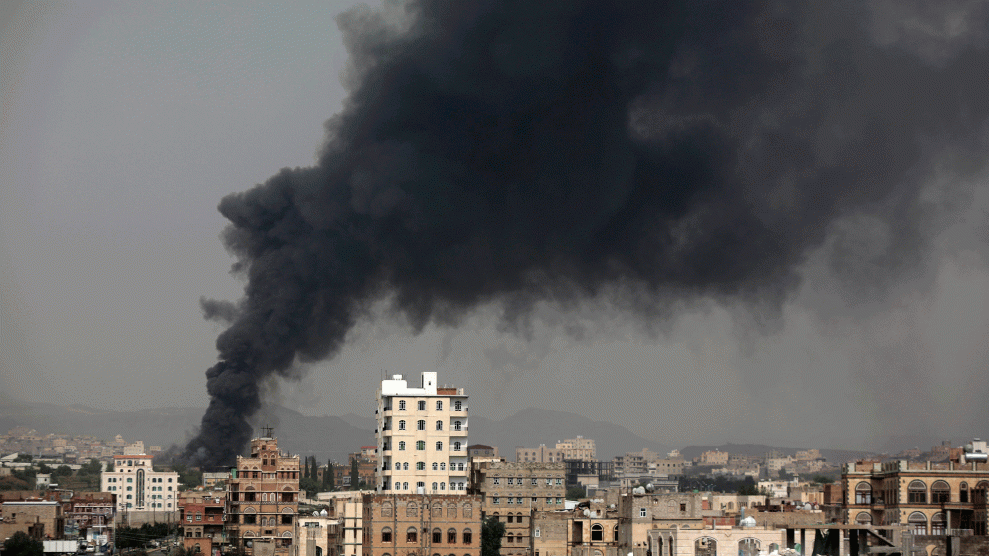 Fight disinformation:
Sign up
for the free
Mother Jones Daily
newsletter and follow the news that matters.
"We saw people shredded to pieces, some with no head, no hands," a man told a Human Rights Watch researcher two weeks after a Saudi-led coalition airstrike hit a crowded marketplace in Mastaba, Yemen, in March 2016. The strike, allegedly carried out in part with American-made and -supplied bombs, killed nearly 100 civilians, 25 of them children.
So far, the war has claimed 10,000 civilian lives. Seven million people are on the brink of famine, millions have been uprooted, and a devastating cholera outbreak is raging and expected to affect nearly 1 million people by the end of the year. By the numbers, it's currently considered the world's largest humanitarian catastrophe.
The US has backed the Saudi-led war by supplying weapons, targeting intelligence, and mid-air refueling missions for Saudi Arabia's warplanes that have been routinely accused of carrying out indiscriminate airstrikes. As Foreign Policy reported in 2015, the "daily bombing campaign would not be possible without the constant presence of U.S. Air Force tanker planes refueling coalition jets."
As a result of massive civilian casualties like the bombing in Mastaba, in Washington opposition to aiding Saudi Arabia's war efforts has been mounting. Last week, lawmakers quarreled over a much-anticipated bill that called into question the wisdom of continuing to provide US military support to the Kingdom and raised concerns over alleged human rights violations. Lawmakers and experts have also voiced concerns about a spreading power vacuum that has helped extremist groups like Al Qaeda in the Arabian Peninsula (AQAP) and ISIS' Yemen branch to take root and spread in the country. The fallout from the nearly three-year-old conflict, with Saudi Arabia and a coalition of Gulf states against Yemen's Houthi rebels, has pit not only Democratic, but also Republican lawmakers, against President Trump's foreign policy decisions in the region.
American involvement in the war first began in 2015 under the Obama administration—without authorization by Congress—after Houthi rebels ousted the Saudi-backed government of President Abdu Rabu Mansour Hadi in January of that year, and went on to take control of Yemen's capital, Sana'a, and many other cities. Obama sent the United States' armed forces to support the Saudi-led campaign. To many, it was seen as a political gesture—a way to repair ties with the Saudi government who opposed the Iranian nuclear deal that the administration was championing. "The rationale was to make up for the Iran deal. This is what we would offer them," says Rep. Ro Khanna (D-CA). "The problem is the massive human rights violations and the millions of Yemenis who are suffering."
In early October, Khanna, along with Rep. Mark Pocan (D-WI), Rep. Walter Jones (R-NC), and Rep. Thomas Massie (R-KY), put forward a bi-partisan resolution that would finally put an end to all US support for the war. It's the most recent—and the most ambitious—bill that has attempted to diminish America's role in the conflict, but certainly not the first.
Last year, Congress held a vote to block cluster munitions sales to Saudi Arabia after reports found that American-made cluster bombs were linked to civilian casualties in Yemen. With 40 Republican votes, it came close to passing, but still narrowly failed. Last September, there was a vote against a $1.15 billion tank deal with Saudi Arabia that received 27 votes in favor. And towards the end of Obama's last term, the White House reportedly began to have reservations about humanitarian catastrophe the war was creating and it suspended the sale of precision guided bombs to Saudi Arabia.
After President Trump's visit to Riyadh—his first trip abroad as president—he overturned the suspension. That immediately sparked a vote in the Senate to try to block Trump's reversal of the suspension, but it only received 47 votes in favor.
Khanna's bill drew the support of, as he puts it, "an unusual alliance of people who are weary of perpetual war," including the House Freedom Caucus, a collection of conservative and libertarian Republican members of Congress. But it wasn't enough to clear the hurdle of House GOP leadership. While Khanna's bill sought to end US support for the war, it also had a broader goal: to wrestle back Congress' sole authority to debate and declare war, rather than continuing to allow presidents to make decisions that push the country into more and more foreign wars.
The bill's sponsors invoked a provision of the 1973 War Powers Resolution, giving the bill a "privileged" status that guarantees a full floor vote. The War Powers Resolution "was intended precisely to cover operations like those in Yemen, where we haven't sent troops but we're clearly involved in the military conflict," says Khanna. "It was intended to say: 'The president can't do that without coming to Congress first,'" says Khanna.
In a political tug-of-war, however, House leadership pushed through legislation determining that the War Powers Resolution does not apply to the Yemen conflict. They revoked the resolution's privileged status and prevented it from coming to a full floor vote. Kate Gould, the legislative director for Middle East Policy at the Friends Committee on National Legislation, calls the maneuver yet "another example of House leadership going to extreme measures, including violating the War Powers Resolution, to block any kind of consideration of the US role in wars being waged around the world." The War Powers Resolution, she adds, "is one of the last remaining threads that Congress is hanging onto with its war authority responsibilities. If Congress lets it slip away, it's all the more dangerous, especially with an administration that's escalating militarily all around the world."
Still, this kind of concerted opposition to US military efforts abroad is rare. Even though Khanna's resolution lost its privileged status, the effort behind it wasn't a total loss, he says. The sponsors of the bill, along with Democratic and Republican leadership, reached an agreement to have an hour-long debate on the US' involvement in the war—one that acknowledges the US has engaged in refueling operations and provided targeting intelligence, and recognizes that Congress has not authorized any of it.
"This is the greatest humanitarian catastrophe right now in the world; it should appeal our moral conscience," says Khanna. But also, he adds, "This is a debate about our foreign policy. We've often made matters worse with our interventionism, and we should have the humility to have more restraint in our foreign policy. I think this whole process of Congress debating it is going to move the needle."