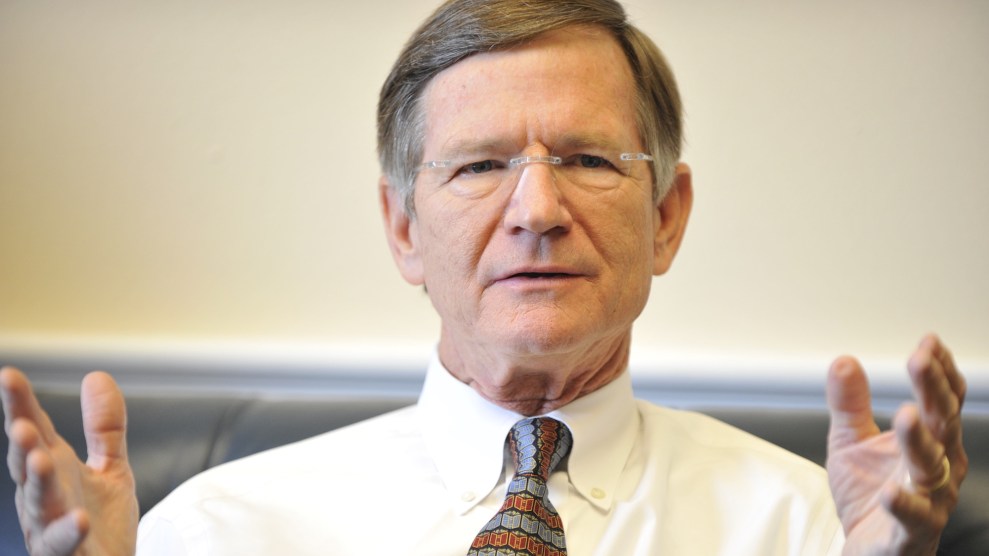 It's been a tough year for scientists, but a number of climate scientists found reason to celebrate on Thursday. The Texas Tribune broke the news that Rep. Lamar Smith (R-Texas), one of the most ardent skeptics of climate change in Congress, will be retiring next year.
Smith has become one of the most polarizing figures on science over the course of his five years chairing the House's Science, Space, and Technology Committee. A change in House rules gave Smith new subpoena powers in 2015, unusual for the House science committee, and he has since issued 24 subpoenas, more than any other chair in the House during that time, with some going beyond the committee's traditional jurisdiction over federal science research. Smith has convened a number of hearings to attack climate scientists, the National Oceanic and Atmospheric Administration (NOAA), the Paris climate deal, and the American Association for the Advancement of Science. He helped to popularize the myth that global warming had paused, holding a hearing during which he demanded NOAA documents and redactions on its study refuting the idea.
The reaction from scientists who have been on the receiving end of Smith's harassment can be summed up in two words: Good riddance.
"I can only hope that Congressman Smith's tenure as Chair will represent the low water mark in the legislative branch's treatment of scientific integrity and technological leadership," former NOAA chief scientist Richard Spinrad said in an email. In 2015 Smith subpoenaed NOAA, including Spinrad's documents and emails that discussed climate change, the Paris agreement, and the Obama administration, a move the science advocacy group Union of Concerned Scientists called "unprecedented and unjustified."
During a committee hearing on climate change, Smith got into a confrontation with Penn State University climate scientist Michael Mann. On Thursday, Mann tweeted the hashtag #BestDayScienceHasHadInYears to celebrate both Sam Clovis resigning as chief US Department of Agriculture scientist and Smith's retirement.
"Last March when I testified to his committee I had a chance to talk to Lamar beforehand and we talked about things we have in common (related to the Yale physics department)," Mann wrote in an email to Mother Jones. "To be honest, I found him to be an affable individual. But I do think he's misguided when it comes to science with troubling blind spots in particular when it comes to aspects of science—namely climate change—that are inconvenient to his funders in the fossil fuel industry.
During Obama's presidency, Smith used his committee chairmanship to bog down administration officials and try to gum up work done on climate change. "He spent his time attacking scientists, attacking agencies, attacking grant agencies like the National Science Foundation, trying to micromanage the process, and turning the committee away from bipartisan compromise," says UCS's science director Andrew Rosenberg, a former federal scientist. "He's pushed the perspective that industry has done no wrong. Hopefully with him no longer chairing the committee we can move away from that and establish bipartisan credentials for the committee."
Texas Democrats, meanwhile, see this as an opening to flip a district held by a chief opponent of climate change. (Smith won the district comfortably, with 57 percent of votes, in 2016.) "He was climate change denier-in-chief of the science committee," Derrick Crowe, who is running in the district's Democratic primary, tells Mother Jones. "This is an incredible sign that Republicans are under major pressure from a Democratic wave that's building."
In the last year, Smith has seen many items on his wish list adopted as policy by the Trump administration. Earlier this week, Smith celebrated EPA Administrator Scott Pruitt's announcement that scientists receiving EPA grants for their work will now be barred from serving on its independent advisory boards. That policy is based on a bill that Smith had proposed, but had never passed into law. Pruitt's move paves the way for more industry representation on the EPA's panels, which provide feedback and a type of peer review for the EPA's work. "Administrator Pruitt's actions today enable us to put the principles of this bill into practice," Smith noted in his remarks at the EPA on Tuesday.