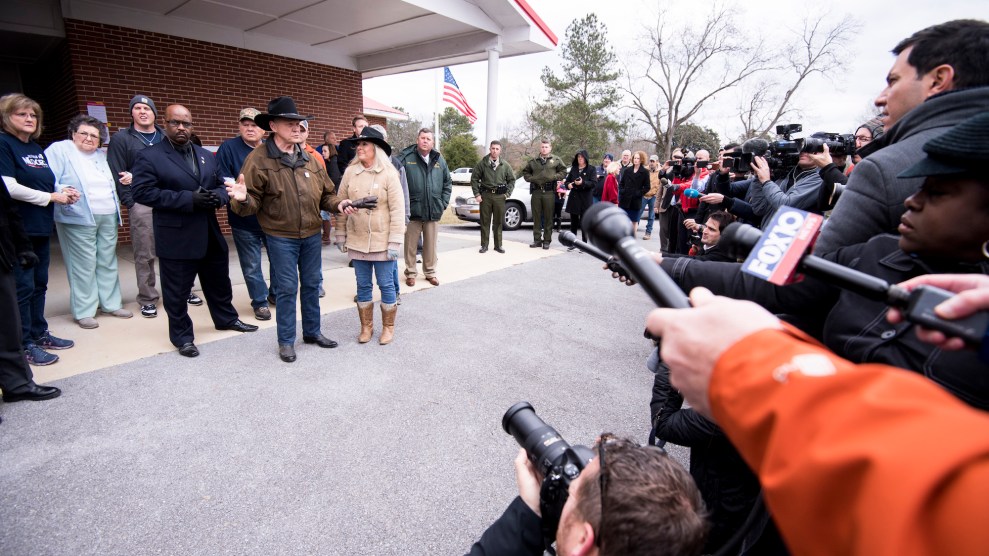 Fight disinformation:
Sign up
for the free
Mother Jones Daily
newsletter and follow the news that matters.
The Alabama Senate election is shining a national spotlight on Alabama, and not in the most flattering way.
Almost as soon as voting was underway on Tuesday, civil rights groups began receiving hundreds of complaints of voter suppression, and residents and reporters took to social media to report tactics used to intimidate minority voters or force them to cast provisional ballots.
The Lawyers' Committee for Civil Rights Under Law had received 235 calls to its voter hotline as of 3:24 p.m. The group aims to provide live assistance to voters, and it's unclear how many of the calls were to report voting irregularities rather than simply asking for assistance. The NAACP Legal Defense Fund has been collecting reports of voting problems in Alabama, some of them secondhand, including multiple reports of people being put on inactive status and erroneously prevented from voting.
"Some of these voters are told that they cannot vote," Coty Montag, the deputy director of litigation at the NAACP Legal Defense Fund, wrote in a roundup on Tuesday afternoon.* "Others are being given provisional ballots. The correct [procedure] is that voters who appear on the inactive list must be allowed an opportunity to re-identify and vote a regular ballot."
The group also collected reports of very long lines at precincts where poll workers say they were unprepared for high turnout. Alabama's secretary of state, Republican John Merrill, has repeatedly predicted low turnout in the special election. Election expert Michael McDonald of the University of Florida tweeted that it was "bordering on malpractice to give this guidance to local election officials who should prepare for higher turnout." The group has also collected reports of people being prevented from voting by the state's photo ID law because their IDs have expired.
The complaints coming to these civil rights groups mirror the reports coming from journalists and voters on the ground in Alabama. Here are some of the unconfirmed reports coming in from social media. They paint a portrait of a state that still appears to be wrestling with voter suppression after a long civil rights struggle seeking to end these practices in the state.
One Alabama voter shared her story of being placed on inactive status, even though she is a regular voter, and nearly being stopped from voting entirely:
So I voted but let me tell you a quick story about this here special election:

— Ya Girl Brittany (@xobritdear) December 12, 2017
She claims that the precinct was denying inactive voters the right to cast a ballot if they did not remember the county they were born in. If true, this would violate federal law. A spokesman for the Alabama secretary of state did not respond to a request for comment about this incident. "More disturbing (if true from anecdotal reports) is that the voter needs to name county of [birth]," election law expert Rick Hasen wrote on Twitter of the report about inactive voter issues. "Sounds a lot like the OLD Alabama." Voters should not be put on inactive status unless they have not voted for four years, according to Alabama law.
ThinkProgress reporter Kira Lerner also received reports of voters on inactive status struggling to cast a ballot, which they are legally allowed to do:
I'm hearing that people are being turned away from this precinct in Dothan, AL because they are inactive on the rolls. Trying to find out more. #alsen pic.twitter.com/kcXWYJlsDf

— Kira Lerner (@kira_lerner) December 12, 2017
Dechauna Jiles says she and roughly six other people (who she saw) were told they were "inactive" voters and had to cast provisional ballots #alsen pic.twitter.com/a7vFqytEMc

— Kira Lerner (@kira_lerner) December 12, 2017
Reporter Ken Klippenstein, a contributor to the Daily Beast, saw cops arrive at the polling place where he was reporting in majority-black Montgomery:
Cop just arrived at the polling station I'm at here in Montgomery, Alabama. NAACP official told me that in previous Alabama elections, police have checked voters for outstanding warrants at polling stations, which can deter people from voting pic.twitter.com/3i1pf1uvnE

— Ken Klippenstein (@kenklippenstein) December 12, 2017
Correction: An earlier version of this article misstated Montag's title.