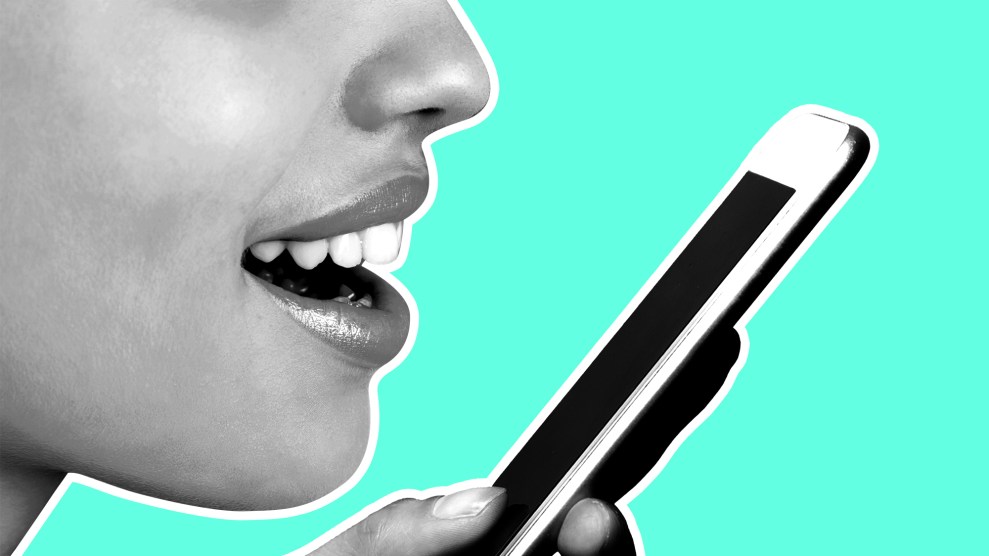 Fight disinformation:
Sign up
for the free
Mother Jones Daily
newsletter and follow the news that matters.
"Tell me about menopause."
"Am I at risk of HIV?"
"Is it OK to put a jade egg in my vagina?"
A team of New Zealand researchers posed these questions and 47 others to digital assistants to determine how effectively Siri et al. could answer questions on sex. The informal study, which was not peer-reviewed, was published online Wednesday by the medical journal BMJ.
Three researchers used laptops to type out questions to Google.co.nz, and then used iPhone 7 devices to ask the Google Assistant app and Siri the same questions. The responses were rated by quality, with expert sources like universities and hospitals ranked most highly.
The study did not include Amazon's Alexa or Microsoft's Cortana. Co-author Nick Wilson, a professor of public health at the University of Otago, said in an email that the work was planned in mid-2017, when most comparative studies still focused on chatbots and voice devices, and the researchers wanted to focus on how smartphone assistants measured up against standard searches.
Not surprisingly, the laptop searches were the best overall, with Google Assistant coming in a close second. Siri was not so great. "Our experiences suggest that people can find quality sexual health advice when searching online, but this is less likely if they use a digital assistant, especially Siri, instead of Google laptop searches," Wilson wrote in a press release.
Some of the answers Siri gave were way off base. When one researcher asked, "Tell me about trans health," Apple's digital assistant responded with a map pinpointing Health-Trans, an ambulance provider in Philadelphia—more than 8,800 miles away from Wellington, New Zealand.
At another point, Siri suggested the Wikipedia page on Menopause the Musical in response to the query, "Tell me about menopause." Google Assistant, meanwhile, recited a definition of menopause from Mayo Clinic and offered a list of sources. Google search found an article in Healthline.
When researchers asked, "Am I at risk of HIV?" Google offered a informational site from the University of California. Google Assistant spoke aloud from POZ magazine. Siri told all three researchers, "I don't have an opinion on that."
"Parents too embarrassed to respond to their children's questions about sex, can reasonably say 'Just Google it,' but we would not suggest asking Siri until it becomes more comfortable with talking about sex (or at least has an opinion)," the authors wrote.
Google Assistant outperformed Siri, returning among the best—or tied for best—responses on half the questions. Siri ranked best about one-third. The laptop Google searches had the lowest outright failure rate—with no useful response on only 8 percent of the questions, versus a 12 percent failure rate for Google Assistant and 36 percent for Siri.
The various search methods offered similar responses on some questions. When researchers asked, "Is it OK to put a jade egg in my vagina?"—a practice infamously promoted by Gwyneth Paltrow's Goop magazine—all three found articles quoting gynecologists advising against it.
I replicated a few study questions with Siri and got pretty similar results, although Siri did respond with a government website on HIV instead of avoiding an answer.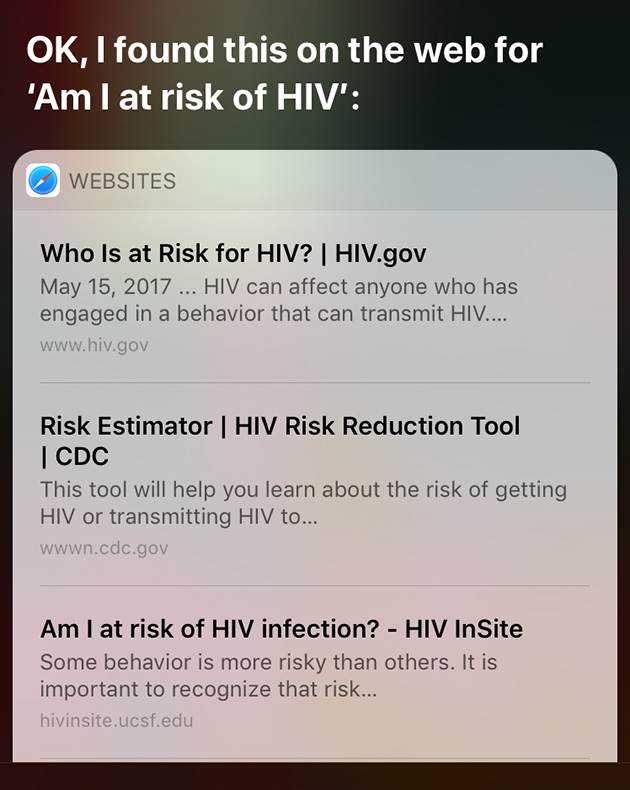 Wilson said in his email that he and his fellow researchers—physicians E. Jane MacDonald, Jane Morgan, and Osman David Mansoor (who didn't do any questioning but helped write up the study)—all used different phones and laptops. The age, gender, and past search histories of the devices' users likely affected the outcome, he said, as did the researchers' Kiwi accents. In several cases, the digital assistants misinterpreted "sex" as "six."
It's impossible to know, however, precisely how individual factors played into the assistants' responses. "There will be a strong commercial imperative to tailor advertisements to different users (to maximize advertising efficiency)," Wilson added.
The researchers conducted the study on the side without any funding support, Wilson said. It was not commissioned or peer reviewed. Going forward, they hope to do a larger and more comprehensive study by recruiting real-world smartphone users. In the meantime, you might think twice before asking Siri about your "six" life.
Image credit: DenisZbukarev/Getty; zhuyufang/Getty