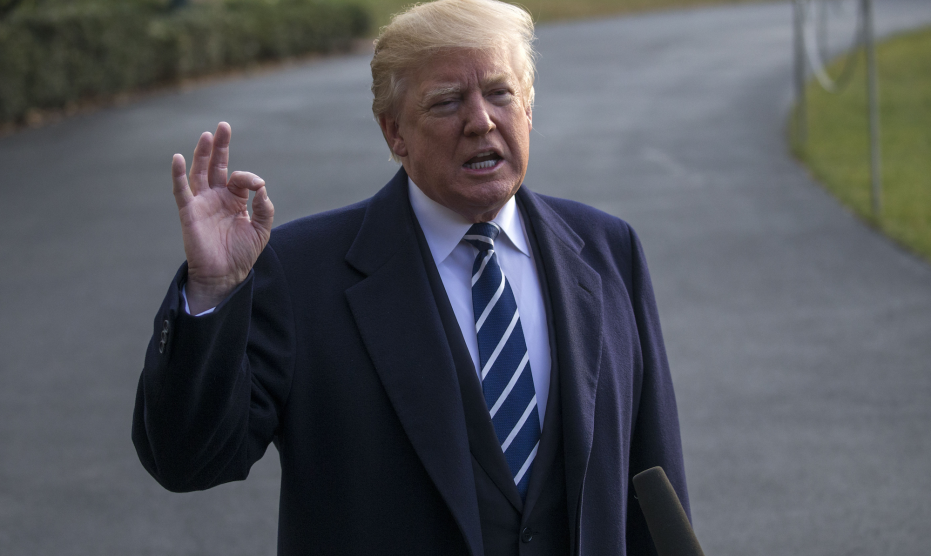 Facts matter:
Sign up
for the free
Mother Jones Daily
newsletter.
Support
our nonprofit reporting.
Subscribe
to our print magazine.
In his clearest statement of support yet, President Donald Trump on Monday unequivocally endorsed Roy Moore, the Republican Senate candidate engulfed by sexual misconduct allegations, claiming it was vital for the former judge to win next week's special election in Alabama.
Democrats refusal to give even one vote for massive Tax Cuts is why we need Republican Roy Moore to win in Alabama. We need his vote on stopping crime, illegal immigration, Border Wall, Military, Pro Life, V.A., Judges 2nd Amendment and more. No to Jones, a Pelosi/Schumer Puppet!

— Donald J. Trump (@realDonaldTrump) December 4, 2017
Putting Pelosi/Schumer Liberal Puppet Jones into office in Alabama would hurt our great Republican Agenda of low on taxes, tough on crime, strong on military and borders…& so much more. Look at your 401-k's since Election. Highest Stock Market EVER! Jobs are roaring back!

— Donald J. Trump (@realDonaldTrump) December 4, 2017
Trump had previously implied that he supported Moore despite a series of explosive allegations first reported by the Washington Post last month. While stopping short of a full-throated endorsement, the president had then portrayed Moore as the more favorable option in the race when compared to his Democratic challenger Doug Jones.

"I can tell you one thing for sure: We don't need a liberal person in there, a Democrat," Trump told reporters last month, referring to Jones, who is a former federal prosecutor. "I've looked at his record. It's terrible in crime, it's terrible in the border, it's terrible in the military."

In the same impromptu

press conference, Trump also seemed to question why it took so long for the women to come forward with their accusations against Moore. "Forty years is a long time," he said. "He's run eight races, and this has never came up."

Trump's endorsement comes one day after Senate Majority Leader Mitch McConnell softened his stance on Moore, saying it was up to Alabama voters to "make the call." He previously urged Moore to step aside in the race.

Moore's wife later said on Facebook that Trump followed up on his tweets with a personal phone call to express his support. White House deputy press secretary Raj Shah confirmed the conversation, describing it as a "positive call."