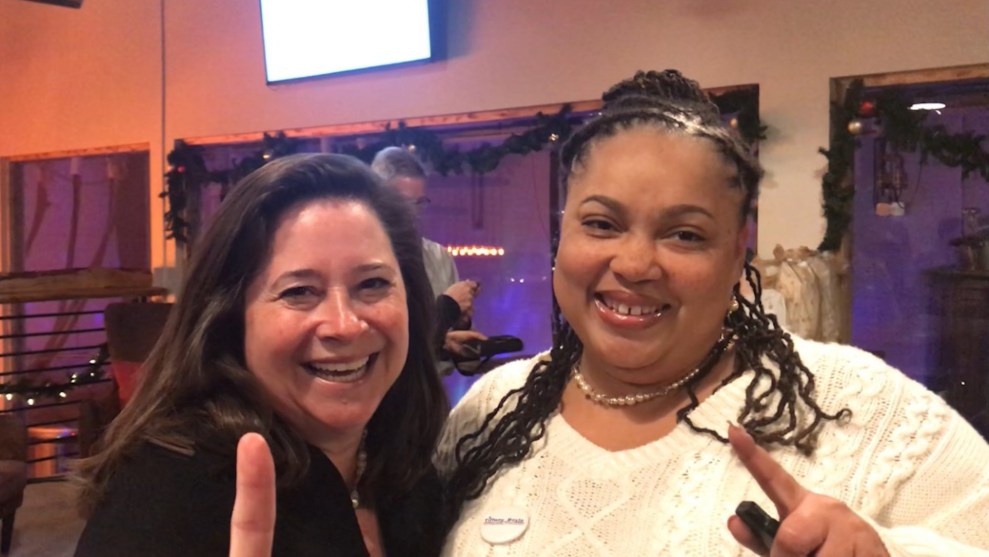 Fight disinformation:
Sign up
for the free
Mother Jones Daily
newsletter and follow the news that matters.
Latoya Breckenridge, a 34-year-old accountant from Newport News, Virginia, was on her way to a nail appointment on Tuesday when a friend texted her with some good news: A recount had just reversed the results for the state House of Delegates race in her district, giving Democrat Shelly Simonds a one-vote victory over the Republican incumbent and ending the GOP's 17-year majority. Breckenridge hastily rescheduled her plans so she could attend Simonds' victory party later that evening. "I was so happy because she could have easily given up, just being 10 votes shy of winning [prior to the recount]," she says. "It was good that she persevered."
Breckenridge had persevered, too, going to great lengths and getting into trouble at work to make sure her vote was counted—a vote that ultimately changed the outcome of the race.
If there was ever a textbook case for the typically hyperbolic adage that every vote counts, the race in Virginia's 94th District was it. But some votes were harder to come by than others. Breckenridge was one of almost 30 voters in the district who had to cast a provisional ballot because they did not bring identification that complied with the state's strict voter ID guidelines, their names were not in the poll book at their assigned precinct, or they had asked for an absentee ballot but then opted to vote in person. In order for their votes to count, they then had to bring the required identification or affidavits to their local electoral board within a narrow window of time.
Breckenridge was volunteering for a local tax commissioner candidate, so she figured she wouldn't be close to the polls on Election Day and requested an absentee ballot. When November 6 arrived and her ballot hadn't, she opted to fill out a provisional ballot at her polling precinct. As Breckenridge watched Republican David Yancey take a 13-vote lead by the following day, she felt like she was witnessing history. "I'd never experienced a race so close in numbers, especially one that was so close to me," she says.
The close margin sent campaign volunteers scrambling to track down provisional voters, who are often unaware of the steps required of them. Each campaign received a list of these voters in anticipation of the "provisional ballot meeting"—the validation and counting of provisional ballots, which happens only after other votes have been tallied. Anna Scanlon, Simonds' campaign manager, had only four days to find them and get them to the Newport News registrar's office to validate their votes.
Simonds' field organizers made countless phone calls and visits to voters' homes. Scanlon's team made every effort to try to simplify the process—in one instance, she brought a notary to a voter's home to swiftly execute a required affidavit. "Those votes would not have counted if we hadn't gone to people's houses and knocked on their doors," she says. She reminded the provisional voters of the stakes. "It's only 12 votes right now," she told them. "Your vote could be the difference."
Breckenridge was on the receiving end of those pleas. Simonds' campaign inundated her with phone calls urging her to come to the Newport News registrar's office on the morning of Monday, November 13, between 8 and 10 a.m., to validate her provisional ballot—the only time window in which those ballots would be validated. "Quite a few people contacted me—two or three representatives from Shelly's camp," she recalls. Scanlon, who had met Breckenridge through their work in local politics, made a personal call. "I was like, 'Latoya, do not let me lose this,'" Scanlon says.
As it turns out, the phone calls were necessary. When Breckenridge had cast her provisional ballot, none of the precinct's poll workers had told her that provisional ballots required follow-up. "I thought they would just take my ballot and see I hadn't cast an absentee ballot," she says.
Showing up in person on a Monday morning was no small ask. Breckenridge works as an accountant in Williamsburg, a roughly one-hour drive from her home in Newport News. She'd also already taken a lot of time off to work on the tax commissioner candidate's campaign, and missing more time in such a short period irritated her boss. "I missed a lot of work, my regular paycheck work, in the time leading up to the election," she explains. "I really needed November 7 to be the end of the election hoopla." Breckenridge received a write-up at work for missing two hours to visit the voter registrar that Monday. But no amount of professional punishment could have dissuaded her from making the effort. "After realizing the magnitude of my vote potentially not being counted, I felt like there was too much at stake," she says.
In the end, the efforts of Breckenridge, Scanlon's team, and six other provisional voters paid off: Simonds picked up seven votes to Yancey's four in the provisional ballot meeting, tightening Yancey's lead to just 10. The margin made all the difference during the recount, which found 11 more votes for Simonds. "Everyone gets to say their one vote is the difference, but we wouldn't have been 10 votes down going into the recount if not for the provisional ballot chase," Scanlon says. For Breckenridge, Simonds' one-point win helped her "to know, having actually fought for my own vote, that my vote really does count and matter."
She had made the difference and turned a 51-49 GOP majority in the House of Delegates into a tie. That lasted for all of a day. A court decided on Wednesday that an improperly filled-out ballot that had been discarded was actually a vote for Yancey, bringing the race to a tie and setting up a drawing on December 27 to determine the winner.
Breckenridge was disappointed, but she didn't regret the sacrifices she made to vote. She hopes the race will help voters understand how important the electoral process is, and what's required of people to effectively participate in it. "Somehow, we have to get the point across to people who don't vote all the time how important it is to vote," she says. "I'm thankful my kids got a better understanding of the process, of what it means, getting to know the people who are making decisions on your behalf, holding them accountable. It's amazing that people don't take the time."