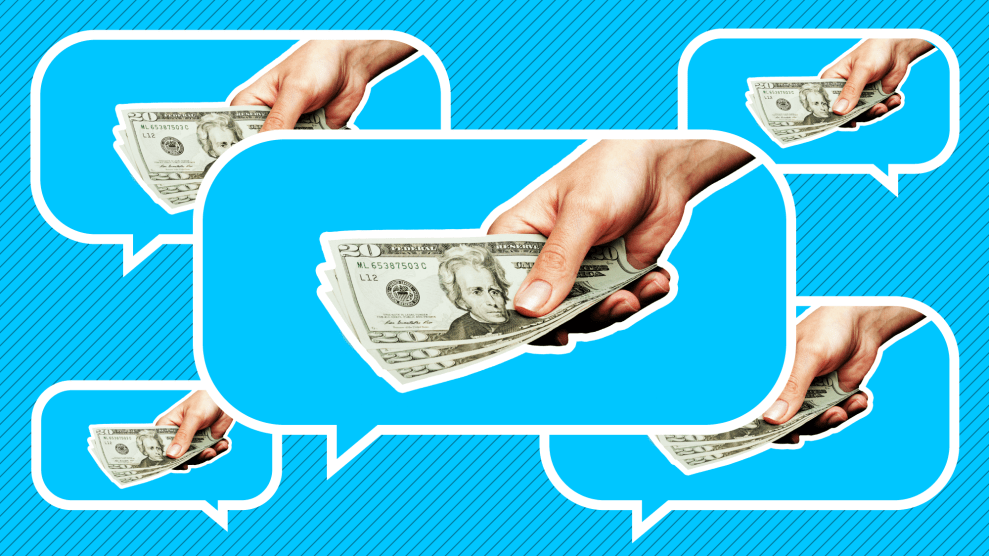 Fight disinformation:
Sign up
for the free
Mother Jones Daily
newsletter and follow the news that matters.
What does it take to make someone give? For our Jan/Feb magazine cover story, writer Stephen Marche delves into the world of crowdsourcing campaigns, where online platforms like GoFundMe and YouCaring have increasingly become lifelines for Americans who can't afford to pay for healthcare. Though the companies may have started out with the best intentions, Marche argues they may actually be fueling —and profiting from—the inequities of the American health care system instead. Successful, fully-funded campaigns are rare, and they depend on the person having a strong, relatively wealthy social network, and knowing how to "sell" their suffering. Without the skills and social network, many people fall through the cracks.
In light of this story, we decided to reach out to readers, as well as Mother Jones staff, and ask: What motivates you to give—especially to someone you don't know? We received hundreds of responses, from people who give deliberately to strangers to others who feel spurred by the moment, and found that giving is a lot more common than we might expect.
Here's a selection of the responses, lightly edited for length and clarity.
"No questions asked"
"I have a rule. If someone asks me for money under $200 and I have it, I give it to them. No questions asked and I never ask for or expect it back. Mostly it's a coworker who needs $20, sometimes it's someone who needs money for gas. I've been doing this for 20 years and have never regretted it." – A. Armstrong, Saratoga Springs, New York
"I keep $10 gift cards to a local grocery chain in my car and hand them out to people who approach my car at lights or exit ramps. I make no judgments about what they buy with it. I want to give them the choice." – Ina Pinkney, Chicago, Illinois
"I gave to a stranger not very long ago, and I didn't give very much. She was standing outside of the grocery store asking for money. I was spending the very last of my food stamps. Still, I opened my wallet and gave her every bit of change I had. It was all coins, and I doubt it was much over $1." – Darcy Guill, Ayden, North Carolina

"I give to panhandlers whenever I can. I don't have a lot, but I have enough." – Maureen Dougherty, Sharpsville, Indiana
Hearing other people's stories
"Reading the news I've given to a number of people whom I don't know, but most recently to the family of Ava Le' Ray Barrin. Ava was a 17-year-old victim of a vicious transphobic attack and I felt a duty to help the family of one of my queer siblings, even if I did not know her. The rate at which black trans women and trans women of color are killed is alarming; it's disgusting how little support the most vulnerable of the LGBTQ community are given." – Anonymous, San Francisco, California

"My wife handed me news about a family about to be evicted from their rental home. The parents lost their jobs. Unannounced, I dropped off enough cash for two months rent without saying anything more than, "Hi, here you are." The cash was in a classic wrinkly brown paper lunch bag. The "why" in this story is not colored with altruism, but with my selfish need to feel accomplishment, charity, and the intoxicating consciousness of generosity." – Mark Bragg, Amherst, Massachusetts
"Back in 2012 there were a lot of stories making the news about how schools or their food service were shaming kids by not giving them lunch if they were behind on their accounts. There were a few in my home state. Even though my school district did not have that policy, I decided I would see the food service operator to find out if any elementary students were in arrears. I decided I would donate $500 to help as many of the students I could who had delinquent amounts. I did not know anyone at the schools, I just wanted to help. It was my way of saying no child should go hungry and to not be shamed in front of anyone because there was no money in their accounts. I received a nice thank you card from the food service operator telling me my donation had helped several families." – Roberta M. Retrum, Eagle River, Wisconsin
"In the run-up to the presidential election, I had a growing sense of dread about the rise of xenophobia and anti-Muslim sentiments in particular. Regardless of who won the election, bigots were freshly emboldened and, being married to a Pakistani immigrant, I was fearful about my family's future.
In August last year, I read a story about a young, promising Lebanese man, Khalid Jabara, a Christian actually, who was gunned down on his front porch by a neighbor who called him a dirty Arab. I read the story in the news, and was heartbroken by this disgusting and senseless act, but also enraged that this is the America we live in. I came across a crowd-sourced fundraising campaign for Khalid's family on Facebook and decided to contribute. It was a small gesture, but I hoped that I was making a statement of support for the family by adding my name and, in a small way, standing up to bigotry, showing that for every act of hatred there are many, many more acts of love." – Emily Cozart, New York, New York
Paying it forward
"While in the grocery store, the young woman ahead of me couldn't pay her $29 grocery bill. It was just a few essentials. She checked the ATM and called a friend while I waited. Finally she came back defeated. She had to put the food back; she didn't have the money. I volunteered to pay for it. It wasn't that long ago that I was in her shoes. Somebody did the same for me, and I know that in the future, when she is able, she will do the same for someone else. She was so grateful, she asked if she could hug me.
It has been my experience that those who have been poor and now have a little money (not a lot, but enough), are far more generous than those who have more money. We are grateful to those who helped us when we needed it. So when we can, we turn around and do the same for others. Like I said, I don't have a lot. But on more than one occasion I have emptied out my wallet. I gave everything I had. It wasn't much. $3-4. But somebody needed it more than I did." – M. Kei, Perryville, Maryland
"There was a time in my life when I was really struggling. I was a single mom, trying to raise my daughter, and running a full time day care. I had no insurance, sporadic child support and every day was hard. I was at the grocery store, trying to figure out how I was going to stretch my few last dollars for the week, when a guy who knew my mom came up to me. Somehow the fear in my heart came through and he reached in his pocket, pulled out a wad of cash, peeled off the first $50 and handed it to me—told me I shouldn't worry, that life would be better. I told him I couldn't take it because I'd never be able to pay him back, and he told me I didn't have to, just help someone else. He pressed it into my hand and walked away. It so struck me, and saved me, that I have paid that $50 forward so many times in my life." – Beth Vogl, San Pablo, California
"But how can you tell?"
"Giving to a stranger is tricky. I've seen too much deceit. By no means do I believe that all, or even most, folks who say they need a helping hand are cheaters. I have spoken with people who insist that everyone on any kind of government assistance is gaming the system, selling food stamps on the black market, buying drugs and booze and driving expensive cars. I've been receiving EBT benefits myself for ages, as I am disabled. I see who is in that waiting room with me; these are people in need, not evil conspirators. But on the street, how can you tell?
In the States I find the number of homeless and needy, the army of beggars, overwhelming, and I am in need, myself. How can I give? What have I got to give? To whom should I give, and to whom can I give? I make monthly forays to my local food shelf, as a grateful recipient. I try to bring a small donation (of goods, not money) along with me. I am not ashamed to ask for what I need, but I feel the need to give, as well. It's not the same as handing an individual something specific s/he has requested, but it's the best I can do at the moment." – Gail M Feldman, Saint Louis Park, Minnesota
Image credit: kazatin/Getty