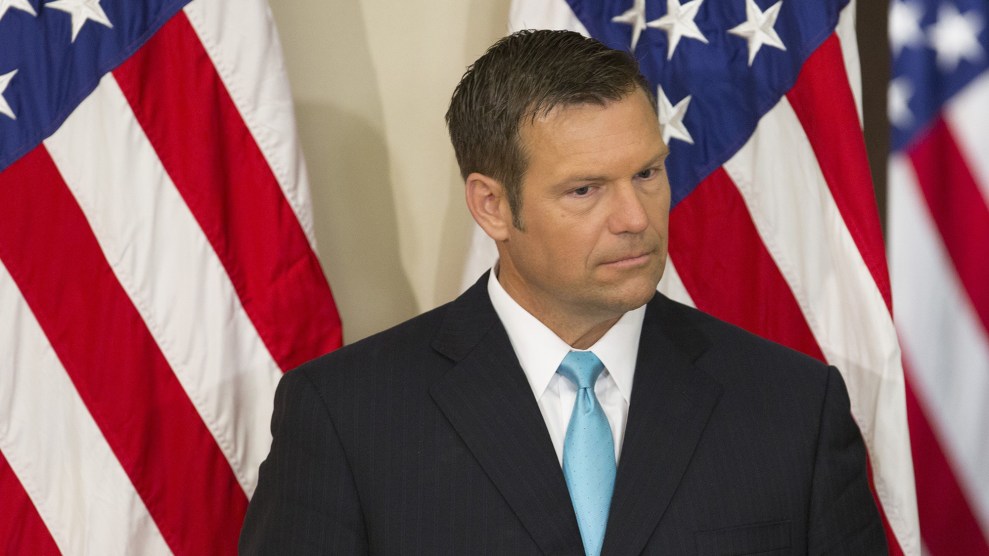 Fight disinformation:
Sign up
for the free
Mother Jones Daily
newsletter and follow the news that matters.
President Donald Trump dissolved his election integrity commission earlier this month, claiming that lawsuits had dragged down the panel's work of uncovering voter fraud. But a full accounting of what the commission was up to last year is only beginning to emerge—and with it, a new round of controversy.
The commission's first and most contested action was to request extensive data on every registered voter from every state—a request that elections experts and voting rights advocates feared would be used to make claims of widespread voter fraud based on faulty data analysis. Secretaries of state from both parties refused to hand over some or all of the requested data, which included names, addresses, party identification, criminal history, and partial Social Security numbers. But a collection of documents obtained by Sen. Claire McCaskill (D-Mo.) in December show that the commission was attempting to buy voter registration data from states that did not hand it over for free.
These documents come from the General Services Administration, the agency Trump tasked with providing administrative and funding support for its activities. They reveal that a staffer on the commission, Ronald Williams II, was working with states to purchase voter registration data. As the Washington Post found, in purchasing records from Texas, Williams included a request for a list of names the state had flagged as Hispanic surnames. Texas uses these flags to send voters bilingual election information. The vice chairman of the commission, Kris Kobach, told the Post he had no idea why Williams asked for Hispanic names to be flagged. It's unclear what the revelation means—whether a staffer simply checked a box, or whether the commission was intentionally collecting data on minority voters. A lawsuit blocked Texas from transferring the state's data to the commission.
In addition to purchasing Texas' data, Williams appears to have paid for information from Alaska, Georgia, Idaho, Iowa, Missouri, Montana, Oregon, Pennsylvania, West Virginia, and Honolulu County, Hawaii. It's not illegal to seek information that any member of the public can purchase. But the commission kept its activities under wraps, even from some of its members, raising questions about whether the commission conducted itself lawfully.
Included in the lawsuits filed against the commission was one from one of its own members, Maine Secretary of State Matthew Dunlap, a Democrat, who believed that the commission was conducting work without informing him, in violation of a federal law governing how federal commissions operate. In December, a federal judge ordered the commission to share its records with Dunlap so that he could fully participate in the commission's work. The administration is currently fighting that order. Dunlap was not even aware that Williams had been hired to work for the committee until October, when Williams was arrested on charges of possessing child pornography. The commission had also refused to share the names of commission staff with the press. Dunlap told the Post that purchasing state records was "never discussed at any commission meeting at any level."
Pending lawsuits, including Dunlap's, could reveal whether the commission's conservative leaders were carrying out additional activities without alerting all of its members.