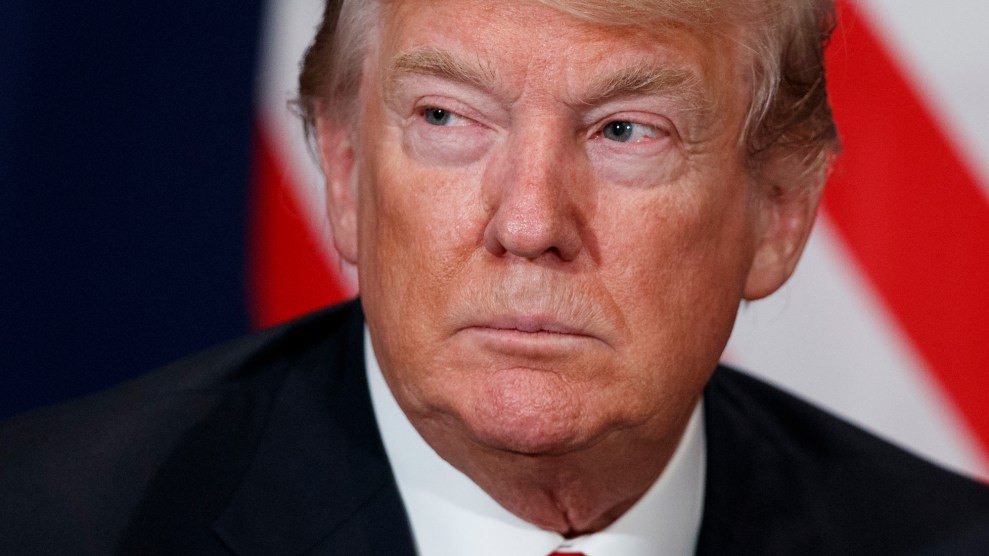 Fight disinformation:
Sign up
for the free
Mother Jones Daily
newsletter and follow the news that matters.
On Friday, the ongoing investigation led by special counsel Robert Mueller issued an astounding 37-page indictment charging 13 Russians in a broad conspiracy to sabotage America's 2016 elections. By Saturday, President Donald Trump and White House officials responded by tripling down on what might be called Trump's Russia-first strategy.
Reacting to the indictment, Trump said nothing about the sophisticated multiyear operation to sow discord among US voters, or what he might do to punch back at America's foe and stop the continuing attacks. Instead, he focused exclusively on the point that the Russian operation predated his official presidential campaign, and that this particular indictment—surely not the last from the sprawling Mueller investigation—contained no allegations of Trump campaign involvement.
"NO COLLUSION," Trump declared yet again on Twitter and in a statement from the White House.
On Saturday, White House deputy press secretary Hogan Gidley went even further during an appearance on Fox News. He suggested that Russia was not the enemy. The enemy, he said, was within.
"There are two groups that have created chaos more than the Russians and that's the Democrats and the mainstream media," Gidley said, alleging that they "continued to push this lie on the American people for more than a year."
.@hogangidley45: "There are two groups that have created chaos more than the Russians and that's the Democrats and the mainstream media." pic.twitter.com/HBmruoSUn3

— Fox News (@FoxNews) February 17, 2018
As Trump himself continued on Saturday to let Russia off the hook, downplaying any possible impact from the information warfare conducted on his behalf, a propaganda arm of the Kremlin, the RT network, ran with Gidley's remarks. RT's story announced: "Democrats & MSM wreaked far more havoc than Russians," citing a "White House spokesman." That was framed by a mocking follow-up tweet from RT: "But which of the two is best at it?"
But which of the two is the best at it? https://t.co/nz7jkTHPcv

— RT (@RT_com) February 17, 2018
Trump's unwillingness even to acknowledge the scope of the Russian attack or suggest that he'll do anything about it comes off as conspicuously defensive—and suggests fear of what may still be to come from Mueller, who is reportedly close to a plea deal with yet another former Trump aide, Rick Gates.
Trump's position is also starkly at odds with that of his own top national security aides. Following the indictment, national security adviser H.R. McMaster said at a security conference in Munich that the evidence on the Russian campaign of "disinformation, subversion and espionage" targeting the 2016 US elections "is now incontrovertible."
Vice President Mike Pence, meanwhile, appears to have his boss's back. Earlier in the week, Pence said in an interview that "it is the universal conclusion of our intelligence communities that none of those efforts had any effect on the outcome of the 2016 election." That's flat-out false—it has long been a matter of public record that the US intelligence community did not assess the impact on the elections from the Russian operations.
The current president still has yet to ever utter a word directly critical of Vladimir Putin. It's worth also recalling Trump's emphatic statement in November that he fully believed the Russian prime minister when Putin told Trump that he'd done nothing to interfere in US elections. Trump went so far as to defend Putin's personal honor over the allegations: "I think he is very insulted by it," Trump said, "which is not good for our country." He further implied that US national security leaders were less trustworthy on the matter than Putin, calling them "political hacks."
Perhaps most significantly, Trump has since refused to enforce congressionally mandated sanctions against Moscow, an extraordinary act of defiance on foreign policy that goes against the will of a coequal branch of government.
What could possibly explain all this behavior from Trump with regard to one of America's most significant and hostile foreign adversaries? Time will tell. And the answer will not be good.