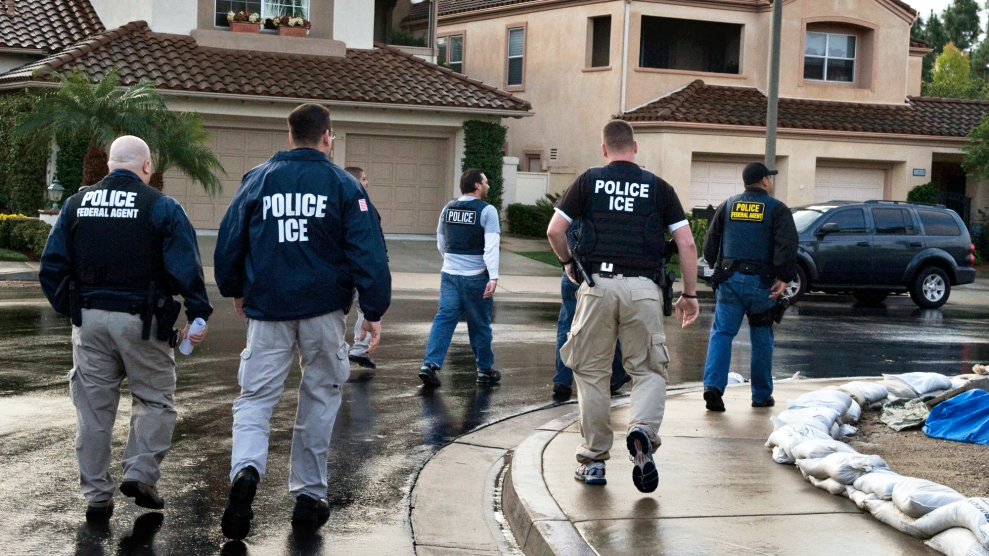 Fight disinformation:
Sign up
for the free
Mother Jones Daily
newsletter and follow the news that matters.
Republicans in Congress have a new scapegoat for the country's opioid crisis: undocumented immigrants. At a hearing on Capitol Hill Thursday, GOP lawmakers repeatedly claimed that so-called sanctuary-city policies are fueling the drug epidemic—a theory that a number of experts say simply isn't true.
Sanctuary cities are generally described as places that limit how local law enforcement can work with federal Immigration and Customs Enforcement officials to help deport undocumented immigrants. Many Republicans fiercely oppose such policies and have sought to turn them into an electoral wedge issue.
"We have heard countless stories of sanctuary practices and the havoc they wreck on public safety, national security, and the sanctity of the rule of law," said Rep. Raúl Labrador (R-Idaho), chairman of the House Judiciary Subcommittee on Immigration and Border Security. "Our public safety and our public health are tied to eradicating opioids, which can never be accomplished when the force multiplier that is ICE is sidelined."
Labrador was careful not to claim that sanctuary cities were the primary reason for the crisis. "We are not here to discuss the underlying causes of the epidemic, and to be sure this committee is not asserting that sanctuary policies have caused such an epidemic," he said. "But the fight against opioids at the law enforcement level has, as asserted by our witnesses' written testimony, greatly relied on strong federal partnerships, including partnerships with ICE."
Immigration isn't the first hot-button political issue that Republicans have tried to link to opioids. Senate Republicans held a hearing last month in which they argued that Obamacare's expansion of Medicaid—the government's health insurance program for the poor—was worsening the epidemic. (Experts rejected that theory, too.)
At Thursday's hearing, law enforcement officers claimed that while heroin and other illicit drugs often come from Mexico, sanctuary policies prohibit cops from asking about alleged drug dealers' immigration status or contacting ICE. The policies are "creating a safe haven for criminality," said Jackson County, Texas, Sheriff A.J. Louderback. "Wherever sanctuary policies exist, your law enforcement is not able or permitted to cooperate, communicate or partner to fight crime as a team."
Nick Rogers, the president of the Denver Police Protective Association, told lawmakers that he repeatedly experiences a familiar story: He arrests an undocumented immigrant for allegedly dealing heroin, and then, months later, he arrests the same suspect again, this time with a different fake ID. The city's sanctuary policy, he said, has created "a city that is much less safe than it was prior to this [sanctuary] ordinance." In interviews with local media, Denver Police Chief Matt Murray has disputed some of Rogers' arguments. "He clearly doesn't understand the training or ordinance," Murray told Denver's CBS4.
Democrats on the committee criticized the premise of the hearing. Rep. Pramila Jayapal (D-Wash.) said there was no "factual basis in connecting so called sanctuary city policies with the opioid crisis."
"It would be laughable if it weren't so serious," she said. "If it weren't so hurtful to the characterization of immigrants across this country."
The Republicans' witnesses were countered by Keith Humphreys, a Stanford psychiatry professor who served as a drug policy adviser under Presidents George W. Bush and Barack Obama. Opioid addiction and overprescription—not immigration and sanctuary city policies—are the root of the epidemic, he explained. "Prescription opioids come from American companies, are prescribed by American doctors, overseen by American regulators," he said. "Arresting heroin dealers from other nations will thus never eliminate the root of our problem."
Harvard criminologist Thomas Abt told Mother Jones that there is no evidence to suggest that sanctuary policies are fueling the epidemic—and regardless, such policies don't stop law enforcement from targeting and imprisoning drug dealers. "This hearing appears to be another in the ongoing effort to tie public safety challenges like violent crime and opioids to the administration's anti-immigration agenda," he said.
Studies have repeatedly supported a public health-oriented approach to the epidemic—one that emphasizes reducing opioid prescription rates and increasing access to treatment and the overdose reversal drug naloxone. But Attorney General Jeff Sessions has taken a law enforcement-focused approach reminiscent of the War on Drugs, encouraging mandatory minimum sentences for even low-level drug offenders and giving dozens of speeches connecting opioid overdoses to violent crime and immigration.
"Trump and Sessions are crime dinosaurs, using outdated approaches to crime policy that lack evidence of effectiveness," said Abt. "Honestly, sometimes it seems as if they fell asleep in the early 90s and just woke up."