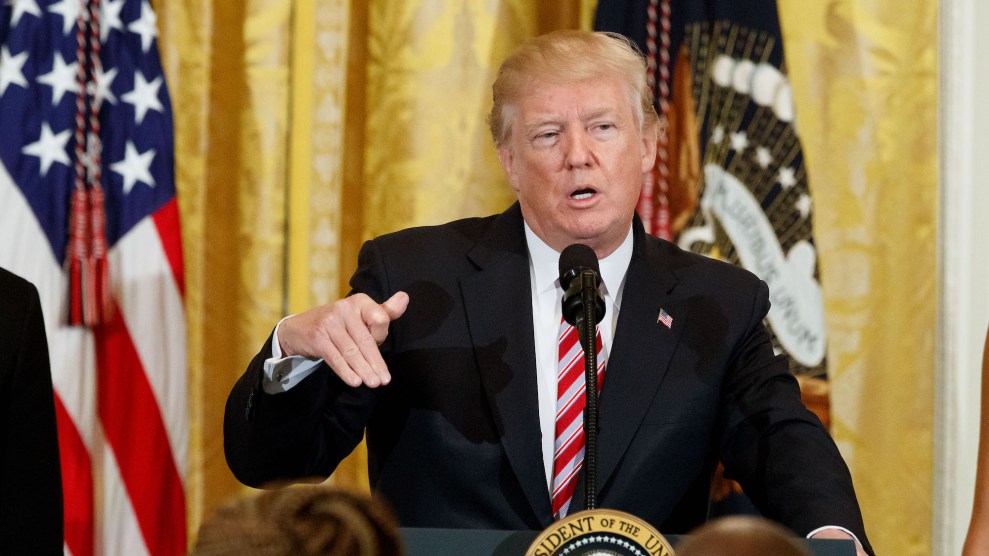 Fight disinformation:
Sign up
for the free
Mother Jones Daily
newsletter and follow the news that matters.
The bipartisan immigration plan that represented the Senate's best chance to pass legislation to protect Dreamers—undocumented immigrants who came to the country as children—was defeated on Thursday afternoon. The final tally was 54 in favor, 45 against, with eight Republicans joining most Democrats in support. Sixty votes were needed to overcome a potential filibuster and advance the measure.
The proposal, which was introduced by 16 senators, including eight Republicans, would have provided Dreamers with a path to citizenship, while giving President Donald Trump the $25 billion in border security funding he requested. It would also have slightly reduced legal immigration—though not nearly as much as Trump wanted—and prioritized deporting immigrants with criminal records.
Last month, Trump said he would sign essentially whatever immigration legislation Congress could agree on. "If they come to me with things I'm not in love with, I'm gonna do it," he said. "Because I respect them." But that was flexibility was nowhere to be seen on Thursday.
Early Thursday morning, shortly after midnight, the Department of Homeland Security put out a statement saying the bipartisan plan would lead to "the end of immigration enforcement in America" and make the country a "Sanctuary Nation." Later in the day, the White House threatened to veto the plan. One hour after that, a White House official, who asked not be named, upped the ante by saying the bill was "so spectacularly poorly drafted" that the White House was "officially asking the sponsors of the bill to withdraw their sponsorship, allowing for the possibility that they were simply grievously misinformed about the bill's outrageous contents." Trump topped it off by weighing in on Twitter:
The Schumer-Rounds-Collins immigration bill would be a total catastrophe. @DHSgov says it would be "the end of immigration enforcement in America." It creates a giant amnesty (including for dangerous criminals), doesn't build the wall, expands chain migration, keeps the visa…

— Donald J. Trump (@realDonaldTrump) February 15, 2018
The fierce opposition highlights a reality that has been clear for months: The White House is determined to extract as much as possible from any deal protecting the Dreamers it ostensibly wants to help. Behind the scenes, the Trump administration is reportedly telling Republican senators that the Supreme Court will likely overturn a court ruling that requires it to continue accepting renewals for the Obama-era Deferred Action for Childhood Arrivals (DACA) program, which gives nearly 700,000 Dreamers work permits and protection from deportations.
After moving to end DACA in September, Trump has repeatedly insisted that he wants DACA recipients to stay in the United States. He has told Dreamers they have "nothing to worry about" and said he doesn't understand why anyone would want to deport them. But in recent months he has appeared to be increasingly persuaded by his hardline advisers, chiefly Stephen Miller.
Sen. Lindsey Graham (R-S.C.) made clear on Thursday that Miller's influence won't lead to any relief for Dreamers. As long as Miller is "running the White House," he said at a press conference in the Capitol, "we're going nowhere fast warp speed."