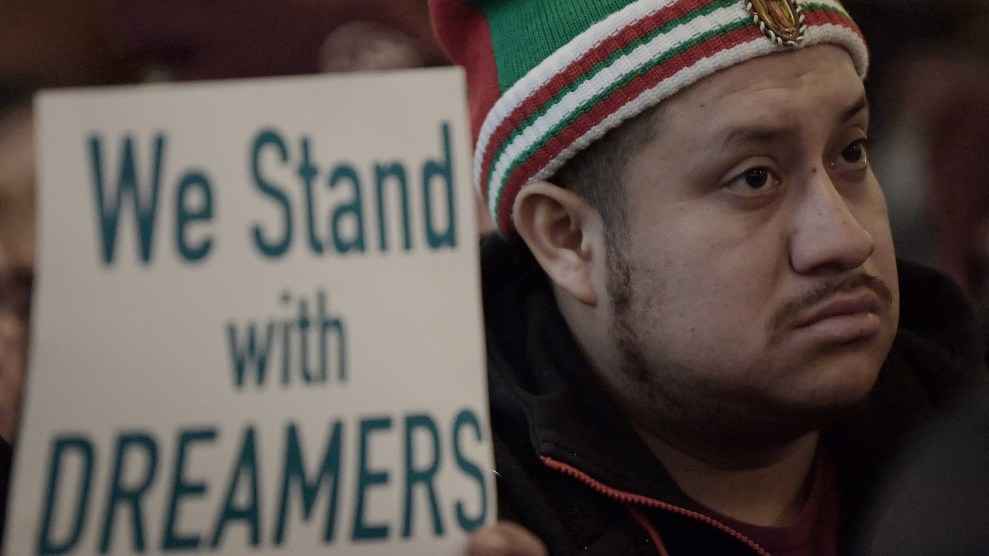 Fight disinformation:
Sign up
for the free
Mother Jones Daily
newsletter and follow the news that matters.
The hardline immigration bill endorsed by President Donald Trump failed badly in the Senate on Thursday afternoon. It received just 39 votes well short of the 60 needed to take up the measure. Of the four immigration proposals the Senate considered on Thursday, all of which failed, Trump's favored bill was the only plan that got fewer than 50 votes.
As Mother Jones has written, the proposal had three main goals: increasing border security, cutting legal immigration, and providing Dreamers—undocumented immigrants who came to the country as children—with a path to citizenship. The plan, introduced by Sen. Chuck Grassley (R-Iowa), could have cut legal immigration by hundreds of thousands of people per year, while making it much easier to detain immigrants. It was backed by Majority Leader Mitch McConnell (R-Ky.).
Earlier on Thursday, a White House official, who declined to speak on the record, said, "The administration is four square, 100 percent in support of the Grassley bill." The official added that the bill would have a chance of getting 60 votes "once people realize that these totally unworkable and reckless schemes have no chance of going anywhere." In the end, those "schemes," which called for far less severe cuts to legal immigration, were the only ones to garner significant bipartisan support. But the end result may be no new immigration laws at all.