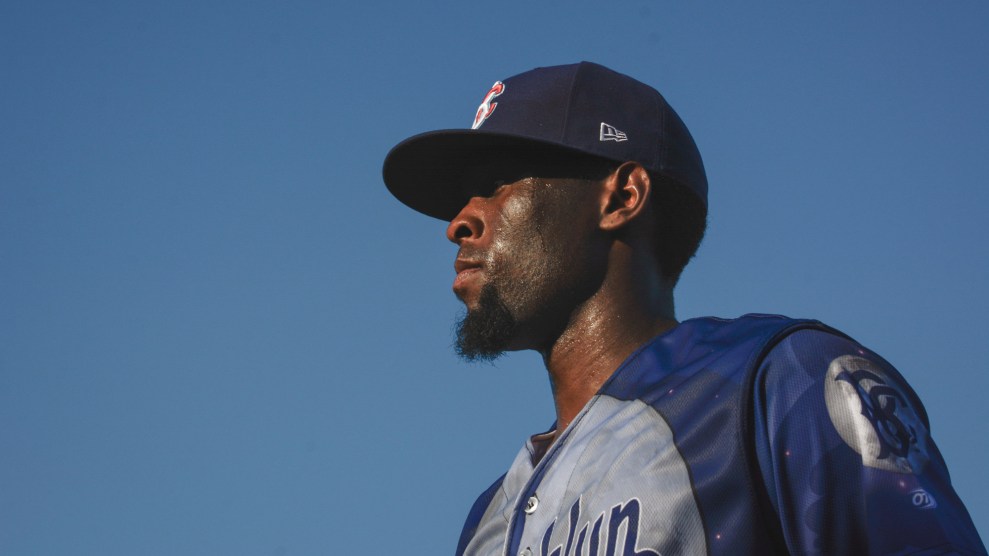 Fight disinformation:
Sign up
for the free
Mother Jones Daily
newsletter and follow the news that matters.
Tucked away on page 1,967 of the $1.3 trillion omnibus bill making its way through Congress in an effort to avoid a government shutdown, between child welfare protections legislation and a bill to combat abuse of youth athletes, is a provision that would exempt minor league baseball players from federal labor law.
The continued underpayment of minor league baseball players is nearly law. On Page 1,967 of the new omnibus bill is an amendment that exempts minor league players from federal labor law. If Congress passes the bill by Friday, it's official. The language: https://t.co/oNXzB8iud4 pic.twitter.com/102mGFD3Mj

— Jeff Passan (@JeffPassan) March 22, 2018
Congress slipped the provision into the omnibus bill late Wednesday thanks to a yearslong lobbying effort by Major League Baseball. The bill, known as the Save America's Pastime Act, doesn't really save anything. Instead, it means Major League Baseball, which reportedly brought in $10 billion in revenue in 2017, can confine their minor league players' salaries to below minimum wage without the benefit of overtime pay.
The MLB's pay structure has been the subject of several federal lawsuits, including one filed in 2014 on behalf of minor league baseball players that alleges that minor league players are illegally underpaid and don't receive overtime pay. Unlike their major league counterparts, minor league players are not unionized.
A similar effort to the Save America's Pastime Act was made in 2016 when Rep. Cheri Bustos (D-Ill.) and Rep. Brett Guthrie (R-Ky.) introduced the act to the House to create the exemption. After a flurry of backlash, Bustos, whose father was MLB's first lobbyist, withdrew her support for the measure. Minor League Baseball president Pat O'Connor told the Washington Post earlier this week that the lawsuit threatened to upend the business model for minor league baseball clubs. Major League Baseball clubs pay the wages for minor league players, who are considered seasonal workers, and the league argues that if players started receiving minimum wages, minor league clubs would have to chip in.
While the major leagues may seem prosperous, low pay in the minors has been an issue for decades. Under the bill, minor league players could make a minimum of $1,160 a month, and clubs would only pay for the 40-hour weeks worked during the season. Players entering the minor leagues currently bring in as little as $1,100 a month, well below the federal minimum wage. That's paltry compared to the minimum salary—$92,000 per month—in the major leagues. Since 1976, the minimum salary for major leaguers has skyrocketed by more than 2,500 percent. In the minors, it's risen only 70 percent. As Mother Jones previously reported, the man behind the 2014 lawsuit, attorney Garrett Broshuis, a former minor league baseball player himself, saw an opening into challenging Major League Baseball's traditional pay structure by homing in on the league's compliance with federal wage and overtime law.
Figuring out a way around MLB's antitrust exemption was the first order of business. The exemption, in place since 1922, shields teams from allegations of monopolistic business practices, such as colluding to suppress minor leaguers' wages. But it doesn't protect MLB from federal wage and overtime laws, which is why Broshuis' case focuses on unpaid and extra work, from seven-day-a-week schedules to mandatory offseason workouts. McCann thinks the suit, one of a surge of sports-related cases targeting everything from concussions to college athlete unionization, signals big changes not seen since the free-agency lawsuits of the 1960s and '70s. However, if Senne gets past MLB's initial motion to dismiss, it will likely take years to litigate, particularly if it expands into a class-action suit.
The case is currently wrapped in federal appeals court. But if Congress approves the omnibus bill with the exemption, the stakes in court could get even higher. "This is about billionaire owners using their clout to try to pass something that isn't going through the normal procedures of legislature and that is only going to make thousands of minor leaguers suffer even more," Broshuis told the Washington Post earlier this week. "We're just talking about basic minimum wage laws here—the same laws that McDonald's has to comply with, the same laws that Walmart has to comply with."