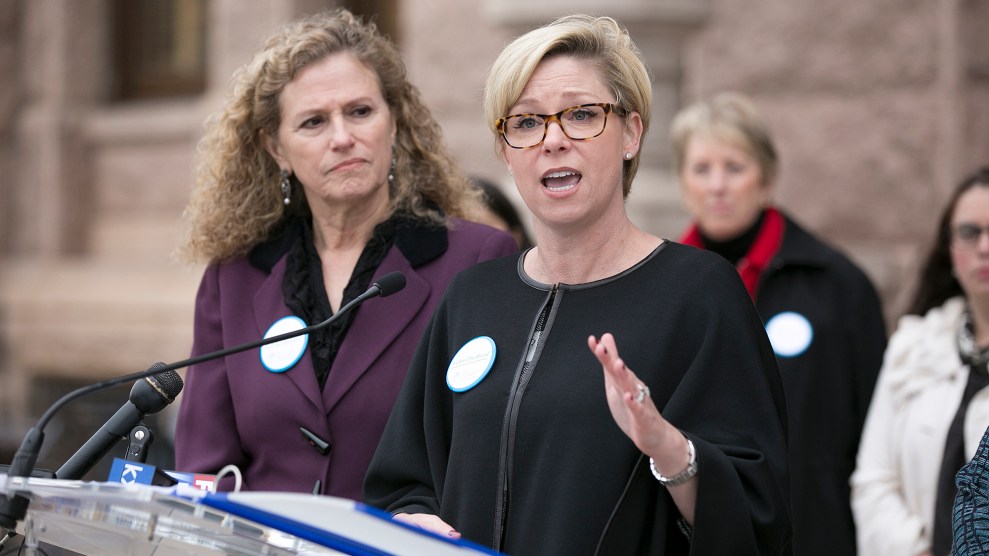 Fight disinformation:
Sign up
for the free
Mother Jones Daily
newsletter and follow the news that matters.
The only pro-choice Republican in the Texas legislature secured her party's nomination in Tuesday night's primary, despite fierce opposition from the state's arch-conservative governor, Greg Abbott.
Sarah Davis, the moderate GOP incumbent for Houston-area District 134 defeated Abbott's favored candidate, Susanna Dokupil, in the race to become the Republican nominee.
"The people of this district sent a message to those in Austin that we reject the politics of personal destruction, of anything-goes deception, and of pitting Republican against Republican in the name of amassing personal power," Davis said in a victory speech Tuesday evening.
She added, "For the record, I will not be told by anyone in Austin whether I am a Republican."
While Davis' victory might be a blow to Abbott's agenda, it likely increases the odds that her district will remain under GOP control come November. Voters in the affluent, purple-ish district that Hillary Clinton won in 2016 may be willing to cast their ballots for a Republican—but only for the right Republican, Davis told Texas Monthly.
In the past months, Davis was endorsed by the Houston Chronicle and by outgoing state House Speaker Joe Straus, a Republican who is often identified as a moderate. When asked in an interview with the Texas Tribune whether Abbott would get her vote in the governor's race, Davis said she would likely "just not vote."
Davis will face off against Democratic candidate Allison Lami Sawyer in the general election this November.
Dokupil was assistant solicitor general when Abbott was Texas attorney general, and she's a vocal supporter of Abbott's agenda. She was supported by anti-abortion activists and Jonathan Stickland, a Republican state representative and member of the Texas Freedom Caucus, a group of deeply conservative state representatives.
As I wrote earlier this month, Davis and Abbott have clashed over legislative priorities over the course of Davis' tenure in the House.
[Davis] pushed back against key parts of Abbott's 2017 agenda, including his failed efforts to increase state funding of private schools and ban transgender people from using the bathroom that corresponds to their gender identity. Davis—along with the other two state representatives Abbott is trying to unseat, Wayne Faircloth of Galveston and Lyle Larson of San Antonio—also drew Abbott's ire by siding against the governor in a fight over ethics reform. The three lawmakers backed unsuccessful legislation that would have barred governors from accepting hefty campaign donations from people who receive state appointments, a proposal that Abbott viewed as a slap in the face.
Abbott backed two other challengers to Republican incumbents, one of whom beat the incumbent, according to the Texas Tribune update on Tuesday night.
In her acceptance speech, Davis said the state Republican party's divisive leadership in Austin had to stop.
"It's time that our party ends purges and starts building bridges."