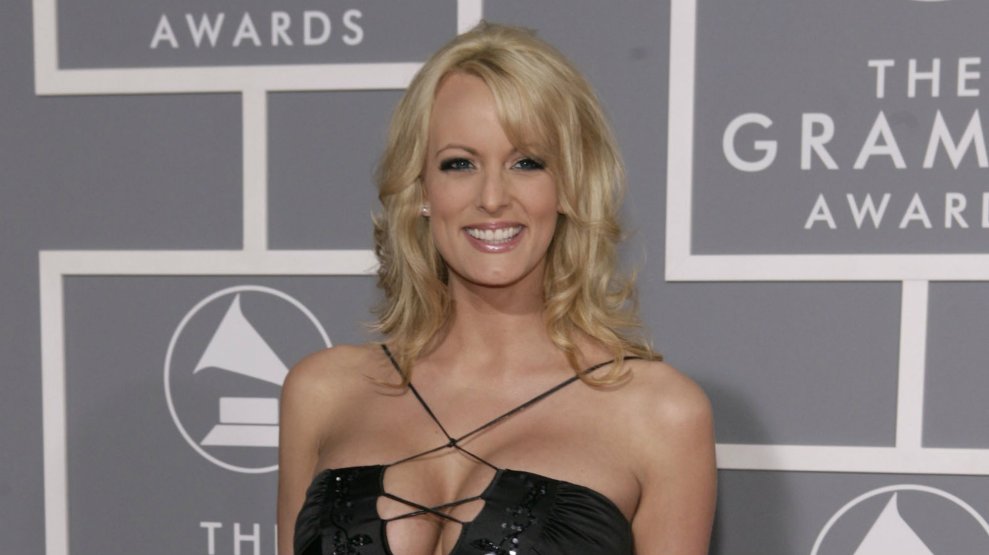 Fight disinformation:
Sign up
for the free
Mother Jones Daily
newsletter and follow the news that matters.
Adult film star Stormy Daniels appeared on 60 Minutes Sunday night in her first televised interview about her alleged affair with President Donald Trump. Daniels claims she slept with Trump once in 2006 while Trump was already married to his current wife, First Lady Melania Trump, a claim the president has denied.
Daniels signed a non-disclosure agreement with Trump's personal lawyer Michael Cohen just ahead of the 2016 election wherein she agreed not to speak publicly about her relationship with Trump in exchange for a six-figure sum. Daniels and her attorney now assert, however, that the agreement was not legally valid because Trump did not also sign it himself.
Here are the six biggest moments from Daniel's 60 Minutes interview with guest host Anderson Cooper.
Daniels explains why she signed the initial hush agreement:
After Trump clenched the Republican nomination in July 2016, multiple news outlets reached out and offered her money to discuss her alleged affair with Trump, Daniels says. The affair had been reported on by a tabloid about five years earlier. But just before the presidential election, Trump's longtime personal lawyer Michael Cohen offered her money—$130,000—not to talk. Daniels told Cooper the offer was appealing because it meant she would receive money and also did not have to worry about the impact that news coverage of her affair with Trump would have on her daughter and family. "The story was coming out again. I was concerned for my family and their safety," she said. Cooper then raised the notion that some people might not believe her story. "I think the fact that I didn't even negotiate, I just quickly said yes to this very, you know, strict contract," Daniels responded. "And what most people will agree with me extremely low number. It's all the proof I need."
When Donald Trump won the Republican nomination, Daniels says she started getting calls again with offers to tell her story. And she got one offer not to tell her story. Mr. Trump's attorney Michael Cohen agreed to pay $130K in exchange for signing a non-disclosure agreement. pic.twitter.com/HB98pik8bj

— 60 Minutes (@60Minutes) March 25, 2018
Daniel lays out why she's decided to talk now:
Cooper opened the interview by questioning why Daniels is talking now. Her answer was straightforward. "People are just saying whatever they wanted to say about me," she said. "I was perfectly fine saying nothing at all, but I'm not okay with being made out to be a liar, or people thinking that I did this for money and people are like, 'Oh, you're an opportunist. You're taking advantage of this.'"
Daniels explains why she publicly denied the affair in January:
After the Wall Street Journal reported on Daniels' alleged affair with Trump in January, Daniels says she was pressured by her former attorney and former business manager to sign statements declaring that she never had an affair with Trump. After Daniels signed the statements, Cohen, Trump's attorney, released them publicly. "If it was untruthful, why did you sign it?" Cooper asked. "Because they made it sound like I had no choice," Daniels responded. "The exact sentence used was, 'They can make your life hell in many different ways.'"
"They being?" Cooper followed up.
"I'm not exactly sure who they were. I believe it to be Michael Cohen."
Daniels says she was threatened not to share her story:
Daniels claimed that in 2011, she was threatened by a man while alone in a parking lot in Las Vegas after she had discussed her affair with Trump to a news outlet. She described being approached by a man who threatened her as she was taking her daughter out of the car on her way to a fitness class. "A guy walked up on me and said to me, 'Leave Trump alone. Forget the story.' And then he leaned around and looked at my daughter and said, 'That's a beautiful little girl. It'd be a shame if something happened to her mom.' "You took it as a direct threat?" Cooper asked. "Absolutely," Daniels said.
Not long after the magazine story was killed, Stormy Daniels says she was threatened by a man who approached her in Las Vegas. "A guy walked up on me and said to me, 'leave Trump alone. Forget the story.'" pic.twitter.com/JMskKQiYCi

— 60 Minutes (@60Minutes) March 25, 2018
Daniels confirms Mother Jones' spanking story:
Daniels confirmed a Mother Jones story from January that Daniels had once claimed that she spanked Trump with a magazine that had his face on the cover. She described the encounter, which Daniels says preceded intercourse with Trump. "So he turned around and pulled his pants down a little—you know had underwear on and stuff and I just gave him a couple swats."
A campaign finance expert explains why Cohen's payment to Daniels could have been illegal:
Trevor Potter, a former chairman of the FEC, told Cooper he thinks Cohen's payment to Daniels could amount to an illegal campaign contribution. "It's a $130,000 in-kind contribution by Cohen to the Trump campaign, which is about $126,500 above what he's allowed to give. And if he does this on behalf of his client, the candidate, that is a coordinated, illegal, in-kind contribution by Cohen for the purpose of influencing the election, of benefiting the candidate by keeping this secret." The payment could also have implications for the Russia investigation, Potter said. If Mueller believes Cohen's payment was improper, he could charge Cohen with a crime in an effort to get him to dish on Trump.
This past Tuesday, Cohen and Daniels' attorney Michael Avenatti sparred on CNN's Anderson Cooper 360° about the nature of their clients' relationship. The Wall Street Journal and NBC had reported earlier that day that Daniels had taken a polygraph test in 2011 at the request of a news outlet that was considering writing about her. Polygraphs are widely considered to be unreliable—still, Daniels' examiner wrote in a subsequent report that there was a more than 99 percent chance that she was being truthful about the alleged affair.
Former Playboy model Karen McDougal also spoke to Anderson Cooper last week about an affair she allegedly had with the president. The New Yorker has reported that just four days before the election, American Media, Inc., the parent company of Trump-friendly tabloid the National Inquirer, paid McDougal $150,000 for exclusive rights to her story about an affair with Trump so no other outlet could write about it. The practice is referred to in the tabloid industry at "catch and kill."