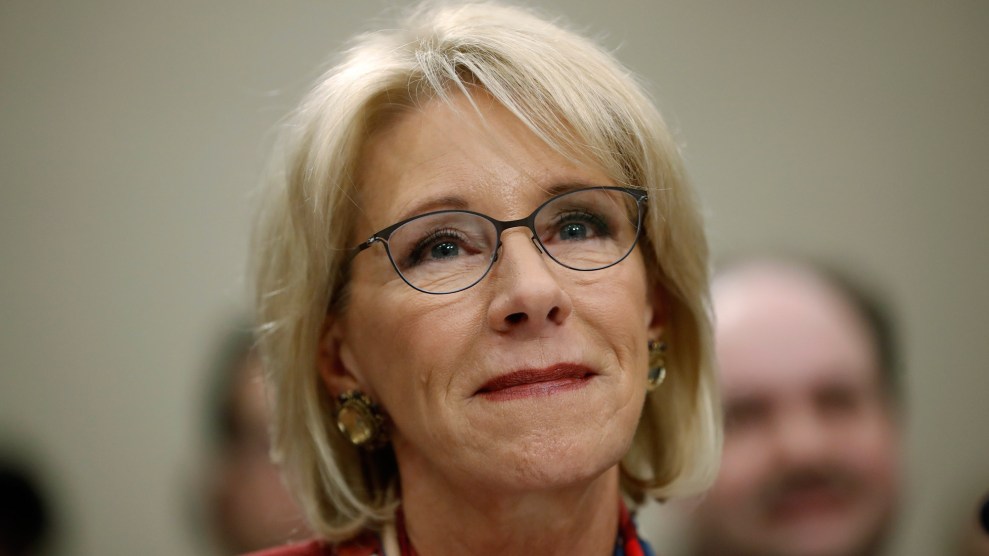 Fight disinformation:
Sign up
for the free
Mother Jones Daily
newsletter and follow the news that matters.
On Tuesday morning, Democratic lawmakers seized an opportunity to press Education Secretary Betsy DeVos on everything from racial bias in student discipline to guns in schools as she defended a proposed $3.6 billion cut to her department's budget at a hearing on Capitol Hill.
It was her first Congressional appearance since the 60 Minutes interview last Sunday during which she struggled to answer questions about her approach to education policy.
Rep. Katherine Clark (D-Mass.) asked DeVos again whether private schools that discriminate against LGBT students should qualify for federal funds under a proposal to divert more than $1 billion toward expanding school choice. When Clark initially posed the question to DeVos at a House appropriations hearing last May, the education secretary said that "states and local communities are best equipped to make decisions and framework on behalf of their students."
After some insistence today that DeVos give a "yes" or "no" answer, DeVos conceded.
https://twitter.com/karavoght/status/976127511892516865
Rep. Mark Pocan (D-Wis.) recalled an infamous remark DeVos made last year during her confirmation hearing about keeping guns in schools as a contingency for a grizzly bear attack. DeVos said if she had to do it over, she would use a different example.
"If there are going to be guns in schools, they need to be in the hands of the right people and those who are going to protect students and ensure their safety," DeVos said. During the hearing, DeVos, who will oversee a Commission on School Safety created in response to the Parkland shooting, confirmed that the commission will also include Attorney General Jeff Sessions, Health and Human Services Secretary Alex Azar, and Homeland Security Secretary Kirstjen Nielsen.
https://twitter.com/karavoght/status/976144673872973826
When asked if she plans to visit poor-performing schools, DeVos said she thinks it's important, but "the question is, will they let me in?"
https://twitter.com/karavoght/status/976126482606063616
Rep. Barbara Lee (D-Calif.) confronted DeVos about the proposed cuts to the department's civil rights office and other programs. She called the potential cuts a "slap in the face" to students of color and asked whether DeVos believed race was a factor in the disproportionate discipline rates for black students in schools, who are three times more likely to be suspended or expelled than their white peers.
"There is no place for discrimination, and we are not tolerating discrimination," DeVos said.
Lee was skeptical.
"You are saying that, but your policies and your budget show differently," she replied.
https://twitter.com/karavoght/status/976123586170834944
https://twitter.com/karavoght/status/976124750866067457
Last Friday, the Education Department notified state regulators that only the federal government had the authority to enforce oversight for student loan servicing companies. The notice said that such state regulations impede "uniquely federal interests." The move drew criticism from governors from both parties, consumer advocates, and state attorneys general such as California's Xavier Becerra, who said the federal government has no legal basis to preempt state regulators. Rep. Rosa DeLauro (D-Conn.) expressed her own displeasure by asking if DeVos believes states have the right to guarantee consumer protections for citizens.
Rep. Rosa DeLauro gets in a heated exchange with Betsy DeVos over a potential plan to preempt state regulations on student loan collectors: "Who made this decision? What was the process? … Who do you believe this serves?" (via ABC) pic.twitter.com/YpGKCAqRwC

— Kyle Griffin (@kylegriffin1) March 20, 2018
And then, it was over.
Heard @BetsyDeVosED tell staffers "well, another great day" as she got into her car. Thought I detected a bit of sarcasm. pic.twitter.com/ExgpAhnLcf

— Andrew Kreighbaum (@kreighbaum) March 20, 2018