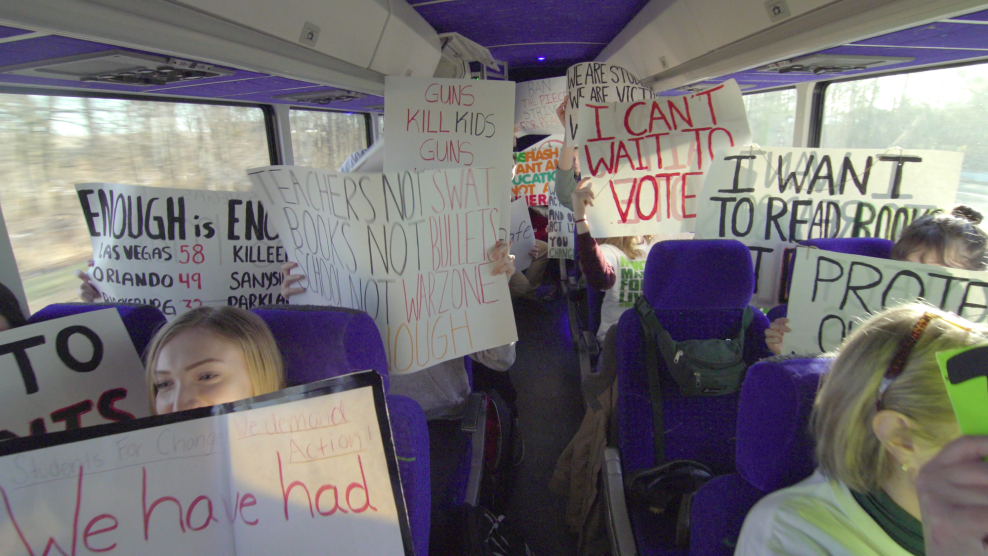 Fight disinformation:
Sign up
for the free
Mother Jones Daily
newsletter and follow the news that matters.
The morning began at 4 a.m. inside Blue Colony Diner, a 24-hour joint glowing blue neon near the expressway through Newtown, Connecticut. A dozen bleary-eyed Newtown High School students threw back coffee and gossiped about the current school production of Les Miserables, in which Jackson Mittleman, 16, somehow finds time to star, while also leading the school's efforts to stop national gun violence.
"If any students of Parkland are watching, you know we're really proud of you guys, and we're so thankful you guys have invoked a fiery passion for all students across the country," he said, while we recorded an film interview. "We are marching for our lives right along side you guys."
Over 200 students and their supporters from Newtown were finalizing signs and boarding buses this morning to join the March For Our Lives gun reform rally in Washington, DC. Mother Jones was invited along for the six (or so) hour trip with members of a community that knows gun violence all too well. Over 5 years ago, a gunman killed 27 people here in a spree that included Sandy Hook Elementary School, where 20 children died. Students here have come of age amidst relentless activism—and the disappointment that accompanies the national failure to act on gun violence.
SURVIVORS TO SURVIVORS: Newtown students send this message to Parkland ahead of #MarchForOurLives: "you know we're really proud of you… we are marching for our lives right along side you guys." pic.twitter.com/FquruDtJVD

— James West (@jameswest2010) March 24, 2018
Mittleman is operating on about 90 minutes of sleep. "It's been a rough week for sleep, but it's been a good week," he said. "We're all really tired but fired up," Garrett Marino, 16, barely touching his Eggs Florentine, agreed, describing himself as "more excited than tired."
First fuel:
Newtown high schoolers fueling up before #MarchForOurLives in DC. Eggs! 4am eggs!! pic.twitter.com/GQz6fzN6lc

— James West (@jameswest2010) March 24, 2018
Next, the buses:
Here is your first look from onboard the Newtown to D.C. #MarchForOurLives bus. Excitement dueling with 5:20am sleepiness! Bus 1/8 video dispatch: pic.twitter.com/5Gis7czwgM

— James West (@jameswest2010) March 24, 2018
The Junior Newtown Action Alliance, a student offshoot of a local gun law reform group with the same name, (minus "junior") organized the eight, now-packed buses (mercifully equipped with WiFi, though patchy), which are now traveling in convoy. Students will be dropped off in the heart of DC where they expect to find half a million others from around the country demanding action—and, this being a student-led rally, taking in a concert by pop superstar, Ariana Grande (whose 2017 concert in Manchester, it's worth mentioning, was shattered by a terrorist bomb blast.)
Student leaders @jmittleman25 and @tmmurray1000 talk to their #MarchForOurLives bus not about today, but about WHAT'S NEXT to capture momentum. pic.twitter.com/PH2lEZzpuz

— James West (@jameswest2010) March 24, 2018
The students have a banner, inscribed with messages of love and solidarity from members of the community unable to attend the march, addressed to their peers at Marjorie Stoneman Douglas High School in Parkland, Florida. They hope to give the banner to the Parkland students. "We've had hundreds of students and parents sign it," Mittleman told me. "It's symbolic of the students who have gone through the same thing as them. We understand what they're doing and why understand what they've experienced, and we are standing behind them while they're leading this charge for national change."
And now, the banner:
Final preparations taking shape here in Newtown CT, ahead of a huge BUS CONVOY tomorrow morning to DC. pic.twitter.com/5zQ4ljlkF1

— James West (@jameswest2010) March 23, 2018
We'll follow the Newtown students throughout the day and keep you updated. No sleep 'til DC.
(Well, maybe a little.)