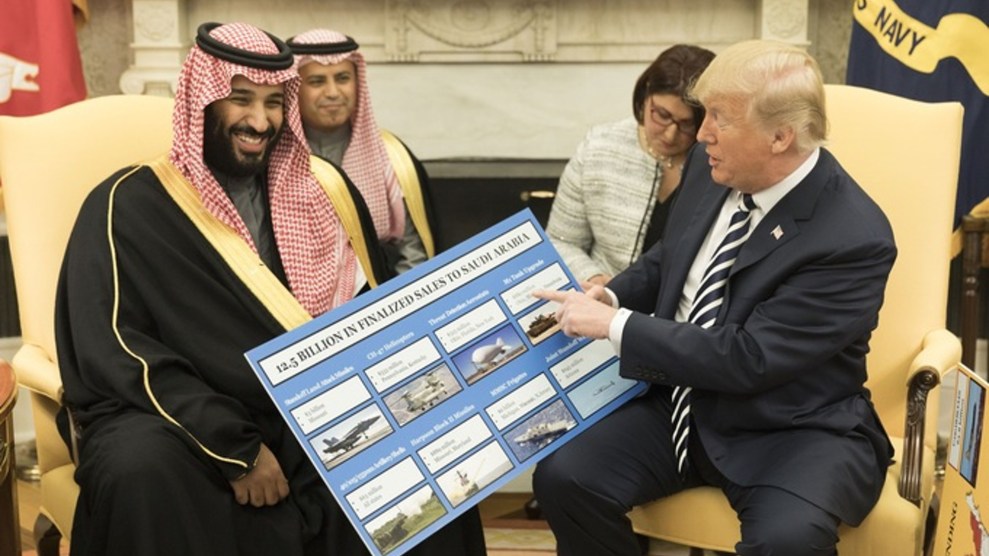 Fight disinformation:
Sign up
for the free
Mother Jones Daily
newsletter and follow the news that matters.
Elliott Broidy, a top Republican fundraiser beset by reports suggesting he used ties to President Trump to seek foreign contracts for his businesses, explained on Monday how and why he believes Qatar, in coordination with an American lobbyist, hacked his email and pushed his files to news organizations, part of a widespread campaign he alleges is aimed at discrediting him.
Last week, Broidy sued Qatar and Nicolas Muzin, a lobbyist working for the country in Washington, claiming they conspired to use his stolen emails to harm his reputation and his businesses. In new filings Monday, Broidy asked the judge to order the defendants to stop disseminating the emails he claims they have and begin turning over relative records to his lawyers. In the documents, Broidy also outlines the basis for what his lawyers say is an unprecedented effort to sue a nation-state for hacking personal emails.
Broidy, who heads a Virginia-based defense contracting firm and an investment firm in California, says his predicament stems from his position as a leading critic of Qatar, which he accuses of funding terrorism, and his support for a blockade on the small country imposed by regional rivals Saudi Arabia and the United Arab Emirates, along with other states. (His defense company has also recently signed lucrative contracts with the government of the United Arab Emirates.) He now finds himself enmeshed in a major Washington lobbying fight between the Persian Gulf rivals, as well as vicious personal grudge matches between Republican operatives with access to the top levels of the Trump administration.
The battle between Broidy and Muzin, who is a former aide to Sen. Ted Cruz (R-Texas) and a prominent Jewish Republican, is tied to Muzin's efforts to help Qatar improve its relations with Israel and the United States by hosting visits in Qatar with prominent American Jews. "I considered the effort to bring Jewish-American leaders to Qatar to be a despicable P.R. stunt by a government that sponsors organizations that murder innocent Americans and Israelis," Broidy writes in a declaration filed Monday. After he spoke out, he says in the document, "I knew that Qatar and its agents viewed me as an enemy."
The cyberattack on his personal files, he claims, started on December 27, 2017, when his wife Robin Rosenzweig received what appeared to be a Gmail security alert requesting her credentials. It was in fact a phishing attack that allowed hackers to access her account and passwords—as well as Broidy's email and the email accounts of five of his employees. In March, media reports based on Broidy's emails began to appear in publications like the Wall Street Journal, New York Times, Bloomberg, and McClatchy, and they seemed to implicate Broidy in an effort to leverage his access to the Trump administration on behalf of various foreign interests.
The emails accounts were accessed by intruders between January 16, 2018, and February 25, 2018, according to a declaration filed Monday in support of Broidy's motion by Luke Tenery, a senior cybersecurity official at the Washington-based Ankura Consulting Group, which Broidy hired to investigate the hack. "I have concluded that this attack was conducted by a team that was skilled in intelligence-gathering and conducting covert cyber-operations," Tenery states in the declaration. But he also says the hackers failed on two separate occasions to use obfuscation techniques that had otherwise been hiding their location. Those mistakes allowed Ankura to determine the hackers used an IP address in Doha, Qatar.
Tenery also says that his team reviewed PDFs of emails and documents from Broidy's accounts that news organizations had sent to Broidy when seeking comment on stories. Most of the files contained no identifying metadata. But one file, called "clown prince and little witch.pdf," still had metadata showing the author of document is "David." Tenery notes that Muzin's middle name is David.
While this is hardly conclusive, Broidy's lawyers on Monday also filed a declaration by Joel Mowbray, who has worked with Broidy on anti-Qatar efforts. Mowbray says he and Muzin, both Orthodox Jews with ties to Cruz, have known each other for six years, but fell out over Muzin's work for Qatar. Mowbray's declaration cites three meetings with Muzin in February and March, nominally to discuss their dispute, but in which Muzin made statements that suggested he was involved in helping the Qataris target Broidy and others. In a March 5 conversation, Mowbray says Muzin told him to "be careful" and warned him that the Qataris were "after you and Broidy." In a March 8 meeting, Mowbray says, Muzin told him he had "information about" the series of negative stories about Broidy but "didn't cause" the campaign. Muzin also reportedly told Mowbray that "it's possible [the Qataris] try to hack people."
The Qatari Embassy and Muzin did not respond to inquiries Monday. In a statement last week, Muzin said Broidy's suit "is an obvious attempt to draw attention away from his controversial work, and is as flimsy as the promises he reportedly made to his clients."
Mowbray's declaration also includes a striking claim that Muzin told him in February that he had paid an unnamed individual $50,000 partly for help influencing how former Arkansas Governor Mike Huckabee, whose daughter Sarah Huckabee Sanders is the White House press secretary, viewed Qatar. Mowbray also says Muzin suggested he could help Mowbray make money if he changed his views on Qatar. Muzin implied they were in a unique position to capitalize on high-level ties. "This is Trump administration," Muzin said, according to Mowbray. "We have three more years."
Read Broidy's new motion: