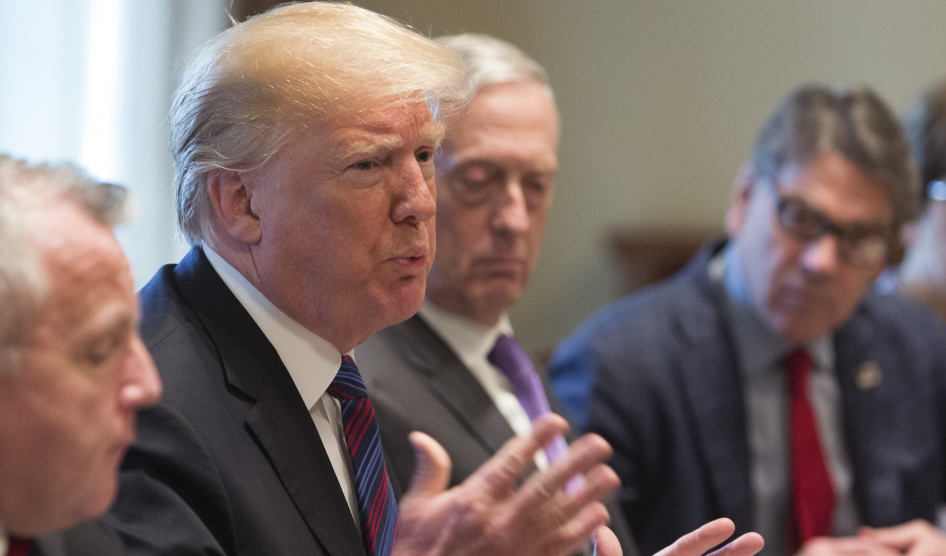 Fight disinformation:
Sign up
for the free
Mother Jones Daily
newsletter and follow the news that matters.
Several reports this week paint an increasingly chaotic portrait for President Donald Trump's Syria strategy, with those close to the commander-in-chief voicing concerns over his sudden demands to immediately withdraw US troops from the country. Trump's national security team and military leaders have reportedly persuaded him—for now—to allow them five to six months to complete a withdrawal of the 2,000 American troops in Syria, though they warned the president that such an approach would still come with "significant risks and downsides, including the likelihood that Iran and Russia would take advantage of a US vacuum," according to the Associated Press.
In a remarkable story Friday, the AP reported Trump is prohibiting members of his national security team from referring to this five-to-six-month timetable as "timeline," despite the fact that the president "indicated that he did not want to hear in October that the military had been unable to fully defeat the Islamic State and had to remain in Syria for longer." Trump has long criticized former President Barack Obama for, in Trump's view, unwisely telegraphing US military strategies.
The reports come just days after Trump announced that "it's time" to get out of Syria. The unscripted remarks alarmed both administration officials and international leaders, including Israeli Prime Minister Benjamin Netanyahu.
"I want to get out. I want to bring our troops back home," he said. "I want to start rebuilding our nation. We will have, as of three months ago, $7 trillion in the Middle East the last seven years. We get nothing out of it, nothing."
Another report, published Thursday by the Washington Post, revealed a startling moment during a military meeting when a CIA official showed Trump a recording of a drone operation in Syria, in which US forces had held off on striking a target until he had moved away from a house where family members were likely inside.
"Why did you wait?" Trump asked, appearing unenthused. It was a question that recalled one of Trump's more inflammatory suggestions during the presidential campaign—his belief that to successfully eradicate ISIS's presence, US forces would need to "take out their families." He said in December 2015: "They care about their lives, don't kid yourself. When they say they don't care about their lives, you have to take out their families."
The alarming reports add to anxiety in the White House, where, Axios' Mike Allen writes, "Checks are being ignored or have been eliminated, and critics purged as the president is filling time by watching Fox, and by eating dinner with people who feed his ego and conspiracy theories, and who drink in his rants."