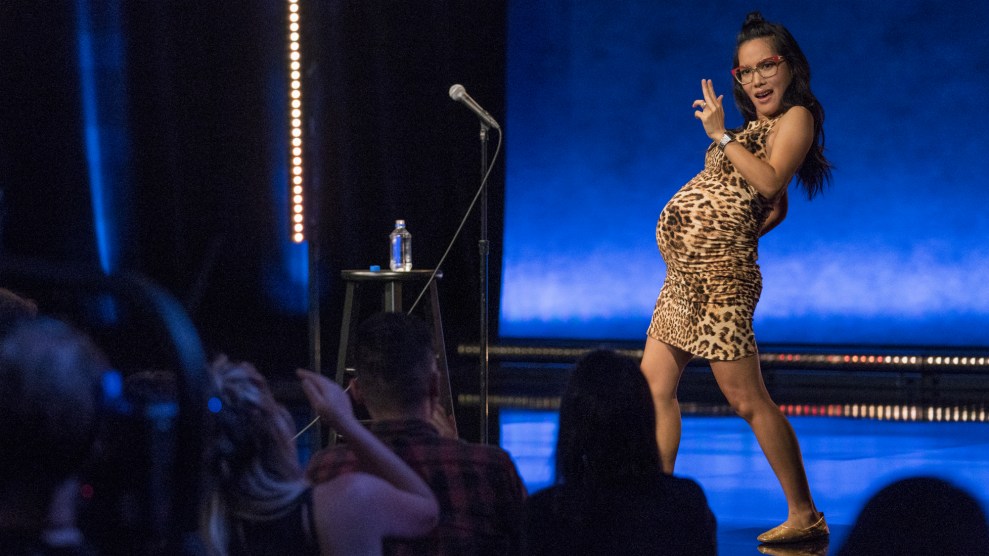 Fight disinformation:
Sign up
for the free
Mother Jones Daily
newsletter and follow the news that matters.
"It was not supposed to go down like this," comedian Ali Wong says toward the end of her latest Netflix special, Hard Knock Wife, which premiered this past weekend. Her husband works as vice president of a tech company and "graduated from Harvard Business School," Wong laments, riffing on the fact that her sudden rise to relative fame has lifted the burden to provide off his shoulders. "I have a B.A. from UCLA," she says. "In ethnic studies."
The audience erupts in laughter. And it is pretty hilarious. Wong is living every ethnic studies major's dream, or some version of it. She's an indisputable mainstream success, with two high-profile comedy specials under her belt; she wrote for the pioneering ABC family sitcom Fresh Off the Boat and she is set to co-star with fellow breakout comedian Tiffany Haddish in the animated BoJack Horseman spinoff Tuca & Bertie.
The other reason that line is so funny is because Wong hasn't found success despite her degree in ethnic studies, but, at least in part, because of it.
The 36-year-old married mother of two has become one of the most recognizable Asian-American entertainers in Hollywood thanks to the surprise success of her first Netflix special, 2016's Baby Cobra. Her comedy is most often recognized for its particular strain of feminism. In Baby Cobra, a very pregnant Wong walked around stage simulating hardcore sex acts in a tight, black-and-white striped dress and red-framed glasses. She bemoans the trials of being a working woman while imagining the privilege afforded to stay-at-home moms, who she imagines are free to shit loudly in their own bathrooms while watching Netflix on their iPads. Referencing Facebook COO Sheryl Sanderberg's women-can-have-it-all rallying cry and book title, Wong goes in: "I don't want to lean in," she says in faux exasperation. "I want to lie down."
Like much of Wong's comedy, the joke isn't about struggling to reach the mountaintop, but about having already arrived. The thing that makes it so easy to root for her is that she's seemingly done this all on her own terms, turning conventional norms about what we can and can't expect from the women who make us laugh. But it's also smart comedy that gets its audience to laugh at trauma. "Some useful advice for all of my Asian-American brothers and sisters," she jokes. "Never go paint balling with a Vietnam veteran." In another joke from the first Netflix special, she makes an admission: "I have a hoarding problem because my mom is from a third world country," she starts. "And she taught me that you can never throw away anything because you never know when a dictator is going to overtake the country and snatch all of your wealth."
These jokes, and how she got her start performing, is very much informed by one of the most maligned fields of study in academia, and one that's come under heightened attack with Donald Trump in the White House. At UCLA, Wong imagined she'd use her ethnic studies degree toward becoming a professor. But something happened: She found herself. Wong grew up in the prosperous Pacific Heights neighborhood of San Francisco, the youngest of four kids born to a Vietnamese mother and a Chinese-American father. Her paternal grandfather emigrated through Angel Island as a child to work as a servant in nearby Monterey, and her dad, who became a doctor, remembers as a kid digging for vegetables with his mother in the garbage cans of Chinatown. Wong's mother, meanwhile, came to the United States as a teenager, but unlike many Vietnamese immigrants of that era, she didn't arrive in the states after the fall of Saigon in 1975; she rather came here for her education, landing among the nuns of the tiny Catholic Duchense College in Omaha, Nebraska, in 1960 after her father, a wealthy ally of the long-ruling French in Vietnam, paid a bribe.
All of that, of course, informed Wong's own path. In an academic paper from sometime around her college days (sorry, Ali, the internet never forgets), she wrote, "in order to survive and assimilate in America, [her mother] had to forget her Vietnamese culture." One part of that assimilation came when Wong's mother took a job teaching Vietnamese to American serviceman, which the comedian wrote she remembered as a "terrible discovery": "I was disgusted that my mother taught those soldiers to say 'hurry up' to My Lai victims, 'how much' to prostitutes and 'stop' to her people who were fighting for their independence."
But that discovery also led her to study abroad in Hanoi during her junior year of college, where she connected with long lost relatives and began to learn Vietnamese. ("I have the proficiency of a second grader," she later joked on Marc Maron's podcast WTF. "When I talk to Vietnamese people they're like, 'What the fuck is wrong with you? Just speak English.'")
In college Wong also joined an Asian-American sketch comedy group on campus called "Lapu, the Cayote that Cares," or the LCC Theater for short. The group was co-founded by Randall Park, the Korean-American actor who also focused on Asian-American studies at UCLA, and would later go on to co-star in Fresh Off the Boat. Years later, in the run-up to the release of Hard Knock Wife, Wong told HuffPost, "People obsess about casting and representation, but really all the real work is behind the camera," referencing the importance of what she learned at LCC in people of color also writing for other actors.
The group was founded with the specific purpose of representing Asian-Americans in the arts, and it filled a massive need. Asian-Americans are among the fastest growing communities in the United States, according to several demographic projections. Yet they're under- and often misrepresented on film and television. One 10-year study, released in 2017, found that in 242 scripted television shows, nearly 70 percent of series regulars were white, 14 percent were black, nearly 6 percent were Latino, and only 4 percent were Asian or Pacific Islander. "It's not enough to have Asian Americans and Pacific Islanders on just a handful of shows—they need to reflect real life," Nancy Yuen, one of the report's authors, told Deadline. "Shows set in diverse cities like New York and Los Angeles should not be completely white."
As it turns out, the sketch comedy group wound up being an incubator of talent that could change all of that. In a tongue-and-cheek interview that Park did with Wong for the blog Angry Asian Man, he said, "Ali and I performed sketch and improv together in seedy restaurants to audiences that can be counted on one hand." Now, the two are also set to co-star in an upcoming romantic comedy for Netflix. "I'd say midway through my graduate studies I just felt like so much of what we were talking about in Asian-American studies, we were just really in this bubble," Park told Vulture in 2016. "We weren't changing things in the way in which I felt like I could contribute and the way in which I wanted to change things. And I so fell in love with writing and acting. I felt like, Oh, this is the way to do it." Of her own participation in the comedy group, Wong wrote back then that learning about own history impacted her playwriting—"I express important intersections of history with my life through playwriting and performance art"—and she also reflected on learning how to wrangle the many facets of her identity into works of art: "By creating complex characters and relationships through dialogue, I have the power to portray Asian Americans as multidimensional human beings."
All of this change comes at a politically perilous moment for ethnic studies, a field that has long been derided by conservatives (not to mention mothers everywhere who want their kids to major in biology or economics). The field began 1968, when students at San Francisco State University went on strike for five months and demanded that their publicly funded school offer culturally relevant courses. The field spread to schools and colleges across the country, but as economies tanked in the 1970s and 80s, students often had to fight to stave off cuts to ethnic studies programs. Then in 2011, as Arizona offered courses on Mexican-American history, also known as "Raza Studies," in K-12 classrooms, the Republican-dominated state legislature passed a law banning classes that "promote the overthrow of the U.S. government" or "resentment toward a race or class of people." Late in 2017, a United States judge ruled that Arizona's ban was unconstitutional, capping a seven year battle that gave rise to a fierce movement in support of ethnic studies. Educators celebrated the ruling and efforts to require ethnic studies electives are popping up in Kansas and Indiana. Montana and Alaska, two states with large indigenous populations, have also approved mandates for what they're calling "culturally responsive" teaching, according to NPR.
Nationally, the movement to implement ethnic studies in classrooms has "gained momentum, frankly, with the election of Donald Trump," Ravi Perry, president of the National Association for Ethnic Studies told NPR last year. "We have an obligation to ensure their heritage is aptly reflected in how we talk about America," he added. "This is not about promoting an individual agenda. It's about understanding the importance of community solidarity."
While comedians making fun of their identity is pretty common, Wong is doing something that few Asian-American women have ever had the platform or access to do. That understanding of her heritage is so crucial to her comedy, from the way she inverts myths about Asian-American sexuality to how she talks about the trauma of war. In her interview on Maron's podcast, Wong laughs about how she is American studies these days. "I was so passionate about it at the time," she reflects, thinking that she'd become a professor. But one day, a classmate got philosophical with her. "Do you want to study or do you want to be studied?" the classmate asked.
"I was like 'oh,'" Wong remembers. "'I guess being studied sounds more glamorous."