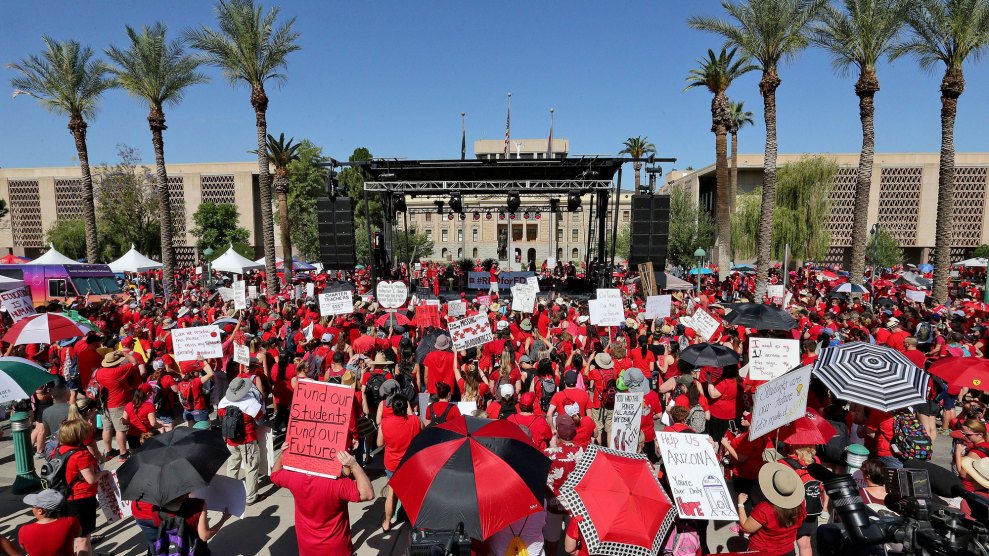 Fight disinformation:
Sign up
for the free
Mother Jones Daily
newsletter and follow the news that matters.
Arizona teachers called off their weeklong #RedForEd walkout, the largest in a recent wave of teacher strikes across the country, after Gov. Doug Ducey signed a budget bill Thursday that gives educators a 20 percent raise over three years. More than 50,000 teachers and supporters had marched on the state capitol in Phoenix to protest low pay and subpar funding for classrooms.
While the outcome fell short of the teachers' original demands—which included salary structures and halting tax cuts until lawmakers raised per-pupil school funding to the national average—Arizona Education Association president Joe Thomas and National Education Association president Lily Eskelsen García said in a joint statement that educators would return to school knowing they "achieved something truly historic."
"When we started this movement, Arizona educators pledged to keep fighting for the schools their students deserve until the end, and we were true to our word," they said. "We should take pride in what we have accomplished, and in the movement that we have created together."
The education budget has been passed and signed. AEU is herby calling an end to the Walkout.

— AZEdUnited (@AZEdUnited) May 3, 2018
Ducey, a first-term Republican who is up for reelection in November, called the pay raise a "big win" for educators, saying in a statement on Twitter that they've earned it. The approval will also give teachers a pay bump of 5 percent for each of the next two years. The budget would also restore $371 million in school funding cut during the recession over five years, a far cry of the teachers' calls for $1 billion. The money, which includes $100 million for the coming fiscal year, could be used for "updating curriculum, modernizing classroom technology and increasing support staff salaries," according to a fact sheet put out by Ducey's office.
In April, Ducey called for lawmakers to approve his plan to raise teacher salaries in Arizona, among the lowest in the country, by 2020. In the last decade, Arizona teacher salaries have fallen 10 percent, to an average of $47,403 in the 2016-17 school year, while total state funding for classrooms was cut by 37 percent, adjusted for inflation. Teachers demanded that lawmakers halt tax cuts that state had made throughout the decade, which limited funds for social services.
The pay hike for teachers will cost an estimated $300 million for the first year. Lawmakers opted to rely on a new $18 vehicle registration fee for Arizona drivers to help fund the plan and also shifted the burden for financing school desegregation efforts from the state to local property owners.
Republicans also rebuffed attempts by Democrats to send more money toward schools and received concessions of their own. The Arizona Republic reported that one included sending $500,000 to create a "freedom school" at Northern Arizona University, on top of the millions of dollars in funding for similar Koch brothers-backed programs that teach free-market principles at several Arizona universities. At one point, Republican state Rep. Kelly Townsend tried to push through amendments that would fine public school teachers that used school hours to push political beliefs and prohibit schools from closing aside from specific circumstances. Those efforts failed.
Signed.

Teacher raises are on the way.#20×2020 pic.twitter.com/YMZN3IG7ZY

— Doug Ducey (@dougducey) May 3, 2018
TEACHER PAY RAISES ARE ONE STEP CLOSER ——>

Arizona just passed the K-12 education portion of the FY19 budget. This bipartisan plan recognizes the hard work of our teachers & makes significant additional investments to improve K-12 education for #AZ kids. #20×2020 pic.twitter.com/xJQooDE8SO

— Doug Ducey (@dougducey) May 3, 2018
As the legislative debate ensued, teachers wearing red filled the House and Senate galleries throughout the night. Some chanted and carried lawn chairs and blankets into the Capitol. Noah Karvelis, a music teacher in the Phoenix-area suburb of Tolleson and leader of Arizona Educators United, urged a crowd of educators outside the Capitol to keep the pressure on lawmakers to fulfill their demands. "We've won the first battle, but now we must win the war," he said, raising his fist to a cheering crowd.