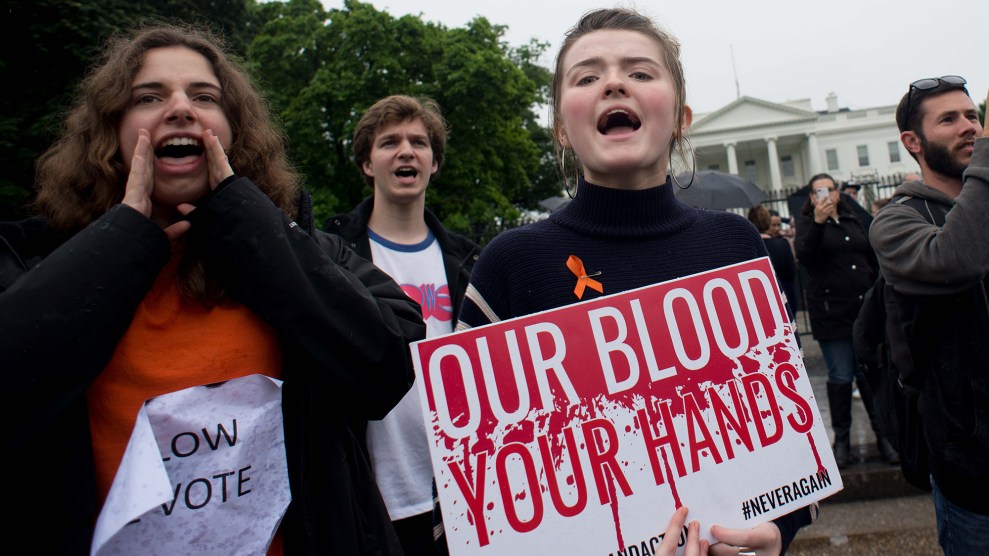 Fight disinformation:
Sign up
for the free
Mother Jones Daily
newsletter and follow the news that matters.
People are saying mean things about guns—and guns can't defend themselves. That's the message from Vista Outdoor, the $2.3 billion holding company that owns Savage Arms, one of America's largest gun makers.
The company's lament about our armed yet impolite society was dug up by Think Progress in a recent Securities and Exchange Commission filing. In it, the company notes that the "use of social media to disseminate negative commentary and boycotts may adversely impact our business," particularly in the wake of the school massacre in Parkland, Florida, in February. In other words, those pissed-off #NeverAgain teens and other anti-gun violence activists may be having an effect on gun companies' bottom lines. As Vista gripes, "The harm may be immediate without affording us an opportunity for redress or correction." Welcome to the internet.
Vista cited recent boycott campaigns against gun manufacturers as well as retailers' decision to no longer stock its brands. Shortly after the Parkland shooting, REI announced that it would stop selling Vista brands such as CamelBak. Dick's Sporting Goods said it would no longer sell assault-type rifles and that it will destroy its remaining inventory of those guns (much to the dismay of the National Rifle Association).
Vista's complaints about its unfair treatment on social media may help it justify its decision to get out of the gun business altogether. In early May, the company
said it
would "explore strategic options" for Savage, which was interpreted as a signal that it might unload the gun company. The announcement prompted a
15 percent drop
in Vista's stock price.
Guns, ammunition, and shooting-related equipment account for more than half of Vista's sales, according to its SEC filing. Vista owns ammunition brands as well as Savage, which manufactures several
assault-style rifles
(or "modern sporting rifles," as it would have it). Its non-shooting
brands
include Bell, Giro, and Bollé. Between 2017 and 2018, its profits from guns and ammo dropped 38 percent, to $234 million, while profits from outdoor products remained steady.
The climate of fear and anger inspired by mass shootings wasn't always bad for Vista's balance sheets. As
Mother Jones
reported in its 2016 investigation into
America's biggest gun manufacturers
, Savage Arms operated around-the-clock shifts to keep up with demand after the Sandy Hook elementary school shooting in 2012. Savage's profits that year reportedly rose
sixfold
. In 2015, Mark W. DeYoung, Vista and Savage's then-CEO,
earned $13.2 million
.