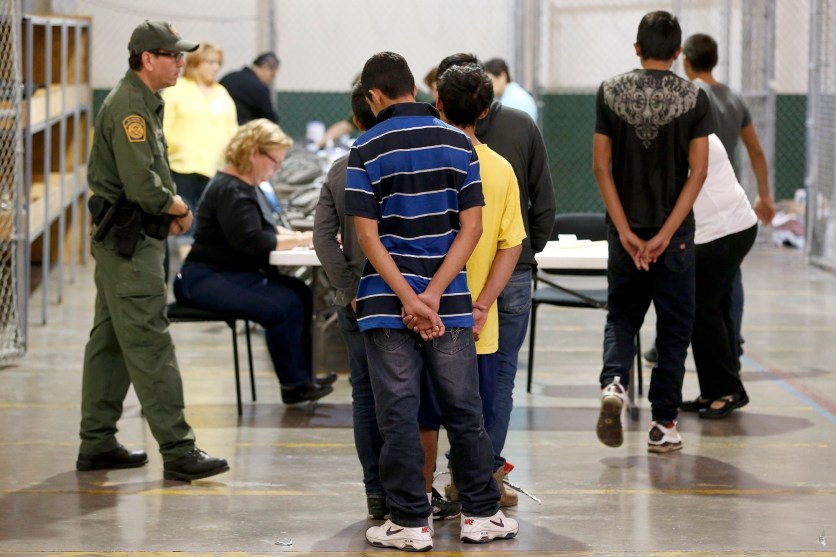 Fight disinformation:
Sign up
for the free
Mother Jones Daily
newsletter and follow the news that matters.
At a Senate hearing last month, Steven Wagner told legislators that the refugee resettlement office he oversees had lost track of nearly 1,500 migrant children. In Wagner's words, the Department of Health and Human Services' Office of Refugee Resettlement (ORR) was "unable to determine with certainty the whereabouts" of 1,475 children between October and December. The admission raised an obvious question: How do you lose 1,500 kids?
The answer to that question is even more important now that the Trump administration is seeking to criminally prosecute everyone who crosses the US-Mexico border, including parents. The policy is likely to separate thousands of families who arrive at the border by placing parents into the criminal justice system. Without their parents, children will be placed into the custody of ORR.
The agency will then work to find the children sponsors—ideally close relatives—who can take care of them while their parents are prosecuted. The agency is already responsible for finding sponsors—often parents who came before their children—for minors who arrive at the border alone. At the April hearing, Wagner said that 80 percent of the sponsors ORR was able to reach late last year were still hosting the children placed with them. Most of the other minors could not be located, although some were determined to have moved in with non-sponsors, run away, or been deported.
I interviewed Michelle Brané, the director of the Migrant Rights and Justice program at the Women's Refugee Commission and a leading expert on immigration detention and the ORR, about how the agency loses track of children and why the Trump administration's policies could make the problem worse.
What does it mean when ORR loses track of a child?
The short answer to that is that we don't know. Once a child is released to a parent or a sponsor—and very often a sponsor is somebody who is not in any way related to the child—ORR does very little to no follow-up. ORR's position is that they no longer have any responsibility for that child. In most cases, they will do a follow-up phone call to check in. If there is no answer or if there is a problem that is uncovered by that phone call, I think they said [at the hearing] they may call child protective services. But other than that they don't do anything. As a result, they have numerous cases where they have identified that that child is either no longer in that house or not reachable, but they have done nothing to follow up.
Children may have moved—they may have gone to live with another family member—and things may be OK. Or there have been cases where these children end up in the hands of traffickers. So it is possible that some of those [children] could be in very dangerous and vulnerable situations.
Now that we have this new population of children who have been separated from their parents, it's even more disturbing. [White House Chief of Staff John] Kelly made a comment that it was no big deal because the kids go to "foster care or whatever." But the "whatever" is really a problem. If you're separating a child from their parent and then you're just losing them, that is extremely problematic. If you're a parent who has been separated from your child at the border, you may not be able to find them again.
Who are the unaccompanied minors being placed with relatives and sponsors by ORR?
They can range in ages from babies to 17. The majority of the children are coming from Honduras, El Salvador, and Guatemala. They are children who have been deemed to be unaccompanied. In the past, what that has meant was that they arrive without a parent or legal guardian who could care for them. They're transferred to [ORR] so that they can then find a relative or somebody to place that child with and care for them. Now, under the new policies of the Trump administration, we're seeing many many more of these children who arrive with a parent or guardian but who are being separated from them. The US government is actually turning them into unaccompanied children.
Who does the agency place unaccompanied minors with?
It really varies. The first priority would be to find a parent. In many cases, there is no parent or guardian in the United States, but there may be a relative like an aunt or an older sibling. You sort of go down the line of family ties. In some cases, there is no close family member who is able to come forward so a sponsor might be identified. That could be a friend of the family, or it could be a complete stranger who is vetted and offers to take that child in. And those are the ones that are the riskiest, for obvious reasons.
Is losing track of children a new issue?
The lack of follow-up is a longstanding problem. The Women's Commission and other organizations working with unaccompanied children have been concerned with this for over a decade. Several years ago, there was a raid that revealed that there was a group of children who had been released by ORR who were being labor-trafficked. They were being forced to work in a poultry plant. As a result, there was more attention on the reality that when you release a child and they don't show up for [immigration] court, it may be because they are in a dangerous situation and need protection, not prosecution.
How has the problem changed under Trump?
What we've seen in response to some of the policies under Trump is that fewer parents are able to come forward to claim their children. So children are sitting in custody for longer periods of time. And a smaller percentage of children are going to parents, compared to sponsors or other more distant relatives.
Has much been done to improve ORR's follow-up capabilities?
Virtually nothing has done to address this issue, in my view. There have been some efforts to get [ORR] to expand their follow-up programs. But overall that hasn't changed much. The latest effort is a memorandum of understanding between [Immigration and Customs Enforcement] and ORR that includes many provisions, one of which is to have ICE conduct background checks on people to whom ORR releases children. The other follow-up will be that ICE will look for immigration violations for anyone in the household.
Is ICE's involvement in the placement process a cause for concern?
Absolutely. The result of that memorandum will be that fewer parents will come forward because they will be afraid.
How could ORR's placement procedures be improved?
First of all, we would recommend not separating children from their parents, because in doing so you're creating a much bigger problem. In terms of the ORR system, the bones of it work. The issues is that they really should be more putting more resources into post-release services for children to make sure that they know that they're supposed to go to court [and] that they get an attorney. We've learned that children who have an advocate or an attorney are more than 90 percent likely to show up for their hearings, and they're likely to win their case. That is a much better use of resources than [having] to spend them on the back end with children who have disappeared and absconded.
What are the most important takeaways about how ORR is operating today?
I think the main issues are that we currently have an ORR system that doesn't follow kids after release, which makes no sense. When they say they disappeared, we don't know what happened. They could be in danger or they could just have moved. And the fact that nobody knows is ridiculous.
This administration, in policies like trying to prosecute parents for smuggling [and] claiming that parents are endangering their children when they bring them, is discouraging parents from coming forward, which puts the children into even more danger and more risk of being with strangers or non-safe people.
And then finally the new practice of separating children from their parents at the border is just exacerbating an already inefficient system. You're throwing hundreds—thousands—more children into this system. You've actually separated them from a parent and then you give them to ORR, whose job it is to reunify them with a parent. [It] is a colossal waste of money, and is overwhelming our system, and is just plain cruel.
This interview has been lightly edited for length and clarity.