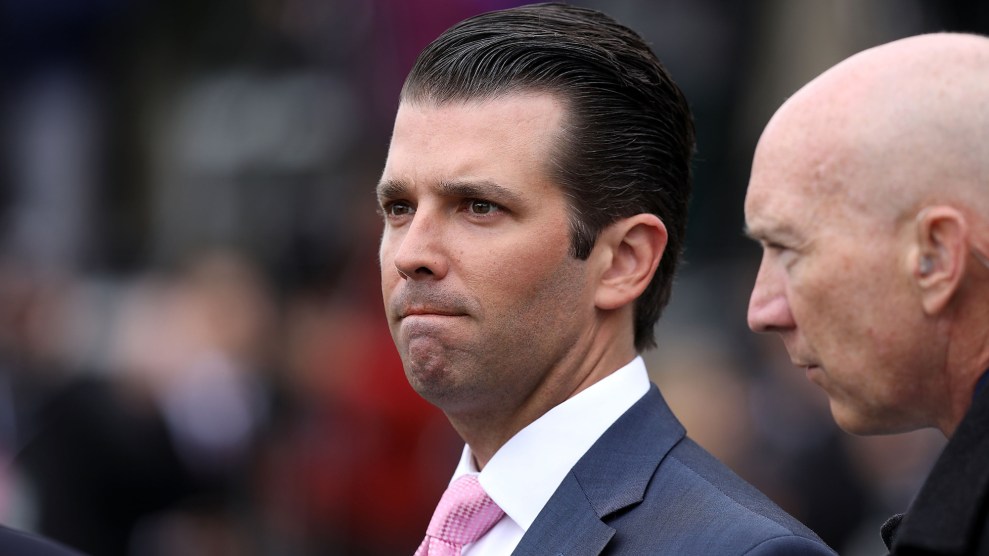 Facts matter:
Sign up
for the free
Mother Jones Daily
newsletter.
Support
our nonprofit reporting.
Subscribe
to our print magazine.
In the run-up to the infamous June 2016 Trump Tower meeting with a Kremlin emissary, the Trump campaign was keen to get dirt on Hillary Clinton from the Russians. Now, new documents reveal just how desperate Trump Organization lawyers were to implement a damage-control strategy when the meeting came to light 13 months later.
Thousands of pages of material released by the Senate Judiciary Committee on Wednesday—including transcripts of its interviews with the Trump Tower meeting participants, as well as emails and texts between them—show that Donald Trump Jr.'s eagerness to receive damaging information on Clinton from Russian attorney Natalia Veselnitskaya was shared by his colleagues.
Rob Goldstone, a longtime acquaintance of the Trumps and a publicist who helped arrange the meeting, told the Senate committee that he pushed Trump Jr. to take the meeting because he expected Veselnitskaya to deliver a "smoking gun" on Clinton. "I believed there would be some damaging information," Goldstone said.
Irakly "Ike" Kaveladze, who attended the sit-down on behalf of Aras Agalarov, a Russian construction magnate who partnered with Trump on the 2013 Miss Universe contest, told committee staffers that he had learned from an acquaintance who had also worked for Agalarov, Roman Beniaminov, that the Trump campaign was expecting to receive "negative information" on Clinton. (Kaveladze also told the panel that the meeting ultimately fell short of those lofty expectations. After it ended, he said, he concluded it "was boring" and that "they got nothing on Hillary"—an assertion that echoes the statements of Trump Jr. and other meeting participants.)
But committee materials reveal that a year later, as the media began to catch wind of the meeting, Trump Jr. and attorneys working for him and his father scrambled to downplay the gathering and in particular the campaign's interest in using it to acquire information on Clinton. To do this, they reached out to Goldstone, Kaveladze, and Agalarov's son Emin, a pop singer, who was also involved in setting up the meeting.
Emails that Goldstone provided to the committee show that Alan Garten, a lawyer for the Trump Organization, contacted him on June 26, 2017, a few weeks before the New York Times broke the news of the gathering, seeking details on the meeting. The day after Goldstone got the email from Garten, Goldstone wrote to Emin Agalarov and said the lawyers were worried that news of the meeting would expose Trump Jr. as having lied about campaign contacts with Russians. Though Goldstone did not mention it, President Donald Trump and his aides had made the same false claims denying contact between his campaign and the Russians
"I have today been interviewed by attorneys for the second time about it," Goldstone wrote in a previously undisclosed email to Emin Agalarov. "They're concerned because it links Don Jr. to officials from Russia, which he has always denied meeting."
Goldstone told the committee he told Garten and Alan Futerfas, Trump Jr.'s lawyer, that the meeting was set after Veselnitskaya "had dangled the idea of having some damaging information on Hillary." That means the attorneys were well aware of what the Trump campaign had wanted from the meeting.
But when news of the meeting broke on July 8, Trump Jr. and others avoided mentioning their interest in dirt on Clinton and instead tried to portray the meeting as being focused on Russian adoptions. "We primarily discussed a program about the adoption of Russian children that was active and popular with American families years ago and was since ended by the Russian government, but it was not a campaign issue at the time and there was no follow up," he said in a July 8, 2017, statement that was reportedly dictated by President Trump. But after additional reporting the next day showed that explanation to be misleading, Trump Jr. issued a longer statement acknowledging that he had agreed to the meeting hoping to obtain "information helpful to the campaign."
As media attention exploded, on July 9 Futerfas sent Goldstone a statement, shared with the committee, that he and Garten had drafted in Goldstone's name and that they hoped he would issue.
"As the person who arranged the meeting, I can definitively state that the statements I have read by Donald Trump Jr. are 100% accurate," it reads. "The meeting was a complete waste of time and Don was never told Ms. Veselnitskaya's name prior to the meeting. Ms. Veselnitskaya mostly talked about the Magnitsky Act and Russian adoption laws and the meeting lasted 20 to 30 minutes at most. There was never any follow up and nothing ever came of the meeting."
Goldstone, though, never issued the statement. He found it "ludicrous," he told the committee in his interview. "It just sounded like an across-the-board endorsement of Mr. Trump Jr., as opposed to stating facts." But when a committee aide asked if the statement contained inaccuracies, Goldstone hedged. "Not necessarily," he said.
Attempts to use Goldstone in damage control efforts may not have ended there. On July 23, 2017, Goldstone received an email from Anthony Scaramucci, the newly appointed White House communications director whose mandate reportedly included squelching the growing controversy over Trump campaign ties to Russia. Scaramucci wrote that he was available to talk. "Obviously there is still pressure on all sides, but if we remain consistent and united I don't envisage any issues we can't ride out," he stated. Goldstone claims he forwarded the email to his lawyer and never responded. In a statement sent to several outlets Wednesday, Scaramucci said the email "had nothing to do with Russia."
Reached by phone Wednesday, Garten declined to comment on his communication with Goldstone. In a statement Wednesday, Futerfas said he and Garten had properly investigated the facts of the meeting and had urged Goldstone not to lie. Referencing interviews with Goldstone and other meeting participants, Futerfas said that "each interviewee was advised that we only wanted to hear the truth."