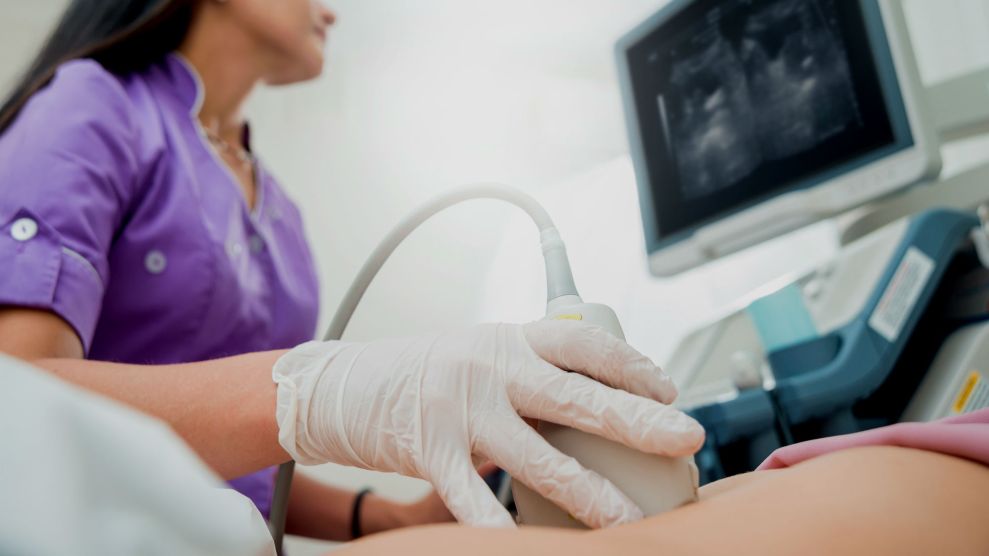 Fight disinformation:
Sign up
for the free
Mother Jones Daily
newsletter and follow the news that matters.
Update (5/4/2018): Iowa Gov. Kim Reynolds signed the "heartbeat" bill on Friday. The bill bans abortion after a fetal heartbeat can be detected, making it one of the most restrictive abortion bans in the country. Immediate legal challenges are expected.
"I believe that all innocent life is precious and sacred, and as governor, I pledged to do everything in my power to protect it," Reynolds said in a statement, shortly after signing the bill. "That is what I am doing today. I understand that not everyone will agree with this decision. But if death is determined when a heart stops beating, then doesn't a beating heart indicate life?"
Early Wednesday morning, the Iowa legislature passed a so-called "heartbeat" bill that would ban abortions after a fetal heartbeat is detected, usually about six weeks into a pregnancy.
Iowa Democratic lawmakers say the bill is "intentionally unconstitutional" and will certainly be challenged in court. For now, Iowa's current law outlaws abortion after 20 weeks into a pregnancy.
"Today we will begin this journey as Iowa becomes ground zero nationally for the life movement and the starting line back to the Supreme Court," said Sen. Rick Bertrand (R-Sioux City) during floor debate. "I believe this bill will be the vehicle that will ultimately provide change and provide the opportunity to overturn Roe v. Wade."
After hours of debate on Tuesday night and early Wednesday, the Republican-controlled House and Senate approved the measure 51 to 46 and 29 to 17, respectively.
The bill would require anyone seeking an abortion to undergo an abdominal ultrasound, and, if a fetal heartbeat is detected, medical professionals wouldn't be allowed to perform the procedure, with a few exceptions, including some cases of incest and rape. Critics argue that fetal heartbeat bills effectively outlaw abortions, since many people don't realize they're pregnant until after six weeks.
If signed by Republican Gov. Kim Reynolds, Iowa would join a growing list of states to pass extremely restrictive abortion policies. For example, in March, Mississippi passed a ban on abortion after 15 weeks, and Kentucky, also in March, banned abortions after 11 weeks. Both laws were challenged immediately and are currently tied up in court. North Dakota passed a similar heartbeat bill in 2013. That law was shut down in a federal appeals court, which also oversees Iowa.
Reynolds hasn't announced whether she plans to sign the bill.