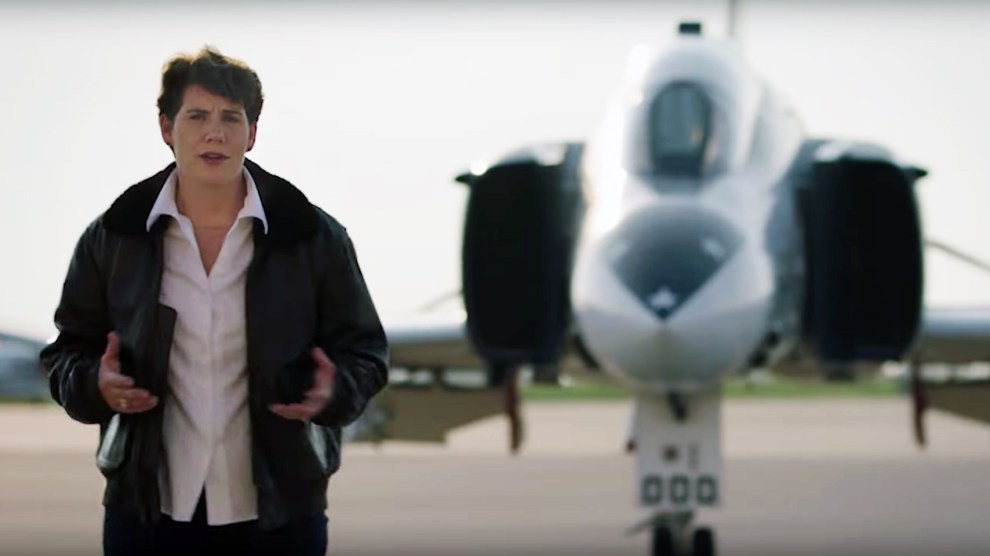 Fight disinformation:
Sign up
for the free
Mother Jones Daily
newsletter and follow the news that matters.
In the end, it happened just like Amy McGrath said it would. When I asked the recently retired Marine Corps fighter pilot last month why she thought she had a shot at winning the Democratic primary in Kentucky's 6th Congressional District, she pulled out a map and started highlighting the counties surrounding Lexington, the district's population hub.
"We've got to get somebody that can get these counties back—I can do that," she said. "Everywhere I go, all these counties are hugely patriotic—huge fans of military and service—and there's an instant connection there. I'm not gonna be able to win them all, maybe, but people are listening to me in ways that they're not going to listen to Jim Gray."
Gray, the mayor of Lexington, was her seemingly formidable opponent. The wealthy, popular former US Senate candidate had been encouraged to run—much to McGrath's frustration—by the Democratic Congressional Campaign Committee in Washington, DC.*
But McGrath's campaign believed turnout would spike in the rural counties because of local races for offices like jailer and judge. So she invested heavily in rural field offices, billboards, and advertisements in small-town weekly newspapers. She mailed out a 32-page economic plan that leaned hard on rural development—everything from broadband access to turning tobacco into a biofuel. When the results came in on Tuesday night, McGrath won her primary by 8 points, winning everything but Lexington.
And then something funny happened. McGrath, who had spent much of the last six months trashing the DCCC, was suddenly being promoted as one of the organization's rising stars. DCCC chairman Ben Ray Lujan, a New Mexico congressman, heralded McGrath as "battle-tested in more ways than one" and stated that "there is no question that Amy can flip this district." It pushed out an internal poll showing McGrath leading the Republican incumbent, Andy Barr, by 15 points.
This is how Washington-based campaign committees say, "Uh…sorry?"
It was a pretty good metaphor for how the much-hyped Democratic civil war has gone so far this year. In races across the country, outsider candidates have turned the DCCC into a piñata, accusing the national organization of butting into primaries and picking winners and losers. But it's not always so clear cut.
When the dust settled on the first round of the Texas Democratic primaries in March, the DCCC seemed to have done nothing right. Its preferred candidates had lost in each of the three races it was most seriously targeting, and none of those candidates had really come close. Most glaringly, in the 7th District, an unusual DCCC attack on the one candidate it didn't want, Laura Moser, backfired badly enough that the popular Resistance activist actually ended up in the runoff.
Instead of prosecutor Jay Hulings, who was reportedly the party's preference in the 23rd District, the leader in the first round of balloting was Gina Ortiz Jones, a former Air Force intelligence officer who had the backing of EMILY's List, which supports pro-choice Democratic women. In the 32nd District, instead of Ed Meier, an Obama administration veteran, the leader was Colin Allred, a former NFL player and civil rights attorney. In the 7th, Alex Triantaphyllis, a Goldman Sachs alum, lagged far behind both Moser and Lizzie Fletcher, a Houston lawyer.
So, as these things go, the party just rolled with the punches. Ahead of the runoff election, Washington Democrats threw their support behind Ortiz Jones and Allred. The DCCC never officially backed Fletcher, but no one had any illusions about where it stood on that race. And on Tuesday, all three of those candidates won handily. In Texas, as in Kentucky, the easiest way to win a Democratic civil war is to switch sides when you're losing.
The infighting among Democrats has come to define many of the early primary campaigns this year, and for good reason: There are real divides within the party over style and substance. But Tuesday's results also told a bigger story. Democrats just held primaries in Texas, Kentucky, Arkansas, and Georgia—four states where they haven't had a lot of good news in the last 20 years—and they're actually excited about it. Turnout in Georgia, where Stacey Abrams became the first black woman ever nominated for governor by a major party, was way up from where it was 2014. Sure, Democrats didn't have a competitive gubernatorial primary that year, but that's kind of the point. The enthusiasm jump in Texas—where no Democrats even ran in Allred's district in 2016—was documented ad nauseum.
One of the biggest stories of 2017 was the historic surge of first-time candidates, particularly women, signing up to run in Democratic primaries at all levels of government. The big story of 2018—intra-party drama—is, to a large degree, a consequence of that surge. Last year's good news is this year's civil war. And as McGrath learned, nothing heals the wounds of a nasty primary quite like success.
Correction: An earlier version of this article misidentified Gray as a former US Senator.