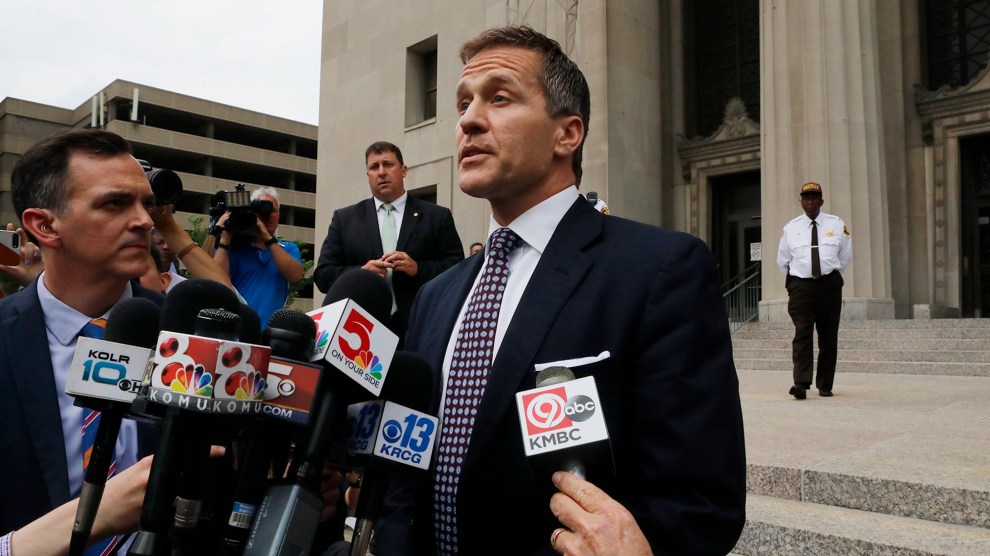 Fight disinformation:
Sign up
for the free
Mother Jones Daily
newsletter and follow the news that matters.
A St. Louis prosecutor dropped a felony invasion-of-privacy charge against Missouri Gov. Eric Greitens earlier this week. But the governor's troubles are far from over. As the Missouri legislative season came to a close last night in Jefferson City, representatives in the GOP-controlled legislature convened a special 30-day session to consider impeaching the first-term Republican, who is still awaiting trial for a second, unrelated felony.
Missouri leaders of both parties were already calling for Greitens to resign a month ago, in the wake of two damning reports released by the Missouri House Special Investigative Committee on Oversight detailing allegations that the governor sexually assaulted a woman he was having an affair with, and illegally transferred a donor list from his charity to his campaign.
Any other year, the fact that the sitting governor of a state has refused to step down in the face of sexual misconduct claims, abandonment by his party, and the threat of impeachment would be A1 news. But in the era of Donald Trump, the Missouri governor's troubles seem to have largely escaped national notice.
So how did we get here? The public scandal surrounding Greitens began in January, when a local news channel published a surreptitious recording made by the ex-husband of the governor's former hairdresser, with whom he had an affair in 2015. In it, she discloses the affair and says that when she went to Greitens' house for the first time, he took a partially nude photo of her without her consent, and threatened to release it if she told anyone about him. (Greitens admitted to the affair but denied that he threatened to blackmail the woman.) Based on the blackmail allegations, a grand jury indicted Greitens in February on a felony invasion-of-privacy charge, carrying a maximum sentence of four years.
Up until Monday, the case was prosecuted by St. Louis circuit attorney Kim Gardner, who spent months searching for the photograph at the heart of the case while the governor's defense team attacked her office's handling of the investigation. Gardner still hadn't found the picture by May 14—the eve of trial—when circuit judge Rex Burlison ruled that Greitens' high-powered defense team could call Gardner as a witness to testify about potential misconduct by one of her investigators. Within hours, Gardner dropped the charges, stating that her office had "no adequate means of proceeding with the case" but might ask a special prosecutor to refile the charges.
Greitens declared "victory" on Monday night, writing that "we all have to deal with suffering, but if we deal with it in the right way, we can emerge with strength."
But he's pretty much the only one celebrating. While a handful of Republican donors might be rallying around Greitens, as the Kansas City Star reports, basically no one has come to the governor's defense publicly. Last month, Trump spokeswoman Sarah Huckabee Sanders called the allegations "very concerning," and the White House has since declined to comment, even as it inquires quietly about whether the scandal might implicate Vice President Mike Pence's chief of staff, Nick Ayers, formerly a top campaign advisor to Greitens.
Gardner's blackmail case against Greitens skirted the most serious claims of sexual misconduct. Those emerged in an explosive April 11 report from the Missouri house special committee, detailing testimony from the hairdresser that during an appointment, Greitens put his hand "all the way up to [her] crotch" without consent. At his house, she said, Greitens allegedly exposed her and tried to kiss her, which she did not want, then coerced her into oral sex after she started crying. "It felt like consent, but, no, I didn't want to do it…I felt as though that would allow me to leave," she told the committee.
While observers wondered aloud why the governor had not been charged with sexual assault, state attorney general Josh Hawley—a GOP "golden boy" currently running for US Senate against Claire McCaskill—announced that his office had discovered evidence that Greitens had committed a second, unrelated felony: illegally using a donor list from a veterans' charity he founded. Gardner charged Greitens with felony computer tampering last month. ("This prosecutor will use any charge she can to smear me…I will clear my name," Greitens responded in a statement.) A trial date has not been set.
Members of the Missouri house are expected to hold several days of hearings as they consider impeachment next week, ABC News reports. If they vote to go forward, the Senate will appoint a seven-judge panel to preside over the impeachment trial—a first for a Missouri governor.