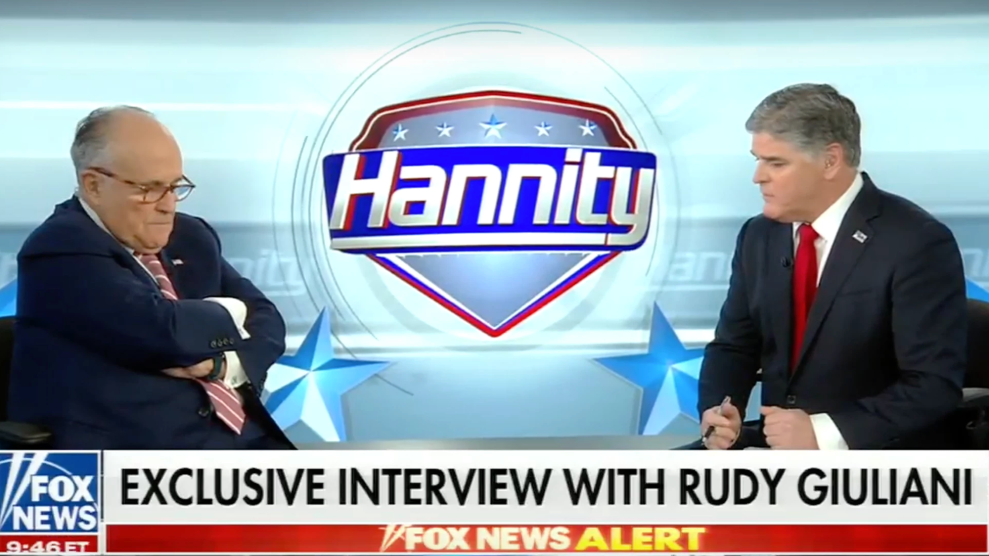 Fight disinformation:
Sign up
for the free
Mother Jones Daily
newsletter and follow the news that matters.
Rudy Giuliani, one of the latest additions to President Donald Trump's legal team, may have compounded the president's problems during his appearance on Sean Hannity's show on Thursday night, according to legal experts.
Contradicting recent statements by the president and his longtime attorney Michael Cohen, Giuliani acknowledged that Trump had repaid Cohen for his $130,000 payoff to porn star Stormy Daniels. The former New York mayor apparently believed he was laying to rest questions about whether Cohen's payment, in exchange for Daniels' silence about her alleged affair with Trump, constituted an illegal campaign contribution. "It is going to turn out to be perfectly legal; that money was not campaign money," Giuliani told Hannity, contending that the money was "funneled through a law firm" and was a personal expense unrelated to the campaign.
Legal experts have since noted that Giuliani's explanation doesn't hold up. That includes George Conway, husband of Trump senior adviser Kellyanne Conway, who has raised eyebrows with a recent series of tweets trolling Trump. On Thursday morning, Conway, a lawyer at the New York City white shoe firm Wachtell, Lipton, Rosen & Katz, highlighted Federal Election Commission rules showing that funds need not pass through a campaign to be considered a contribution.
https://t.co/bsZKAUJpu3 pic.twitter.com/xJgZXrvSuT

— George Conway (@gtconway3d) May 3, 2018
The timing of the payment to Daniels, made weeks before the November election, makes it hard to see how it wasn't in some way related to Trump's presidential run, says Norm Eisen, co-chairman of Citizens for Responsibility and Ethics in Washington. The liberal watchdog group has filed complaints with the Office of Government Ethics and the Department of Justice over the Daniels payment. Following Giuliani's latest comments, CREW supplemented its complaints.
"This is an affair that happened in 2006 and 2007, and it's suddenly resolved a few days before the election and in the wake of the 'grab' scandal? Don't tell me that's not a benefit to the campaign," Eisen says. "It doesn't make sense that this was a routine payoff. This was something very different."
Giuliani himself seemed to support the idea that the payment was campaign-related during his interview with Hannity. "Imagine if that came out on October 15 in the middle of the last debate with Hillary Clinton," he said. "Cohen didn't even ask. He made it go away. He did his job."
Eisen says Giuliani's appearances not only failed to tamp down campaign finance concerns over the payment; Trump's pal may have also opened Trump up to another legal problem. If Trump repaid the money Cohen paid Daniels, as Giuliani claimed (and Trump confirmed on Twitter this morning), the arrangement constituted a debt. Any liability over $10,000 must be reported on the president's financial disclosure forms, but Trump's filings make no mention of a debt to Cohen.
"Based on what Giuliani said, it's the worst of both worlds—Trump was paying Cohen back during the period in which Trump was required to disclose all obligations over $10,000," Eisen says. "And Giuliani's disclosures make clear that there was such an obligation here."
Kathleen Clark, a law professor at Washington University in St. Louis and a legal ethics expert, agrees. Earlier this year, Cohen told the FEC that he had not been reimbursed for his payment to Daniels—a story that Trump seemed to back up when he told reporters last month that he had never paid Cohen.
"What we had before was just sort of a strange and mysterious, implausible situation. Now we have more facts, or alleged facts, but the alleged facts implicate at least one additional legal violation and they don't exculpate," Clark says.
That's not all. Giuliani's admission to Hannity could also put Trump and Cohen at risk of being charged with engaging in a conspiracy to evade FEC reporting requirements, says Paul Rosenzweig, a former senior counsel to independent counsel Kenneth Starr and a senior fellow at the R Street Institute, a conservative think tank. (Experts differ over whether a sitting president could be indicted for a crime. But alleged crimes could be fodder for an impeachment trial.)
If Trump ultimately footed the bill for the Daniels payment, he explains, the "donation" actually came from Trump. By filtering the payment through his lawyer, Rosenzweig notes, Trump "avoided the disclosure requirements. If done on purpose and knowingly, that's a conspiracy, a plan to violate the federal election law. Trump is laundering a contribution to his own campaign through his lawyer as a way of avoiding the reporting requirements."
On Thursday afternoon, Sarah Huckabee Sanders claimed that Trump was initially unaware of Cohen's payment to Daniels. "This was information that he didn't know at the time but eventually learned," she said. She did not respond to a Mother Jones request for comment. Nor did Giuliani and an attorney for Cohen.
Giuliani joined Trump's legal team with the promise he would help the president finesse his way out of trouble. After last night's clumsy performance on Hannity, Giuliani may have done more harm than good.