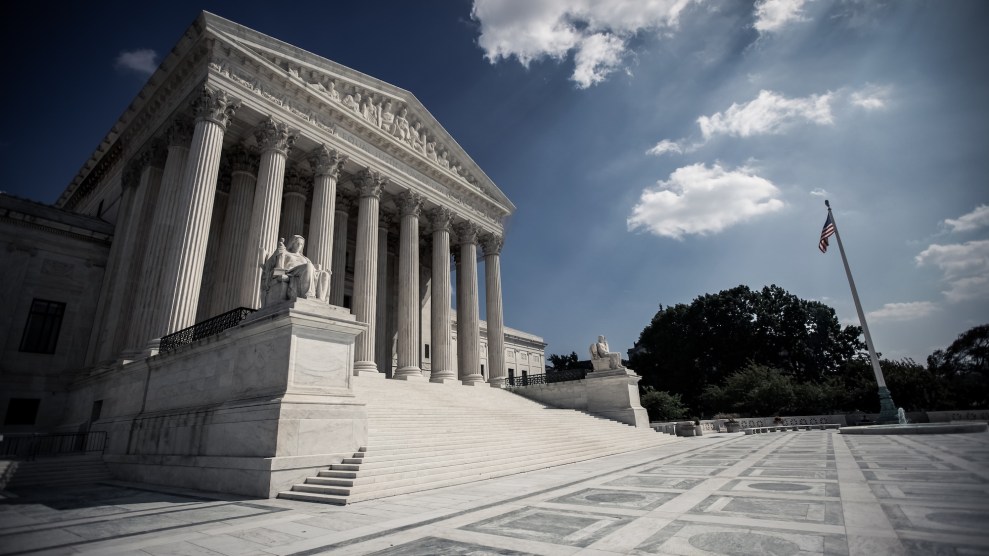 Fight disinformation:
Sign up
for the free
Mother Jones Daily
newsletter and follow the news that matters.
In a major defeat for workers, the Supreme Court ruled on Monday that companies can force employees to seek damages individually, rather than as a group. The decision allows employers to require that workers pursue claims in individual arbitration hearings—which tend to be more favorable to employers—and bar them from filing class-action lawsuits or seeking group arbitration hearings.
In a 5-4 decision, Justice Neil Gorsuch wrote that the Federal Arbitration Act of 1925 allows employers to require one-on-one arbitration hearings. Justice Ruth Bader Ginsburg called Gorsuch's decision "egregiously wrong" in a highly critical dissent that she read from the bench, a relatively rare move that signals strong opposition.
Ginsburg argued that the majority opinion violates workers' legal right to engage in collective action. She wrote, "The inevitable result of today's decision will be the underenforcement of federal and state statutes designed to advance the well-being of vulnerable workers." Her dissent was joined by the court's three other liberal justices: Stephen Breyer, Elena Kagan, and Sonia Sotomayor.
Gorsuch's decision caps a long run of Supreme Court decisions that have greatly expanded companies' ability to require customers and employees to sign contracts that mandate arbitration, instead of allowing them to pursue claims in open court. Unlike court rulings, decisions made by arbitrators are usually kept private, making it difficult for other employees or customers to learn about wrongdoing. And unlike judges, arbitrators are generally paid by the companies that use their services. There is usually no right to appeal an arbitrator's decision.
As Ginsburg pointed out, it is often not practical for workers to go through arbitration to recover small damages. "But by joining together with others, similarly circumstanced," she added, "employees can gain effective redress for wage underpayment commonly experienced." The former federal judge Richard Posner summarized the problem with individual suits in 2004: "The realistic alternative to a class action is not 17 million individual suits, but zero individual suits, as only a lunatic or a fanatic sues for $30."*
Ginsburg compared contracts that force workers into individual arbitration to the "yellow dog" contracts that once blocked workers from joining unions. She argued that the outcome of Monday's decision is easy to predict. "Employers, aware that employees will be disinclined to pursue small-value claims when confined to proceeding one-by-one, will no doubt perceive that the cost-benefit balance of underpaying workers tips heavily in favor of skirting legal obligations," she wrote.
As Mother Jones wrote last year, mandatory arbitration agreements have become increasingly common in recent years and provide significant benefits to employers:
In the early 1990s, less than 4 percent of companies surveyed by the Government Accountability Office, an independent government agency, used mandatory arbitration for their employees. Today, more than half of private-sector non-union workers are subject to it, according to a report published last week by the liberal Economic Policy Institute. Forty-one percent of those employees—24.7 million workers—have also waived their right to class-action litigation.

Alexander Colvin, an expert on arbitration at Cornell University and the author of the report, expects more companies to add these waivers if the Supreme Court declares them legally enforceable. Companies have a significant incentive to do so. In 2015, Colvin found that employees win 21 percent of arbitration cases, compared to 57 percent of cases in state court. (Employees are far less likely to pursue grievances when they're subject to arbitration: Colvin estimates that workers are 50 times likelier to sue than to arbitrate.) Workers also get less money when they're successful: $109,000 in arbitration compared to $575,000 in state court. Colvin says lawyers he speaks with are less likely to represent workers bound by arbitration because they take a share of the damages.
Correction: An earlier version of this article mistakenly referred to "the late federal judge Richard Posner." In fact, Posner is very much alive. He retired from the Seventh Circuit Court of Appeals last September.