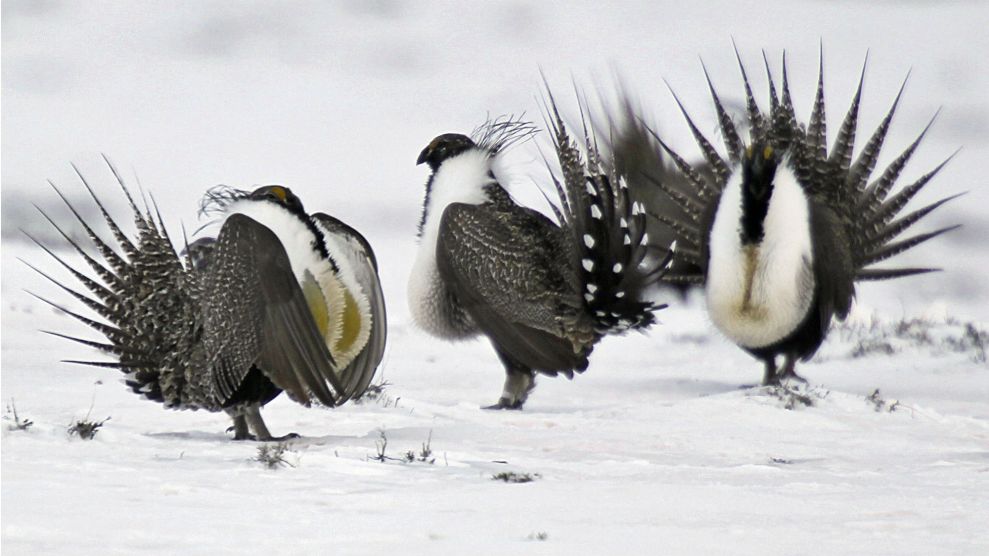 Fight disinformation:
Sign up
for the free
Mother Jones Daily
newsletter and follow the news that matters.
Environmental groups have filed two lawsuits against US Secretary of the Interior Ryan Zinke for approving oil and gas leases on habitat that is home to the greater sage-grouse, an imperiled bird species native to the American West.
Both lawsuits urge the courts to reverse the recent oil and gas land sales, claiming that the Trump administration is ignoring Obama-era conservation plans intended to protect the greater sage-grouse from development, and therefore breaking the law.
"This is politically-driven—it comes from Trump's 'America-first' agenda," says Laird Lucas, lead counsel on one of the lawsuits and executive director of legal firm Advocates for the West. "The oil and gas industry basically gave Zinke and the Interior Department their wish list of what would happen, and the department is following that."
The lawsuits are independent, but coordinated, says Lucas. On Monday, one was filed in US District Court in Boise, Idaho, by the Center for Biological Diversity and the Western Watersheds Project; on the same day, the Montana Wildlife Federation, the Wilderness Society, National Audubon Society, and National Wildlife Federation filed another case in US District Court in Great Falls, Montana. (The Department of the Interior did not immediately respond to a request for comment from Mother Jones.)
The sage-grouse, a small, ground-dwelling bird, has been in decline for decades. By 2015, the population had dropped to 90 percent of its historic levels due to industrial development, prompting the largest conservation effort in United States history by the Obama administration.
But things changed when Donald Trump took over the Oval Office. In December, the DOI's Bureau of Land Management issued a memo saying it would de-prioritize preserving sage-grouse habitat in leasing and development plans. A month later, the department issued another memo, which instructed the Bureau of Land Management Field Offices to accelerate oil and gas leasing and reduce public comment on leasing plans. Now, the environmental groups argue that these efforts "do not conform" to the official plans set up by the Obama Administration.
Since December, the department, which manages about 45 percent of remaining occupied greater sage-grouse habitat, has leased hundreds of thousands of acres to oil and gas interests—with more sales on the way.
If the sage-grouse die-off, it would be disastrous for the entire western sage-brush ecosystem. As an "indicator species," the sage-grouse is a "canary in a coal mine," Holly Copeland, a conservation scientist at the Nature Conservancy, told Mother Jones in March, because scientists use its health to measure the wellbeing of more than 350 other species that share its habitat. Plus, it's got the weirdest mating dance.
"As the sagebrush ecosystem gets torn apart, degraded, fragmented—mainly through humans, through roads and highways and farms and ranches and power lines and oil and gas wells, and all of that—it fragments it," says Lucas. "It really hurts the sage-grouse."