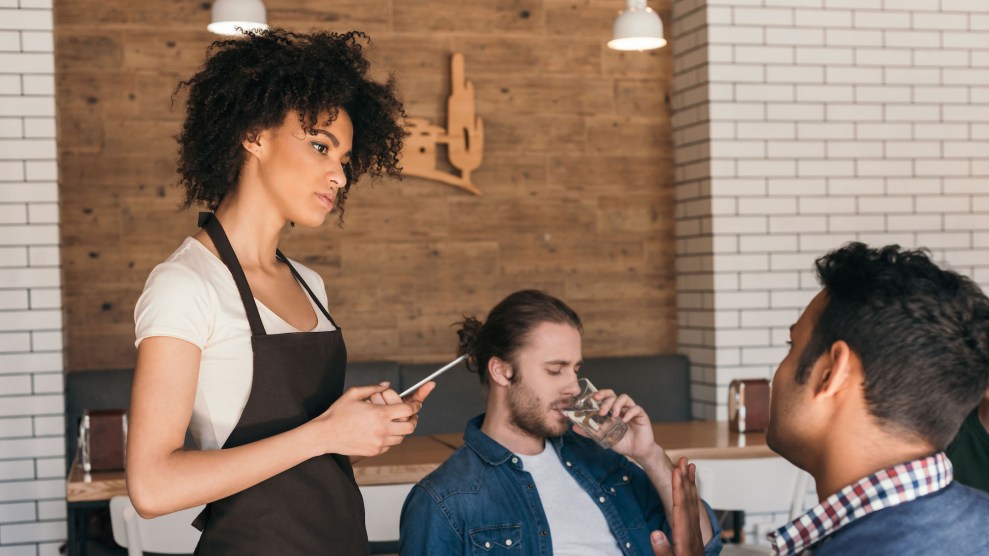 Fight disinformation:
Sign up
for the free
Mother Jones Daily
newsletter and follow the news that matters.
Suddenly, the black-and-green signs are everywhere in Washington, DC: "Vote No on Initiative #77." But while the signage may be one-sided, the upcoming ballot initiative at stake has bitterly divided the city's overwhelmingly progressive residents and restaurant workers over the fate of tipping and the minimum wage in the nation's capital.
On Tuesday, District of Columbia voters will decide the fate of Initiative 77, which would raise the minimum wage for tipped workers to $15 by 2025, the same level as for all other workers. Proponents say it's needed to ensure a living wage for servers and to eliminate the harassment faced by workers reliant on tips. Critics call it a solution in search of a problem, worried that it will raise prices, reduce tipping, lower the take-home pay of many servers, and lead to layoffs and restaurant closures.
DC's fight over the tipped minimum wage is a prelude to similar ones across the country. Seven states have already eliminated their sub-minimum wage for tipped workers: Alaska, California, Minnesota, Montana, Nevada, Oregon, and Washington. New York's Department of Labor is considering raising the minimum wage for tipped workers in a move that wouldn't require voter approval. Michigan voters will decide on whether to eliminate the tipped minimum wage in November, pending approval of the ballot initiative by the state's Board of Canvassers. And the nonprofit Restaurant Opportunities Center United (ROC), whose DC chapter organized the petition drive to get Initiative 77 onto the DC ballot, is working on similar initiatives in about a dozen other states where petitions have not yet been filed, says ROC national co-founder Saru Jayaraman.
But DC is different from the 50 states—for one thing, it's far more liberal. (Just 4.1 percent of DC voters picked Donald Trump in 2016.) Initiative 77 is playing out as a contentious debate among progressives, one less about political ideology than about who's helped and hurt by America's tipping system and what might be the consequences of overhauling it.
The anti-77 forces are better funded. Save Our Tips, the main anti-77 group, raised $247,157 between April and June 2018, including $70,231 from the National Restaurant Association and $40,000 from the Restaurant Association of Metropolitan Washington. Less than 0.5 percent of the Save Our Tips haul came from individuals. One Fair Wage DC, the pro-77 campaign, raised only $84,146.
In 2016, DC passed a law that would gradually increase the minimum wage for employees to $15 an hour by 2020. But political maneuvering axed a portion of the bill advocated by the ROC-DC that would have included tipped employees. Instead, the minimum wage for tipped workers was raised from $2.77 to $5 an hour by 2020. (It's currently $3.33.) Restaurants are still required to make sure that servers' take-home pay comes out to at least the citywide minimum wage—currently $12.50 an hour—but workers complain of widespread wage theft.
So late last year, ROC-DC gathered the 40,000 signatures needed to present the measure for ballot approval, which it received in March. Once again, the group has found itself at odds with local business owners, now with the backing of the Restaurant Association of Metropolitan Washington. (RAMW did not respond to a request for comment.)
It's been hard for voters to tell where restaurant workers actually stand. The campaign against Initiative 77 has been far more visible, with servers handing out flyers at farmers markets and in other public spaces and talking with customers. But Diana Ramirez, deputy director of ROC-DC, says a "silent majority" of workers are afraid to speak out in favor of 77 due to fear of retaliation or harassment.
One of the main arguments in favor of 77 is that it could reduce workplace harassment. Women make up 71 percent of tipped servers nationally, and putting up with sexual harassment from both employers and customers can be essential to getting the right shifts or enough tips. ROC conducted a survey of workers and analyzed data from the Equal Employment Opportunity Commission and found that workers in states without a lower tipped minimum wage report half the rate of sexual harassment.
The tipping system, which has its roots in racial discrimination, can disadvantage servers of color. A Cornell University study found that black servers are tipped significantly less than white ones. Research from the left-leaning Economic Policy Institute shows that raising the minimum wage disproportionately benefits women of color. Nationally, almost 13 percent of tipped workers live in poverty, or nearly double the rate of non-tipped workers, according to a joint report by the Economic Policy Institute and the Center on Wage and Employment Dynamics at the University of California-Berkeley.
But many servers are vocally opposed to Initiative 77, worried that the measure would decrease tipping and hurt their earnings.
"This industry, for me, has a been a life-saver," says Taneisha Hasan, 32, a server at Hank's Oyster Bar.* "I went to school, did things the traditional way, and got an MBA. But I couldn't get a job that would pay me to afford to live in this area."
Hasan, who has been a server in DC since 2011, makes anywhere from $1,000 a week in the dead winter months to more than $2,000 in the summer, and she has saved enough to launch her own business. Now she fears that Initiative 77 will strip that all away, and she'll have to move to Maryland or Virginia to make ends meet. "They're saying that servers are making less than $15 an hour, when most people work in this industry because of the money we make," she says.
Hasan says ROC is running a "dishonest" campaign, since DC law already guarantees servers at least the standard minimum wage. The problem, advocates of the initiative say, is that the law is seldom enforced. Between 2010 and 2012, the Labor Department's Wage and Hour Division found that nearly 84 percent of the more than 9,000 full-service restaurants they investigated nationwide had some type of wage violation. In 2017, the DC Department of Employment Services audited 593 businesses that reported wages via the government's quarterly system and found 419 violations involving 7,383 employees, or nearly one-third of DC's tipped employees. In 2017, the Labor Department collected more than $42 million in back wages from food service employers nationally.
One District bartender, who asked to remain anonymous because she feared employer retaliation, says the restaurant where she worked withheld $300 in wages from her four years ago. She says she was lucky to get her money back, but the situation can be more challenging for recent immigrants, who can have their immigration status used against them. Her former employer is still in business and owns other restaurants in DC. "There's no real punishment for restaurants that violate the law," she says.
That's why she's supporting the initiative. "The onus falls on the employee to make sure their wages are being properly calculated and met," she says. "What shocked me is that everyone in that industry knows that if you were to bring that up to the restaurant manager or operator, you would see retaliation in your shifts or what sections you get."
Save Our Tips, the anti-77 campaign, maintains that most DC servers are already making more than $20 an hour. But a 2016 DC Department of Employment Services report found that the industry average hourly pay in DC was $14.89 for waiters and waitresses, $15.65 for non-restaurant food servers (such as caterers), and $16.74 for bartenders. Save Our Tips points out that the real earnings of restaurant workers are higher because not all tips are reported. In DC, roughly 9.8 percent of bartenders and servers live below the poverty line, according to ROC.
Owners are concerned that the initiative would force restaurants to raise their prices and hire fewer servers and that some restaurants would have to close. A 2017 Harvard Business School study found that even a $1 increase in the minimum wage can increase the likelihood that a restaurant with a 3.5-star Yelp average will close, though it has no effect on five-star restaurants.
Geoff Dawson, co-founder of the Tin Shop group, which owns local bars like Church Hall and Penn Social, estimates that costs at his establishments will go up 30 percent if the initiative passes. He says he would also experiment more with technology to replace staff. "If I have 10 servers—and I have more than that—that's an extra $1,000 a day, and so that's $365,000 a year in increased prices to businesses," he says. Dawson has donated to the opposition campaign.
David Cooper, a senior economic analyst at the Economic Policy Institute and a supporter of 77, says that's a common refrain from resistant owners. "The fact of the matter is that in those [seven states where there is no subminimum wage], small, locally owned restaurants have been thriving," he says. "The notion that DC can't figure out what their counterparts in Minneapolis or San Francisco or Portland have is just ridiculous. It seems like a ruse."
An April poll of 640 likely voters commissioned by Ed Lazere, a candidate for DC Council chairman who backs 77, found 70 percent support for the initiative. The initiative is currently opposed by the majority of the Council and by Mayor Muriel Bowser, who could pass and sign legislation to amend or repeal the initiative if it's approved.
Correction: An earlier version of this article misstated the restaurant where Hasan works.