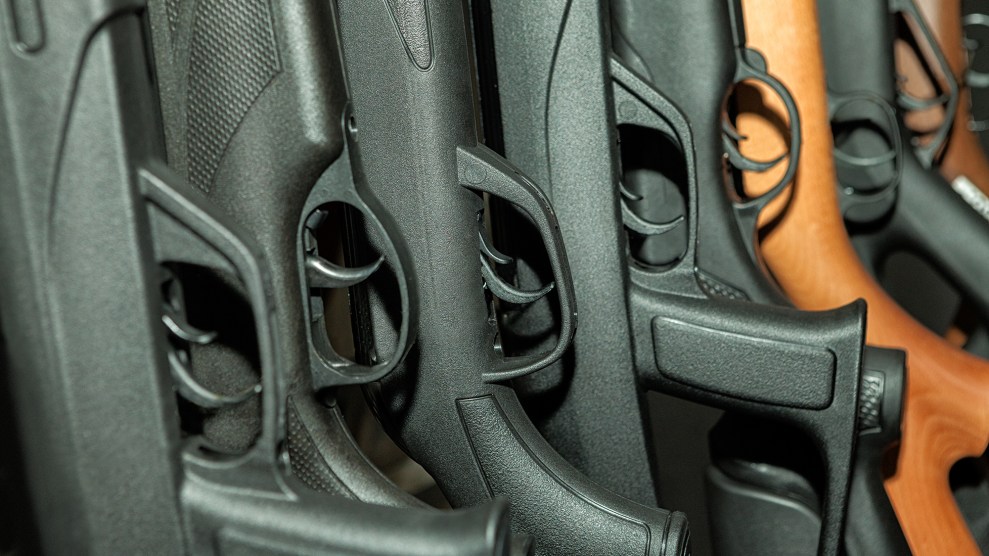 Fight disinformation:
Sign up
for the free
Mother Jones Daily
newsletter and follow the news that matters.
The biggest group of physicians in the US called for a ban on assault weapons this week, reiterating that gun violence is a serious public health crisis and decrying proposals by the Trump administration to arm school teachers.
Though many members of the American Medical Association support or own guns, the group voted overwhelmingly on Tuesday to adopt nearly a dozen gun control measures during an annual policymaking meeting. The proposals include prohibiting gun and ammo purchases by people who are younger than 21. "It has been frustrating that we have seen so little action from either state or federal legislators," said outgoing AMA President Dr. David Barbe.
By way of a 446-99 vote, the organization also agreed to endorse a ban on assault-type weapons, bump stocks, high-capacity magazines, and armor piercing bullets. It also called for measures that would allow family members and law enforcement to ask courts to take away guns from a person who may be at high risk for committing violence.
This is not the first time that the AMA has backed such policies, but the association's leaders said they felt compelled to go significantly further this year because of a string of recent school shootings, including the massacre in February in Parkland, Florida.
On Friday, survivors of the Parkland attack kicked off a national tour to draw attention to gun violence and register people to vote for gun safety policies. The "March for Our Lives: Road to Change" bus tour started in Chicago and will include 75 stops around the country. "We're going to places where the NRA has bought and paid for politicians who refuse to take simple steps to save our lives," the student leaders said in a statement.
Though the American medical community has long described gun violence as a public health threat, it remains the least-researched major cause of death in the United States, mostly because of decades-old legislation that suppressed federal funding for and study of gun violence. The AMA says nearly 40,000 people were killed by a gun in 2016, including suicides.