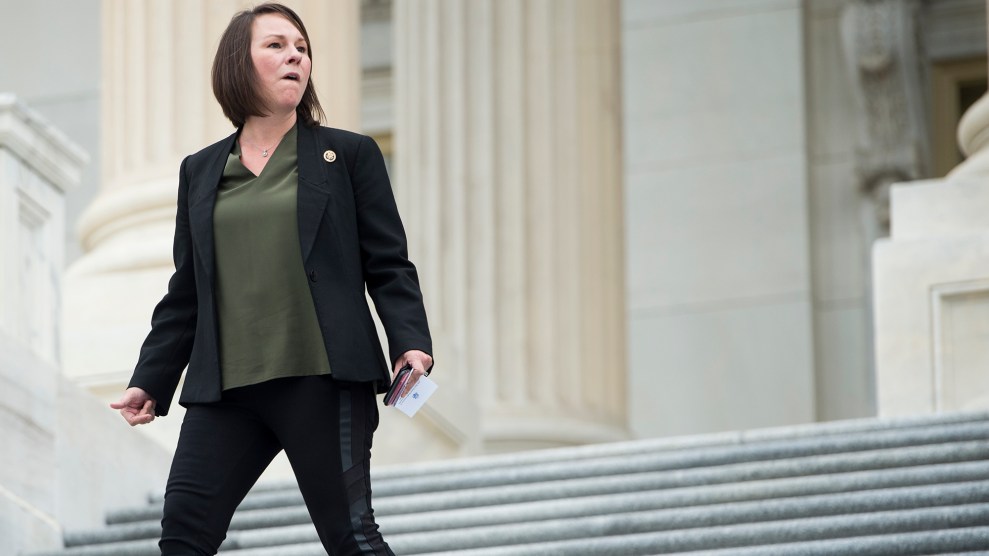 Fight disinformation:
Sign up
for the free
Mother Jones Daily
newsletter and follow the news that matters.
In October 2016, Rep. Martha Roby made a decision that seemed reasonable at the time—she revoked her endorsement of Donald Trump after hearing him brag about groping women on the now-infamous Access Hollywood video. "I cannot look my children in the eye and justify a vote for a man who promotes and boasts about sexually assaulting women," the Alabama Republican said at the time.
But it turns out that in the Alabama Republican Party, speaking out against alleged sexual predators isn't always a winning political strategy.
Tonight, the four-term congresswoman failed to win a majority in the GOP primary contest for the state's 2nd Congressional District, according to news outlets' projections. With 73 percent of precincts reporting, Roby had secured just 38 percent of the vote—a sharp decline from the 66 percent she won in the 2016 primary, which took place seven months before the Access Hollywood video surfaced. Former Rep. Bobby Bright was on track to finish second in the 2018 race. The two will meet in a runoff later this summer.
The primary results come less than six months after former Alabama Supreme Court Chief Justice Roy Moore, a Republican, lost a special election for the US Senate to Democrat Doug Jones. Despite the fact that during the campaign, Moore faced accusations of having sexually assaulting teenage girls years earlier, Trump vocally supported Moore. During the Moore scandal, Roby stayed silent.
On policy matters, Roby has proven herself a loyal Republican, voting with the Trump White House 97 percent of the time, according to FiveThirtyEight. Throughout her campaign, she has emphasized her support for signature Trump policies, such as a border wall and the tax cuts. But her primary opponents—including Bright, a former Democrat who lost the seat to Roby in 2010 and later switched parties, and Rich Hobson, who was Moore's former campaign manager and longtime aide—positioned themselves as fervent Trumpists. Both tried to capitalize on Roby's 2016 criticism of Trump.
Roby was also challenged by state Rep. Barry Moore. In an interview with the Montgomery Advertiser, Moore accused Roby of throwing Trump "under the bus" at a time when her support was needed.
"I do believe Republicans should support the Republican nominee," Hobson told the Advertiser, referring to the 2016 presidential race.
In one campaign spot, Bright reminded viewers that he voted for Trump, and he blasted "Republican insiders" in Washington for "turning their backs on our president."
Another Bright ad was more direct, criticizing Roby for having "turned her back on President Trump when he needed her most" and showing 2016 footage of her asking Trump to leave the presidential race.