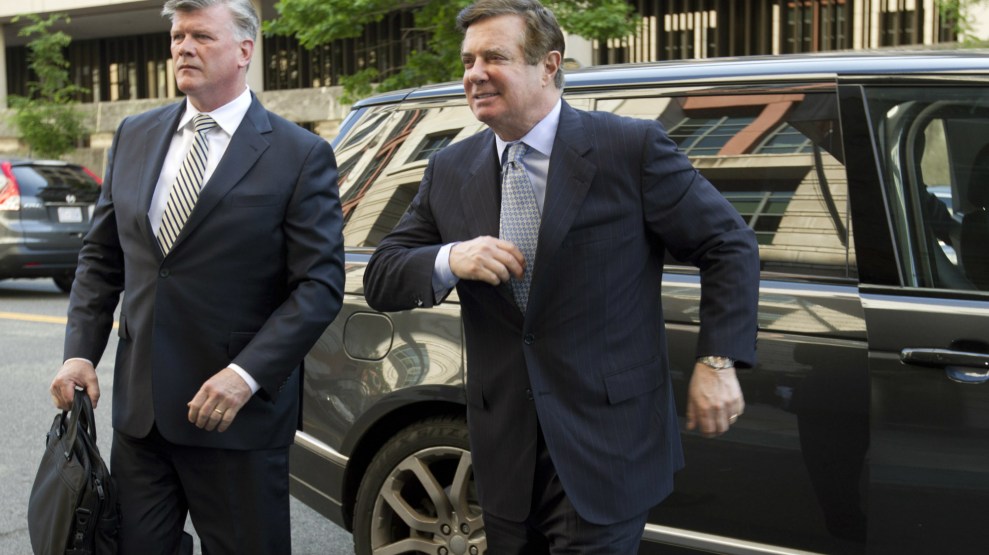 Fight disinformation:
Sign up
for the free
Mother Jones Daily
newsletter and follow the news that matters.
On Friday afternoon, special counsel Robert Mueller turned up the pressure on Paul Manafort, the former Trump campaign chairman. He added two new felony charges to his earlier indictment of Manafort, accusing him of conspiring—and doing so in a clumsy and foolish manner—with a former Russian military intelligence agent to obstruct justice.
Manafort was already facing four felony counts for money laundering and tax evasion. But Mueller filed a superseding indictment Friday adding the new charges and naming Konstantin Kilimnik, a longtime Manafort associate and ex-intelligence operative, as a co-defendant on the obstruction of justice charges.
The new charges against Manafort stem from attempts he allegedly made in February to contact two former associates who had worked with him on a lobbying campaign in the early 2010s for the corrupt regime of Viktor Yanukovych, Ukraine's pro-Russia president. Mueller had already accused Manafort of trying to hide his involvement in the lobbying effort. The new charges allege that in February, Manafort—confined by a judge to his home and ordered to wear not one, but two ankle GPS bracelets—reached out to these past associates and tried to convince them to stick to a cover story that they lobbied for Yanukovych only in Europe, not the United States. (Manafort had kept his participation in this project a secret and did not register as a foreign agent with the Justice Department, as he would be required to do if lobbying for foreign powers in the United States.)
At least one of the associates told Mueller about the contacts, saying he believed Manafort was attempting to convince him to commit perjury to protect Manafort. The new indictment alleges Kilimnik assisted Manafort in this effort, which began two days after Mueller charged Manafort with violating foreign lobbyist registration rules.
On Monday, Mueller disclosed details of this alleged Manafort-Kilimnik plot as part of a request that the judge overseeing the case revoke or revise Manafort's bail—which could lead Manafort to be sent to prison while he awaits a trial scheduled for this fall. Manafort allegedly sent texts and made calls to the former associates using the encrypted WhatsApp app. "This is paul," he wrote to one, adding, "We should talk." Manafort supposedly did this two months after he was cited by Mueller for allegedly scheming with Kilimnik to violate a gag order imposed in this case.
The new indictment can be read below:
Superseding Indictment S 4 Us v Manafort and Kilimnik 6 8 18 (Text)