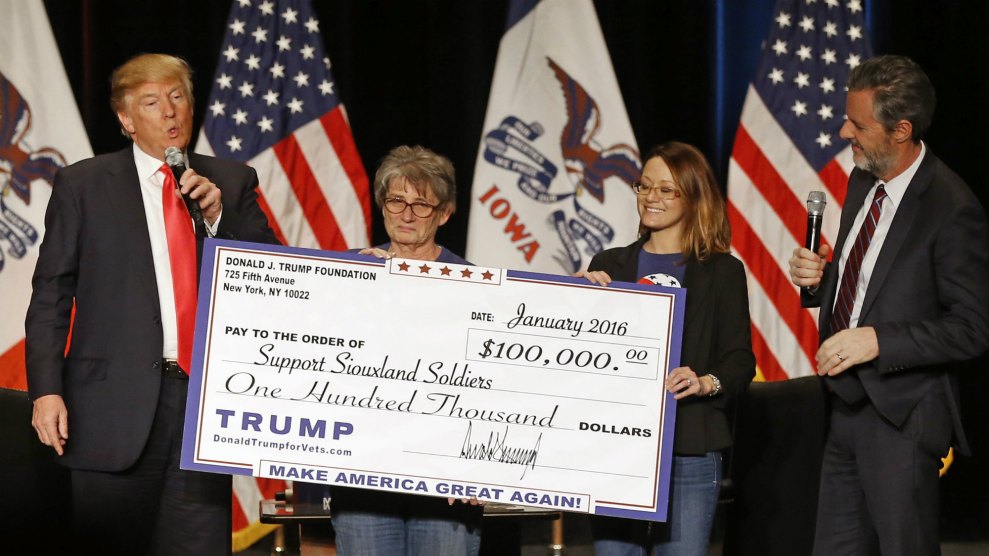 Fight disinformation:
Sign up
for the free
Mother Jones Daily
newsletter and follow the news that matters.
New York Attorney General Barbara Underwood on Thursday filed a lawsuit against Donald Trump and his three oldest adult children, accusing the president and his family of misusing Trump's charity, the Donald J. Trump Foundation, in a "pattern of illegal conduct." According to the lawsuit—which asks Trump to pay a $2.8 million fine, shut down the charity, and be banned from running another charity for 10 years—that illegal conduct included "improper and extensive political activity [and] repeated and willful self-dealing transactions." Underwood also claimed the Trumps, as members of the charity's board, failed to "implement even elementary corporate formalities required by law."
A major part of Underwood's lawsuit is an accusation that the president allowed his political campaign to control the distribution of $2.8 million he had raised at a January 2016 fundraiser for veterans. Trump held the fundraiser instead of participating in the final GOP presidential debate before the Iowa caucuses.
Underwood included copies of internal Trump Organization emails showing that then-campaign manager Corey Lewandowski was trying to manage high-profile donations before voters went to the caucuses.
https://twitter.com/NewYorkStateAG/status/1007273444977922050
If the money was used in an effort to influence the election, that would not only be a possible violation of state and federal law; it would also be a potential campaign finance violation. In a series of tweets about the case, Underwood said she sent letters to the Internal Revenue Service, which regulates nonprofits, and the Federal Election Commission, asking them to consider investigating the charity.
Trump reacted angrily to the lawsuit, accusing Underwood of cooking up a fake political scandal.
The sleazy New York Democrats, and their now disgraced (and run out of town) A.G. Eric Schneiderman, are doing everything they can to sue me on a foundation that took in $18,800,000 and gave out to charity more money than it took in, $19,200,000. I won't settle this case!…

— Donald J. Trump (@realDonaldTrump) June 14, 2018
….Schneiderman, who ran the Clinton campaign in New York, never had the guts to bring this ridiculous case, which lingered in their office for almost 2 years. Now he resigned his office in disgrace, and his disciples brought it when we would not settle.

— Donald J. Trump (@realDonaldTrump) June 14, 2018
Aside from the allegations about using the charity for political purposes, Underwood charges that Trump used the nonprofit to benefit his own businesses on at least five occasions, making donations or payments that arguably solved a problem for the for-profit side of the Trump empire. One cited example was the payment of $100,000 to a charity in Florida, which the elder Trump had agreed to donate to settle a dispute with the town of Palm Beach over zoning rules.